Australia's Slowest Wage Growth in a Year Boosts Rate-Cut Case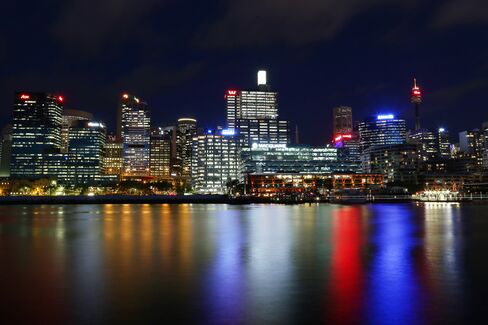 Australian wage growth slowed to the weakest pace in a year last quarter, strengthening the case for the central bank to resume lowering interest rates even as past cuts lifted consumer confidence.
The wage price index, which measures hourly pay rates excluding bonuses, advanced 0.7 percent from the previous three months, when it rose 1 percent, the statistics bureau said today in Sydney. That was the smallest rise since the third quarter of 2011 and less than the median estimate for a 0.8 percent gain.
Today's data "will be an important factor contributing to the Reserve Bank of Australia's assessment of risks to the inflation outlook," said Celeste Tay, a Singapore-based economist at 4cast Ltd. who predicted today's result and expects a rate cut next month. "With a further uptick in unemployment seen in the next six months, we believe that wage pressures should continue to slow from here."
Governor Glenn Stevens and the RBA board kept borrowing costs unchanged at 3.25 percent on Nov. 6 as inflation accelerates and the global outlook stabilizes. The central bank cut rates by 1.5 percentage points from November last year to October to help cushion the economy from Europe's crisis and a slowdown in China, reductions that spurred consumer confidence.
Sentiment surged to a 19-month high, gaining 5.2 percent to 104.3, a Westpac Banking Corp. and Melbourne Institute survey taken Nov. 5-11 of 1,200 adults showed today in Sydney. The index rose above 100, which indicates optimists outnumber pessimists, for the first time since February, ending an eighth-month skid below that level.
Rate-Cut Effects
"We are seeing some traction on confidence from the rate cuts over the last year," Bill Evans, Westpac's chief economist, said in a statement. "Households are becoming more comfortable with the global outlook."
The local dollar gained for a third straight day, trading at $1.0446 at 1:26 p.m. in Sydney. The so-called Aussie has appreciated about 2 percent in the past month, making it the strongest Group of 10 currency during that period.
Australia's economy is slowing as commodity prices weaken, signaling a peak for a resources boom that helped drive the currency's 60 percent gain in the past four years. The Aussie's resilience in the face of lower export prices is hurting industries including tourism and manufacturing.
Today's wages report showed hourly rates of pay at retailers increased 2.3 percent from a year earlier, while accommodation and food services wages and information media and telecommunications pay both rose 2.9 percent -- the three weakest gainers among the 18 industries surveyed by the statistics bureau.
Mining Pay
Wholesale trade jumped 5.3 percent and mining wages advanced 5.2 percent, the two biggest increases, the report showed.
The wage price index advanced 3.7 percent in the third quarter from a year earlier, today's report showed. Economists forecast a 3.8 percent gain from a year earlier.
Australia's unemployment rate rose to 5.4 percent in September and held at that level in October. The economy added full-time jobs for a fourth straight month, the longest streak of gains since 2010, advancing by 18,700 in October, employment data released last week showed.
Still, monthly employment growth this year has averaged 10,900 jobs, less than the average of 17,200 a month in the prior five years, according to government data compiled by Bloomberg.
Stevens's Reading
"With the labor market having generally softened somewhat in recent months, and unemployment edging higher, conditions should work to contain pressure on labor costs in sectors other than those directly affected by the current strength in resources," Stevens said in the statement after this month's rate pause. "This and some continuing improvement in productivity performance will be needed to keep inflation low."
Traders are pricing in a 64 percent chance the central bank will reduce borrowing costs by a quarter-percentage point to 3 percent at its meeting next month, swaps data compiled by Bloomberg show.
"The Australian economy is facing uncertainty around the mining sector and with contractionary fiscal policy and a punishingly high Australian dollar, we need further rate cuts to help build on these early signs that lower rates are having an impact on households' confidence," Evans said, predicting another reduction next month.
Before it's here, it's on the Bloomberg Terminal.
LEARN MORE