U.K. Resistant Germ Outbreak Halted With Gene Sequencer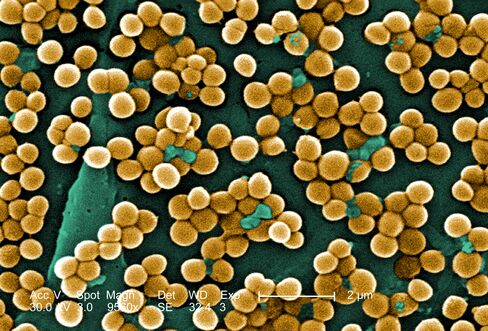 U.K. scientists used DNA sequencers to trace and contain a resistant bacterial infection spreading in babies at a hospital in Cambridge, England, in the first such use of the technology, according to a report in The Lancet.
Researchers at the Wellcome Trust Sanger Institute, Cambridge University and Cambridge University Hospitals took samples from 12 newborns who contracted methicillin-resistant Staphylococcus aureus in a unit for ill babies last year, according to the paper published today. Using an Illumina Inc. machine to perform whole-genome sequencing, they studied the genetic profiles of germs in the samples, linked them and traced a later outbreak to a health worker carrying the same strain. The worker was then treated.
"The advent of high-throughput whole-genome sequencing has the potential to revolutionize outbreak investigations by providing a substantial advance in our ability to discriminate between different strains, compared with traditional molecular methods," Binh Diep, an assistant professor at the School of Medicine of the University of California, San Francisco, said in a statement. Diep wrote a commentary accompanying the study.
The U.K. researchers used rapid DNA-sequencing equipment to test 154 hospital employees and identified the MRSA strain in one of them. Companies including Illumina, Life Technologies Corp. and Oxford Nanopore Technologies Ltd. are racing to produce faster and cheaper benchtop machines to analyze chains of genetic information that may be useful in such investigations.