Diamond Brings Record $21.5 Million, Beatles Art $87,720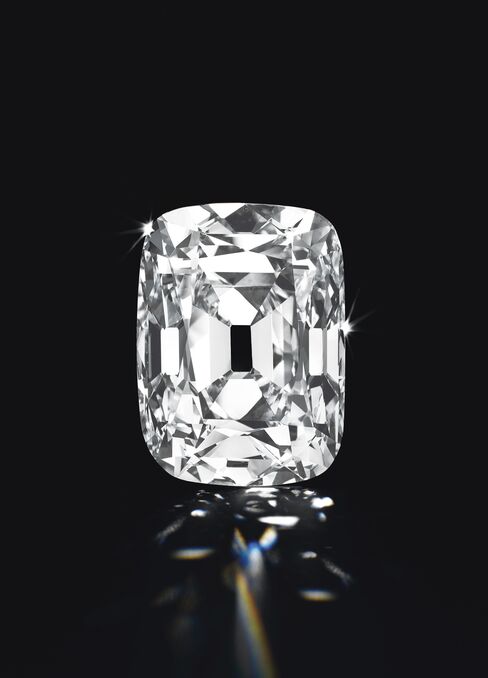 A colorless 76.02-carat diamond sold last night in Switzerland for 20.4 million Swiss francs ($21.5 million) with fees, setting a record auction price per carat.
Known as the Archduke Joseph Diamond, the internally flawless stone was the most highly valued lot in a jewelry auction held by Christie's International at the Four Seasons Hotel des Bergues, Geneva.
The gem was bought by telephone bidder against an estimate of $15 million to $25 million, based on hammer prices. Using Christie's exchange-rate figures this gives a price of $282,545 per carat, a record for a colorless stone, beating the $276,600 set for the Beau Sancy diamond at Sotheby's, Geneva, in May.
The Archduke Joseph was originally sourced from the Golconda mines in India, which produced the 105.6-carat Koh-i-Noor of the U.K. Crown Jewels. The stone was the largest perfect Golconda diamond to have appeared at auction.
"The best diamonds have become extraordinarily valuable," Geoffrey Munn, managing director of the London-based jeweler Wartski, said in an interview before the sale. "There's a sense at the moment that money is like sand running through fingers and there's a scramble to buy jewels as a hedge."
The gem was named after Archduke Joseph August of Austria (1872-1962), a member of the royal House of Habsburg, whose family owned the stone until the 1930s. It was last seen at auction in November 1993, when it sold for 9.7 million Swiss francs. The identity of the seller hasn't been divulged by Christie's.
Colored Gems
Though Golconda's colorless stones are famed for their purity, colored diamonds have so far set the highest auction prices.
"They are rarer and more popular," Munn said.
A 24.78-carat fancy intense pink diamond was bought by the London jeweler Laurence Graff for a record 45.4 million Swiss francs at a Sotheby's sale in Geneva in November 2010.
Two days ago in Geneva, Christie's sold a platinum Patek Philippe watch owned by Eric Clapton for 3.4 million Swiss francs ($3.6 million) with fees. The London-based company's watch auction raised 27 million Swiss francs with 96 percent of the lots successful.
A top price of 3.8 million Swiss francs was paid for a unique 1952 Patek Philippe platinum "Observatory Chronometer" made for the U.S. watch collector J.B. Champion.
Beatles Art
Original artwork for the "Sgt. Pepper" album has sold for $87,720, 50 years after the Beatles released their first record.
Peter Blake's original collage for the insert in the 1967 LP "Sgt. Pepper's Lonely Hearts Club Band" was estimated to fetch between 50,000 pounds ($79,500) and 80,000 pounds at hammer prices. Its sale price was 55,250 pounds including fees at Sotheby's auction of Modern British art in London last night.
Blake worked closely with John Lennon and Paul McCartney to create the imagery of Sgt. Pepper. The British Pop artist designed both the record sleeve and the insert, the latter featuring cut-out sergeant's stripes and a clip-on moustache.
The collage was bought by an unidentified bidder in the room. It was previously owned by the late architect Colin St. John Wilson, who designed the British Library in London's St. Pancras area.
The Beatles' debut single, "Love Me Do," was released on Oct. 5, 1962. It reached number 17 in the U.K. charts. The Rolling Stones and the Beach Boys are also marking their 50th anniversary this year.
Enigma Sale
A German World War II Enigma encoding machine sold today in London for 85,250 pounds, a century after the birth of the man who masterminded cracking its codes.
The typewriter-like device was offered by Bonhams, valued it at 40,000 pounds to 60,000 pounds. It was bought by an online bidder based in the U.S., Bonhams said.
Enigma machines were used by the Nazis to encrypt and decode messages. This particular version, using three rotors, dated from between 1938 and 1944 and was made for commercial purposes, according to the catalog. Another model sold at auction for 131,180 pounds in 2011.
This year is the centenary of the birth of Alan Turing, the U.K. mathematician who headed the Bletchley Park team that cracked the Enigma code, and who is seen by historians as one of the pioneers of modern computing.
Muse highlights include Jeremy Gerard on New York theater and Zinta Lundborg's interviews.
Before it's here, it's on the Bloomberg Terminal.
LEARN MORE