France's Champagne Harvest Shrinks Drastically
Hailstorms, wet weather, and fungus have damaged the crop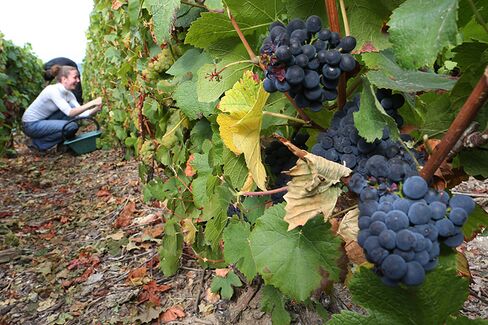 With its economy sliding into recession, France could use a bit of cheering up as the holiday season approaches. Instead, it got this news: The champagne harvest is down 40 percent this year, as vineyards were ravaged by hailstorms, wet weather, and fungus. "This is the lowest harvest in at least 40 years," the Agriculture Ministry said in reporting the figures on Nov. 9.
Happily for champagne aficionados, there'll be no shortage for New Year's Eve. The bubbly stuff has to age a minimum 15 months in producers' cellars before being sold—so the bottle you open on Dec. 31 won't come from this year's crop. What's more, there's more than a three-year supply of champagne in producers' vats, waiting to be bottled. Typically, champagne is made from a mixture of grapes from several years' harvests. "We built up reserves during the years when we had big harvests, which helps us deal with the caprices of nature," says Thibaut le Mailloux, a spokesman for the French champagne producers association, known as the CIVC.
Unhappily for French producers, they have another problem. Their countrymen are drinking less champagne—and France accounts for about half of global sales. French champagne sales fell 2 percent in 2011, including an 8 percent year-on-year drop during the Christmas and New Year holiday season. At the time, the CIVC said the decline was a "temporary effect" from the European debt crisis. But the crisis has continued, and the French economy has worsened this year, with three quarters of flat growth and unemployment now at a 13-year high of more than 10 percent. "France is not really in a festive mood," says Laetitia Delay, a beverage analyst at Kepler Capital Markets in Paris.
Major producers such as LVMH Moët Hennessy Louis Vuitton—whose champagne brands include Moët & Chandon, Krug, and Veuve—have cushioned themselves against the downturn by exporting. Even as French sales dropped, the U.S. champagne market grew 14.4 percent in 2011 while China was up 19 percent. But smaller producers are suffering, Delay says. Adding to the woe, some distributors are lowering prices to clear their inventories. Says Delay: "That's very bad for the image of champagne."
Before it's here, it's on the Bloomberg Terminal.
LEARN MORE