Gold Traders More Bullish After Obama's Re-Election: Commodities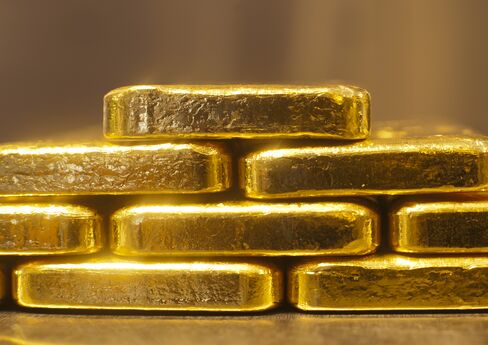 Gold traders are the most bullish in 11 weeks and investors accumulated record bullion holdings on speculation U.S. policy makers will add to stimulus following President Barack Obama's re-election.
Twenty-five of 33 analysts surveyed by Bloomberg expect prices to rise next week and three were bearish. A further five were neutral, making the proportion of bulls the highest since Aug. 24. Investors boosted assets in gold-backed exchange-traded products to an all-time high of 2,596.1 metric tons yesterday, valued at $144.7 billion, data compiled by Bloomberg show.
Obama won the Nov. 6 election against Mitt Romney, who had criticized the Federal Reserve's policies and said he'd replace Chairman Ben S. Bernanke, whose second term expires in January 2014. The European Central Bank kept interest rates at a record low yesterday and nations from the U.S. to China have pledged more action to boost economies. Gold rose 70 percent as the Fed bought $2.3 trillion of debt in two rounds of quantitative easing from December 2008 through June 2011.
"Obama is a supporter of Bernanke and his re-election means that the ultra-loose monetary and fiscal policies by the Fed will continue," said Daniel Briesemann, a commodities analyst at Commerzbank AG in Frankfurt. "More and more liquidity will be put into the system and therefore there'll be inflation fears and concern about currency devaluation."
Gold Prices
Gold rose 11 percent to $1,733.55 an ounce in London this year, heading for a 12th straight annual gain, the longest winning streak in at least nine decades. The Standard & Poor's GSCI gauge of 24 commodities lost 1.6 percent and the MSCI All-Country World Index of equities climbed 8.2 percent. Treasuries returned 2.6 percent, a Bank of America Corp. index shows.
Bullion is heading for the first weekly gain in five as Obama was re-elected with the highest unemployment rate of any president returned to office since Franklin Roosevelt in 1936. The Fed said Oct. 24 it will maintain $40 billion in monthly purchases of mortgage debt and probably hold interest rates near zero until mid-2015.
Some investors buy bullion as a hedge against inflation and a weaker dollar, and the metal generally earns returns only through price gains, increasing its allure as interest rates decline. The Bank of Japan expanded its asset-purchase program on Oct. 30 for the second time in two months, increasing it by 11 trillion yen ($138 billion). The ECB said it's ready to buy bonds of indebted nations and China approved a $158 billion subways-to-roads construction plan.
Fiscal Cliff
Investors may now focus on the so-called U.S. fiscal cliff, a combination of automatic spending reductions and expiring tax cuts that amounts to $607 billion in 2013. Democrat and Republican lawmakers say they want to avoid the recession-causing cliff, though have yet to reach a compromise. That may boost gold's appeal as a protector of wealth, Commerzbank's Briesemann said.
Hedge funds' bets on a rally declined for three weeks after reaching the highest since August 2011 on Oct. 9, U.S. Commodity Futures Trading Commission data show. Speculators cut their net-long position by 7.5 percent in the week ended Oct. 30 to the lowest since Sept. 4, the data show.
While physical gold purchases in India, last year's biggest buyer, will be stronger this quarter compared with the previous three months, demand will probably decline for several weeks after the Diwali festival on Nov. 13, Edel Tully, an analyst at UBS AG in London, wrote in a Nov. 7 report.
Physical Demand
Higher prices may curb demand, Tully said in a report yesterday. While the metal slid for four consecutive weeks through Nov. 2, the longest losing streak in more than a year, this year's average of $1,663 is set to be a record. Bullion reached an all-time high in India in September and consumers there usually boost purchases before the wedding season and religious festivals later in the year.
ETP investors remained bullish, buying metal in 13 of the previous 14 weeks and added 193 tons in the three months through October, the longest monthly run since August 2011. The holdings now account for almost a year of mine production, according to data compiled by Bloomberg and Barclays Plc.
In other commodities, nine of 18 traders and analysts surveyed expect copper to gain next week and seven were bearish. The metal for delivery in three months, the London Metal Exchange's benchmark contract, lost 0.4 percent to $7,571 a ton this year.
Sugar Survey
Six of 14 people surveyed said raw sugar will rise next week and the same amount expected a decline. The commodity slid 18 percent to 19.01 cents a pound since the end of December on the ICE Futures U.S. exchange in New York.
Thirteen of 27 people surveyed anticipate higher corn prices next week and 11 were bearish, while 12 of 28 said soybeans will climb and the same amount predicted a drop. Corn rallied 16 percent to $7.4925 a bushel in Chicago trading this year as soybeans rose 21 percent to $14.635 a bushel. Both crops reached records since August as the worst U.S. drought in a half century hurt crops.
The S&P GSCI gauge of raw materials fell to a three-month low on Nov. 5. Money managers reduced net-long positions across 18 U.S. commodity futures and options by 11 percent in the week ended Oct. 30 to the lowest since July, CFTC data show. The International Monetary Fund cut its global growth forecast for next year to 3.6 percent from 3.9 percent on Oct. 9.
"It's very difficult for cyclical commodities to rally just on liquidity, I think you need real growth as well, and what we've seen broadly is a slowdown in growth," said Michael Widmer, an analyst at Bank of America Merrill Lynch in London. "There's a few green shoots out there. Demand in some places is starting to turn around, but you won't get a strong price reaction until next year."
Gold survey results: Bullish: 25 Bearish: 3 Hold: 5
Copper survey results: Bullish: 9 Bearish: 7 Hold: 2
Corn survey results: Bullish: 13 Bearish: 11 Hold: 3
Soybean survey results: Bullish: 12 Bearish: 12 Hold: 4
Raw sugar survey results: Bullish: 6 Bearish: 6 Hold: 2
White sugar survey results: Bullish: 5 Bearish: 5 Hold: 4
White sugar premium results: Widen: 4 Narrow: 1 Neutral: 9