SocGen Said to Lead Swaps Dealers to Standardize Trade Margins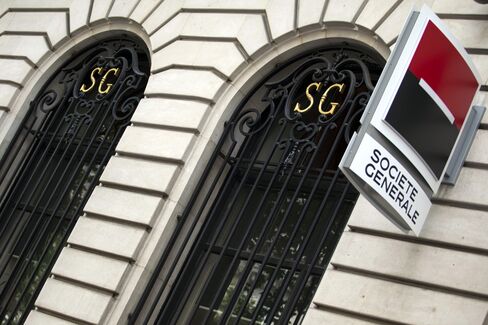 Societe Generale SA is leading 14 banks seeking common rules for setting the collateral dealers must post to enter trades that aren't backed by clearinghouses, according to three people familiar with the discussions.
The efforts, which precede regulation requiring dealers to post the so-called initial margin to each other for the first time, are intended to prevent divergences in pricing created when parties to a trade clash over the amount of risk involved, the people said. Because there's no standard for resolving such disputes over uncleared contracts, dealers want a third party to create a model to manage them, said the people, who asked not to be identified because the meetings are private.
The banks are smoothing out wrinkles forming as regulators implement the 2010 Dodd-Frank Act that Congress passed to limit the risks that the $648 trillion of outstanding swaps pose to the financial system. Led by Paris-based SocGen, the informal group of 15 dealers includes Bank of America Corp., Goldman Sachs Group Inc. and JPMorgan Chase & Co., the people said.
Dodd-Frank will require most swaps to be processed by clearinghouses and traded on exchanges or electronic systems after the contracts complicated efforts to resolve the financial crisis four years ago.
Clearing Exemption
While more complex bespoke contracts will be exempt from the rules, dealers for the first time will be required to post initial margin on the contracts cushioning against the default of the trading partner. That's in addition to so-called variation margin that dealers have previously used, which fluctuates with the value of the underlying assets.
"There ultimately will need to be some standardized risk assessment methodology for uncleared exposure," said Paul Rowady, a senior consultant at financial markets research firm Tabb Group LLC. Without it, "there are going to be arguments about what I think my risk is in this position and what the other counterparties think is the risk in this position," he said in a telephone interview.
The dealers have assumed names including the Uncleared Margin Working Group and Standard Initial Margin Model Working Group, according to two of the people.
Ken Hagan, a New York-based spokesman for France's second-largest bank by market value, declined to comment.
Bank Customers
The group only addresses initial margin between swap dealers, not collateral used to back trades between a bank and its customers, such as investment firms and corporations. That lack of representation from so-called end users concerns some dealers, because the issue impacts all market participants, according to another person familiar with the matter who asked not to be identified because the conversations are private.
With uncleared contracts more likely to be esoteric and difficult to value, dealers will be "way more qualified to figure out what the risk in that position is than the end user, who's likely to be a pension fund or a corporate end user who's totally unqualified to assess the risk," Rowady said. "They'll be at a disadvantage versus their dealer to argue in their best interest."
Markit Group Ltd., the data provider partially owned by Wall Street's largest banks, probably will be a leading contender for the job of creating the collateral system, which would include managing the inputs used and testing the model for problems, one of the people said. Markit manages the pricing model for credit-default swaps, which is owned by the International Swaps & Derivatives Association.
Punitive Rule
Alex Paidas, a spokesman for Markit in New York, declined to comment, as did Tiffany Galvin for Goldman Sachs, Kristin Lemkau for JPMorgan, and Zia Ahmed for Bank of America.
Because most bespoke trades are already collateralized, the rule is "seen by a lot of people in the industry as being a bit overreaching," according to Chris Walsh, chief operating officer of Acadiasoft Inc. The firm, which is owned by dealers including Goldman Sachs, JPMorgan and Deutsche Bank AG, provides margin automation for swaps-market participants.
The regulations also are intended to be punitive for those who enter transactions not backed by clearinghouses by charging higher rates on collateral backing those, Walsh said in a telephone interview. "This is margin that's not even accounted for today."
Acadiasoft has tweaked its margin-call process to support initial margin and variation margin for both cleared and uncleared contracts, he said.
Before it's here, it's on the Bloomberg Terminal.
LEARN MORE