Goldman Sachs Traders Lost Money on 2 Days During Third Quarter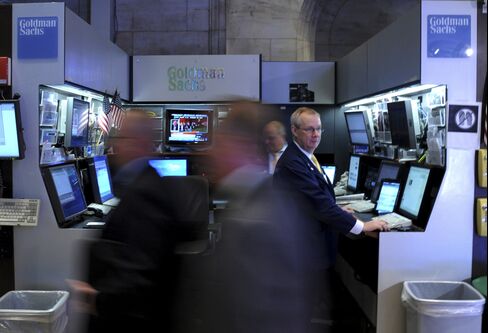 Goldman Sachs Group Inc., which made 55 percent of its revenue this year from sales and trading, recorded losses from that business on 2 days in the third quarter, down from 21 days in the same period last year.
The firm's traders made more than $100 million on seven days in the quarter ended Sept. 30, compared with nine days in the year-earlier period, the New York-based company said in a regulatory filing today.
Goldman Sachs, the fifth-biggest bank by assets, posted a third-quarter profit of $1.51 billion compared with a loss the prior year that was helped by gains on the firm's own investments. Revenue from sales and trading rose 3 percent from a year earlier to $4.18 billion, the firm reported last month.
*T *T
Before it's here, it's on the Bloomberg Terminal.
LEARN MORE