Decoding the Genetic Makeup of Tumors
Genomic Health's tests predict how cancers will behave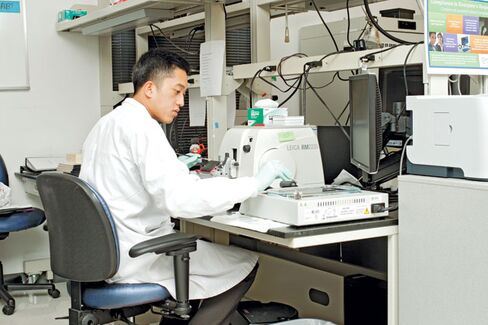 In March 2009, Diane Carlini had a routine mammogram and got a preliminary diagnosis of breast cancer on the spot. She then underwent a gamut of tests including a painful biopsy and an MRI, followed by surgery to remove her tumor. Throughout the process, an unnerved Carlini tried to gauge the severity of her illness by reading the faces of doctors and parsing their less-than-precise takes on her condition. "With the mammogram, you could tell they weren't completely sure what was going on," she says. "And the same was true of the biopsy, where they could see some bad cells, but there was plenty of doubt."
The only real moment of clarity for Carlini, who handles public relations for the tax software maker Intuit, came about a month into the ordeal. That's when her three-page report from Genomic Health arrived, providing a detailed analysis of the genetic makeup of her tumors and how likely they were to respond to chemotherapy and to recur. Carlini found out there was a 29 percent chance her cancer would return without chemotherapy; the chances would fall to 15 percent with chemo, which she opted to have. "Somebody finally gave me some concrete information and a real recommendation," says Carlini, whose cancer is now in remission. "I hung on to that—that those numbers were valid—through the whole treatment process."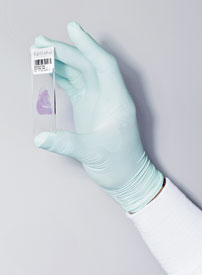 Silicon Valley-based Genomic Health has been providing these types of tests for breast cancer patients since 2004; it now does similar diagnostic work with colon cancer. It's a big player in the movement to provide medical information and treatment options precisely tailored to individual patients. "The field of oncology is changing quite a bit," says Elwyn Cabebe, an oncologist in Los Gatos, Calif. "This is an example of one of the first innovations where we are actually using genomics to help guide us."
Soon, Genomic Health expects to reveal the genetic markers key to analyzing the behavior of a prostate cancer tumor as well. "We love men, too," says Kimberly Popovits, the chief executive officer of Genomic Health and a former executive at Genentech. "We haven't been able to share the results yet, but we're very pleased with what we're seeing." If all goes according to plan, Genomic Health will have a diagnostic test next year for prostate cancer and follow that with tests for lung cancer and melanoma. "Cancer is such an emotional disease," Popovits says. "We are trying to make tools to help patients and their families really understand it."
About 10 years ago, Genomic Health's founders developed some novel techniques for extracting ribonucleic acid (RNA) from samples of cancerous tumors that research centers and hospitals had in storage. This allowed them to study the genetic makeup of the tumors and to compare it against the outcomes of patients who had been studied for two to three decades. Through this work, the company, which employs several Genentech veterans, developed an algorithm that could examine 21 genes from a breast cancer tumor and make a very precise prediction about its future behavior. Genomic Health confirmed its results in a series of clinical trials. By 2006, as more doctors recognized the test's effectiveness, sales started to take off. Last year the company's revenue rose 16 percent, to $206.1 million, while its net income almost doubled, to $7.8 million.
The medical community hopes that tests like those Genomic Health produces will help cut down on unnecessary procedures. Because of the fear that accompanies a diagnosis of breast cancer, a lot of women choose to endure chemotherapy even though in many cases it will provide minimal benefit while coming with considerable pain and risk. "For many years, we have been overtreating with chemotherapy," says Cabebe, who uses the Genomic Health test on about 40 percent of his patients. "Prior to this test, we had to guesstimate what the risks and possible benefits of chemo would be."
Last year about 66,000 patients took Genomic Health's diagnostic tests, at a cost of about $4,000 each. The company now faces some competition. The Dutch company Agendia makes the rival MammaPrint diagnostic for breast cancer, which surveys more points on each tumor than Genomic Health's Oncotype DX. "I think most doctors will stick with Oncotype DX because it has been around the longest and is the most familiar," says Cabebe.
At its headquarters in Silicon Valley, Genomic Health has labs to keep pushing forward with clinical trials and others to process the tumor samples that arrive by the hundreds in the mail every day from labs and hospitals. The company has been focused on getting its colon cancer diagnostic covered by insurance providers. Popovits envisions the company becoming a "one-stop shop for cancer" with a huge amount of information in an online database about tumors, treatments, and patient outcomes. Then it could run sophisticated analysis operations and give even more accurate predictions about a tumor's behavior. "Imagine if you could pop your information in and see the five people around the world who match your condition most closely and how they fared," she says. "That is where we need to go."
Before it's here, it's on the Bloomberg Terminal.
LEARN MORE