United, American Halt Most NYC Flights as Storm Nears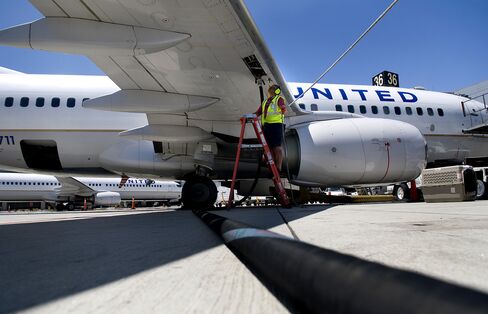 U.S. airlines resumed flights at all New York-area airports today and moved toward full schedules after a second storm-related disruption in less than two weeks.
United Continental Holdings Inc., American Airlines and US Airways Group Inc. returned to normal operations, while Delta Air Lines Inc. said it would be back to a full flight schedule tomorrow. More than 2,240 flights were scrubbed yesterday and today because of heavy snow and gusting winds, according to industry researcher FlightAware.com. That was on top of about 20,000 canceled because of Hurricane Sandy.
"It's a nor'easter; it's not a hurricane, but it's certainly pretty windy," said Michael Derchin, an analyst at CRT Capital Group in Stamford, Connecticut. "I'm sure they are skittish and certainly don't want to take any unnecessary risks in this environment."
United and American announced pullbacks late on Nov. 6, giving them a head start on the industry's usual practice of shuttling planes away from severe weather. Delta, US Airways, JetBlue Airways Corp. and Southwest Airlines Co. later joined in grounding flights.
"If this was just a nor'easter, not still in the debris path of Sandy, I don't think it would have resulted in the same cancellations," said Robert Mann of aviation consultant R.W. Mann & Co.
Newark Cancellations
About 250 flights were scrubbed today at New Jersey's Newark Liberty Airport, a major hub for Chicago-based United, according to FlightAware. That was followed by New York's LaGuardia at 153 and John F. Kennedy with 118.
United cut about 500 flights in the 24 hours before mid-day, said Charles Hobart, a spokesman. He said that was about 5 percent of the carrier's schedule in the period.
AMR Corp.'s American, based in Fort Worth, Texas, and its American Eagle regional partner canceled 86 flights today, bringing the total since yesterday to 395. US Airways, based in Tempe, Arizona, scrubbed 290 flights over the same period.
Delta eliminated 570 flights over the two days, while Dallas-based Southwest canceled about 50. JetBlue, which is based in New York and has its biggest airport operation at Kennedy, grounded 89 flights, said Allison Steinberg, a spokeswoman.
All New York airports are open and didn't sustain damage or flooding from the nor'easter, said Steve Coleman, a spokesman for the Port Authority of New York and New Jersey.
Rail Lines
New Jersey Transit said this week it's "still several weeks away from full service restoration" after the destruction of 80 percent of its infrastructure by Sandy. Some New York City subways have only partial service, and the storm has snarled Long Island Rail Road and Staten Island Railway schedules.
Airlines girded for the new storm as they began disclosing the financial fallout from Sandy.
Delta said last week that the superstorm cut October profit at the Atlanta-based airline by $20 million and revenue by $45 million. United said yesterday that Sandy damped monthly revenue by about $90 million and profit by $35 million.
Sandy was "another data point for carriers to do the math, so they understand what worked, what didn't, and how they might improve in the future," said Mann, the consultant. "You see many more proactive cancellations because the carriers understand the economics of doing so."
Before it's here, it's on the Bloomberg Terminal.
LEARN MORE