China Bank Profit to Slow on Margins, Provisions, Bernstein Says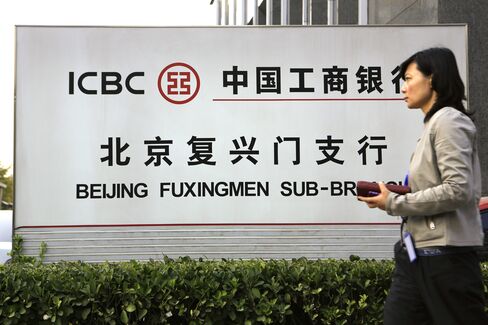 Chinese banks may post slower profit growth in the fourth quarter as their lending margins narrow and provisions for bad debt rise, according to Sanford C. Bernstein & Co.
Pretax profit in the three months ending in December may grow by 9 percent, down from 12 percent in the third quarter, analysts including Mike Werner wrote today. Larger lenders such as Industrial & Commercial Bank of China Ltd., the world's biggest by market value, and China Construction Bank Corp., the second largest, are better able to resist pressure on net interest margins, a measure of loan profitability, they wrote.
Central-bank moves to grant more flexibility in setting interest rates has led banks to pay premium of as much as 10 percent over the benchmark deposit rate, threatening their margins, and a slowdown in the world's second-largest economy is pushing up non-performing loans. Banks tend to concentrate provisions in the fourth quarter, according to Bernstein.
"We recommend the banks with healthy liquidity and strong capital positions," the analysts wrote, citing ICBC and Construction Bank, which they rate outperform. "We continue to prefer the larger banks as we expect sharper NIM compression and NPL formation at the smaller banks."
Agricultural Bank of China Ltd., the third largest by assets, which the analysts called "the standout winner" in the third quarter for its "strong" earnings, is rated market perform. Bank of China Ltd., the fourth largest, is rated outperform.
Margin Improvement
Third-quarter net interest margins at the four biggest banks improved by an average of 2 basis points from the previous three months, while smaller rivals China Citic Bank Corp., China Minsheng Banking Corp. and China Merchants Bank Co. each reported a decrease of 11 basis points from the second quarter to 18, according to Bernstein.
Chinese lenders' new loans in September were below analysts' estimates, while bad debts in the three months ending that month rose for a third straight quarter, the longest streak of deterioration in eight years.
Credit quality remains "benign" for Chinese lenders, with most non-performing loans concentrated in eastern China and in the manufacturing, wholesale and retail industries, the analysts wrote.
"As long as the credit quality deterioration remains localized, the banks are well-positioned to address the rise in NPLs," they wrote.