Bharti, Idea Users to Fund Chidambaram Deficit: Corporate India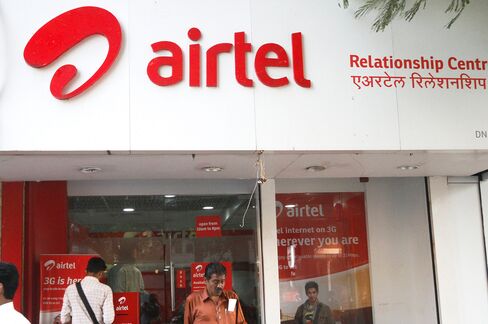 Mobile phone customers of Bharti Airtel Ltd. and Idea Cellular Ltd. may face surging tariffs as Indian Finance Minister Palaniappan Chidambaram counts on airwave auctions to help narrow a $95 billion budget deficit.
Carriers may need to pay as much as nine times the original rate to buy airwaves at auctions starting next week and to retain permits expiring in 2014, forcing a "significant" increase in call charges as early as the second quarter of 2013, according to Rajan Mathews, director general of the Cellular Operators Association of India. Higher costs may almost triple rates to 2.5 cents a minute, according to UBS AG.
"The government needs to fill its budget gap - that's their single most compelling imperative that has caused a significant shift in their priorities and approach to the industry," New Delhi-based Mathews said in a phone interview. "Clearly, we're seeing pressure on these operators that will push up rates."
The government's efforts to bolster its finances and avert a junk rating are weighing on the biggest phone operators amid mounting debt and a drop in net income. Chidambaram unveiled a road map last week to cut the budget shortfall, which includes a revenue target of $7.3 billion from spectrum sales in the year to March 31. Bharti, the nation's biggest carrier, is the worst performer this year on the benchmark Sensitive Index as profit shrank for nine consecutive quarters.
Unprecedented, Unsustainable
"The way the industry is performing and the way prices have gone up, it's unprecedented compared to any other part of the world and it's unsustainable for most of the industry," Bharti Airtel CEO Sanjay Kapoor said Oct. 31 in reply to a query. "Is there a need to take tariffs up? Absolutely, yes."
India is shifting focus to maximizing revenue from sales of airwaves after the Supreme Court in February said spectrum must be auctioned and canceled 122 licenses awarded in 2008, saying their allocation was corrupted by "money power" and some buyers' "ability to manipulate the system."
A group of ministers decided on Nov. 1 to force operators to return some of their lowest-frequency airwaves to the government, which will re-auction them by March, according to Kapil Sibal, the minister in charge of telecommunications.
The canceled airwaves will be sold back, starting Nov. 12, at a reserve price of 140 billion rupees ($2.6 billion), compared with the 16.6 billion rupees operators paid in 2008. The final auction price determined by the sale of 1800 Mhz airwaves this month will serve as the opening bid for the 900 Mhz spectrum to be sold by the end of March, Sibal said.
Pendulum Swing
"After 17 years of falling prices, the government's new priorities will force the pricing pendulum to swing back the other way," said Suresh Mahadevan, managing director at UBS Securities India Pvt. in Mumbai. "Subscribers can expect to face a big readjustment in pricing over the next few quarters."
Competition and price wars have forced voice rates down to as low as 50 paise (0.9 cent) from as high as 16 rupees in 1995, helping add 900 million subscribers and making India the second-largest mobile market in the world. China Unicom Ltd. charges 0.1 yuan (1.6 cents) for pre-paid local calls, according to its website.
Tata Teleservices Ltd. withdrew from an auction of CDMA airwaves, Bloomberg TV India reported yesterday without citing anyone, while the Economic Times said Nov. 3 Videocon Industries Ltd. pulled out, leaving no buyers for 800 Mhz. That may force the government to cancel the CDMA auction, the Mint newspaper reported today.
'Fool's Paradise'
Qualified bidders for the first two auctions on the GSM platform include Bharti, Idea, and Vodafone Group Plc, according to the Department of Telecommunications. Idea's spokesman Rajat Mukarji and Vodafone's spokesman in Mumbai Suresh Rangarajan declined to comment on their companies' tariff plans.
Paying for new airwaves may not be the operators' only expense. Existing service providers with more than 6.2 Mhz per circle may pay a combined 100 billion rupees surcharge to continue operating. Those acquiring more than 4.4 Mhz may have to pay an additional fee, according to proposals under consideration by Prime Minister Manmohan Singh's cabinet.
"The government has created a fool's paradise where they think they can jack up the base price and mint money," said Harit Shah, an analyst with Mumbai-based Nirmal Bang Institutional Equities. "I don't see this plan as producing a great win for the government."
The government will disclose the final list of bidders today, according to the Department of Telecommunications.
Fairly, Equitably
Finance Minister Chidambaram is seeking to curb the budget deficit to an almost decade low in five years as Standard & Poor's and Fitch Ratings reduced the outlook on India's credit rating to negative from stable earlier in 2012, bringing the nation a step closer to non-investment grade.
He told reporters on Oct. 29 that the government will reduce the gap to 3 percent of gross domestic product by March 2017, starting from 5.3 percent in the current year. He expects to raise 400 billion rupees from the sale of airwaves in the current year and 300 billion rupees from the sales of stakes owned by the government in state companies.
"The burden of fiscal consolidation should be shared fairly and equitably by different classes of stakeholders," Chidambaram said last week. "The poor should be protected and others must bear their fair share of the burden."
Bharti, which will announce its earnings tomorrow for the quarter ended Sept. 30, has slumped 20 percent this year, the most among the 30 stocks that make up the Sensitive Index, according to data compiled by Bloomberg. It climbed 0.5 percent to 274.85 rupees as of 10:19 a.m. in Mumbai.
Sliding Growth
Billionaire Anil Ambani-controlled Reliance Communications Ltd. has slumped 20 percent in the same period, while billionaire Kumar Mangalam Birla-owned Idea Cellular has risen 4.3 percent.
Reliance Communications' profit dropped 85 percent from three years ago in the 12 months ended March 31. Earnings at Idea have declined in the last two financial years, according to data compiled by Bloomberg.
Their average sales growth has slowed to 10 percent from 37 percent in 2009, taking their combined debt to $23 billion after two spectrum sales in 2008 and 2010.
"Our intention and the government's in the National Telecom Policy 2012 is to keep call rates low and affordable for the entire country," said COAI's Mathews. "But the decisions that have been made will force our hand to increase rates or spoil the market, those are the choices."
Before it's here, it's on the Bloomberg Terminal.
LEARN MORE