Rochdale Said to Seek Capital After Trading Mistake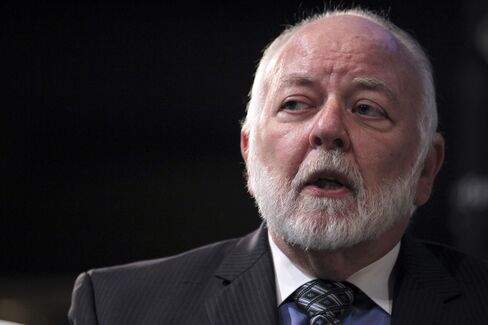 Rochdale Securities LLC, the 37-year-old brokerage that employs bank analyst Dick Bove, is trying to raise money to keep the firm afloat after a trading loss, said four people with knowledge of the firm's situation.
Managers at Rochdale are telling employees and potential investors that a trader made an unauthorized purchase last month of Apple Inc. shares, which declined in value and depleted the capital of closely held Rochdale, said two of the people, who requested anonymity because the overtures have been private.
Smaller brokerages are becoming more vulnerable as money managers buy and sell fewer securities and execute more transactions electronically. Stamford, Connecticut-based Rochdale, led by President Daniel J. Crowley, had $3.44 million of capital at the end of last year, according to a filing with the U.S. Securities and Exchange Commission.
"The business model is fragile, it's built upon reputation, and you can have a liquidity crisis almost instantaneously," said Mark T. Williams, a former Federal Reserve Bank examiner who now teaches risk-management at Boston University. "I'm not surprised they're scrambling to get capital."
The firm approached potential investors in the past week, including rival brokerages, said two of the people. Among them were BNY ConvergEx Group LLC, according to one person. Elizabeth Anderson, a spokeswoman for the New York-based trading and technology firm, declined to comment.
Rogue Trader
Rochdale executives told one potential investor that a rogue trader bought the Apple shares without informing his superiors, said a person approached by the firm. The brokerage's capital couldn't withstand the stake's subsequent decline of a few million dollars, the person said. The trade happened around Apple's Oct. 25 earnings report, said two of the people.
Rochdale has provided trading and research for institutional clients since 1975 and doesn't do investment banking, according to the company's website. Its most visible analysts include Bove, 71, who covers the biggest U.S. banks. The firm has 26 registered representatives in Stamford and six in New York, Financial Industry Regulatory Authority records show.
In May 2008, months before the peak of the financial crisis, Bove reduced his ratings to sell on Goldman Sachs Group Inc., Merrill Lynch & Co. and Lehman Brothers Holdings Inc., citing concern that earnings would falter. Lehman collapsed four months later, filing the biggest bankruptcy in U.S. history, and Merrill sold itself to Bank of America Corp.
Crowley didn't return phone calls today seeking comment. Apple, based in Cupertino, California, forecast profit last week that fell short of analysts' estimates.
Before it's here, it's on the Bloomberg Terminal.
LEARN MORE