New York Revives by Patching Transportation System on Fly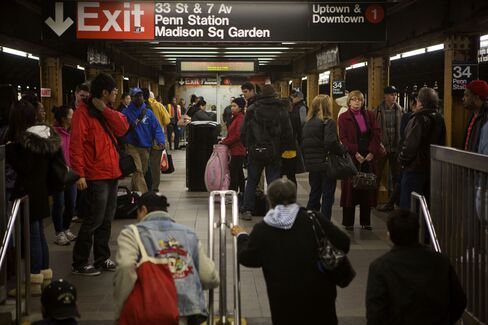 The New York region is replacing a rail network built over a century with a patchwork constructed day-by-day to move its 8 million people again as it struggles back to life after Hurricane Sandy.
The Metropolitan Transportation Authority restarted some subway service today and some commuter rail lines yesterday. With the unprecedented scope of the damage becoming clearer, authorities and New Yorkers filled in the gaps in rail service with new bus routes and schedules, cabs picking up multiple passengers, ferries plying the Hudson River and bicycles streaming across the Brooklyn Bridge.
New York Governor Andrew Cuomo waived fares on subways, commuter trains and buses through tomorrow as automobile traffic ground to a halt in the largest U.S. metropolis. Drivers, in addition to braving hours-long traffic jams, sat in lines as long as two miles to buy gasoline from the few service stations that had power.
"Traffic in Manhattan today was very, very high, and the gridlock was downright dangerous," the Democratic New York governor said at a press briefing today. "We have to take further action as an encouragement to have people take mass transportation, which is coming online piece by piece."
Jerry-Rigging
The Long Island Rail Road ran its first post-hurricane train from Brooklyn's Atlantic Yards to Jamaica, Queens, at 2:50 p.m. local time yesterday. Fourteen of 23 MTA subway lines resumed limited service today, though none are running between Manhattan's 34th Street and Brooklyn.
"We're going to come back even stronger than we were before, but until we get there I'm asking for their patience," Joseph Lhota, MTA's chairman and chief executive officer, said yesterday, referring to the system's 8.7 million weekday users. "For this service to come back, it's basically rail by rail, switch by switch."
Without rail, New Yorkers were finding other ways to get to their destinations. Mary D'Ambrosio, a Central Connecticut State University journalism professor who usually commutes to work from Brooklyn on Amtrak, heard about a secret car rental.
"I spent years working in third-world countries, so I'm used to jerry-rigging things," D'Ambrosio said yesterday. "In New York we know how to deal with problems without too much hysteria."
Metro-North, Amtrak
Metro-North as of 10 a.m. had carried 65 percent of its normal customer traffic today on its Harlem Line out of Grand Central Terminal, Cuomo said in a statement. Harlem Line service was to be extended this afternoon as far north as Southeast Station, though the number of trains will be "very limited" today, Cuomo said.
Amtrak, the U.S. intercity passenger railroad, said it will resume limited service today between New York and cities including Trenton, New Jersey, and Philadelphia tonight, after pumping water out of one of two flooded tunnels under the Hudson River.
The challenges remain daunting for the U.S. metropolitan area that depends most on trains. Tunnels connecting Brooklyn and Queens to Manhattan remain under water. The rail operations center for New Jersey Transit was flooded and the full toll hasn't even been assessed yet, although officials said computers, the backup power supply and emergency generators are damaged.
"That was the central nervous system," Nancy Snyder, a spokeswoman for the commuter-rail agency, said. "If you look at the central nervous system of a human body, you have no backup."
Damaged Trains
Twenty-five percent of New Jersey Transit's rail cars were damaged, Governor Chris Christie said today. New Jersey Transit also grappled with local power outages that prevented testing of crossing gates and operating signals, downed trees that blocked tracks and damaged overhead signal wires, washed-out tracks, and drawbridges struck by boats.
The agency's buses are 80 percent back and should be 100 percent by Monday, Christie said.
Long Island Rail Road had removed 140 trees as of yesterday. On its Babylon branch, three 90-foot high-tension utility poles snapped and were leaning over the tracks. The railroad had removed about 300 train cars to erect a specially designed water dam to keep water from reaching Penn Station tracks and an Amtrak tunnel. The storm surge went over the top of the levy, flooding the tunnel anyway.
Partial LIRR service was restored to Manhattan's Penn Station today, with hourly trains on the Ronkonkoma Beach line and from Great Neck on the Port Washington Branch line.
Pumping Tunnels
Three of the New York subway system's seven tunnels have been pumped free of water, Lhota said. The agency is working with Consolidated Edison Inc. to restore electrical power in those tubes, he said. Lack of power was also the reason trains couldn't run south of 34th Street in Manhattan.
Other makeshift transport options sprung up. New York Mayor Michael Bloomberg issued an executive order Oct. 30 allowing cab drivers to pick up multiple passengers going to different destinations at the same time. The mayor, the majority owner of Bloomberg LP, parent of Bloomberg News, is also allowing livery cars to pick up people on the street.
MTA is transporting users to Manhattan from Brooklyn with 330 shuttle buses picking up passengers from three locations in the borough.
Ferries, Feet
New York Waterway resumed ferry service between Port Imperial Hoboken and Jersey City, New Jersey, to Lincoln Harbor, West 39th Street and the World Financial Center in New York. The Staten Island Ferry fleet escaped storm damage, while the New York City Transportation Department was working to repair damaged terminals, Commissioner Janette Sadik-Khan said.
In Brooklyn, pedestrians and bicyclists streamed across the landmark Brooklyn Bridge yesterday into Manhattan. Tenecia Marbury, 37, said it was her first time walking from borough to borough.
"My job has been very nice about it —- as long as the bridge is open and there is some sort of public transportation you should get to work," said Marbury, who was heading to Henri Bendel, a department store in midtown Manhattan. "You find a way or you make one."
New York state and local governments are picking up the recovery cost until the federal government reimburses them, Cuomo said.
Repair Costs
The Federal Emergency Management Agency will cover costs of repairs to electric substations and power lines, and to add buses through Nov. 9, Senators Charles Schumer and Kirsten Gillibrand, both Democrats, said in an e-mailed release. A similar statement was issued by New Jersey Democrats Robert Menendez and Frank Lautenberg.
The U.S. Federal Transit Administration will coordinate efforts to get the system running, Transportation Secretary Ray LaHood said on a conference call yesterday, and will provide rail cars or buses from other cities if needed. A law allowing FTA to make direct emergency-relief payments wasn't funded by Congress, so regulators will work through the Federal Emergency Management Agency as they have in past disasters, LaHood said.
Before it's here, it's on the Bloomberg Terminal.
LEARN MORE