Millionaire Liquor Spurs Top Stock in Hu Reign: Chart of the Day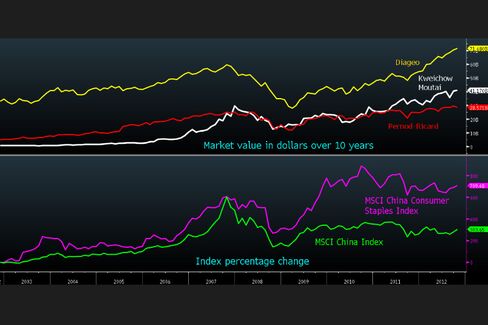 Shares of Kweichow Moutai Co., the maker of the 106-proof spirit preferred by Chinese millionaires, have beaten every other stock in Shanghai during President Hu Jintao's 10-year term with a 3,453 percent rally.
The CHART OF THE DAY tracks the market capitalization of Moutai against Diageo Plc and Pernod Ricard SA since the end of November 2002 through last month. The Chinese company's value has risen to $41 billion from less than $1 billion, making it the world's second-largest distiller. The lower panel shows a gauge of Chinese consumer-staple companies has gained at more than double the pace of the broader index in the past decade.
China's surging economy since 2002 almost tripled disposable household wealth in towns and cities and created a new class of rich with a taste for luxury goods. Moutai was among the top 10 brands picked by Chinese millionaires as gifts for friends and business contacts, the only domestic name to feature in a list that included Cartier Ltd. and Hermes International, a Hurun Report Inc. survey showed.
"Moutai is China's most beloved drink," said Yuan Gangming, an economist with the Chinese Academy of Social Sciences in Beijing. "After buying homes and cars, Chinese consumers desire a little bit of luxury -- and Moutai can fit into that."
Moutai, distilled from sorghum, earned its cachet as the alcohol of choice by Chinese leaders and diplomats to honor visiting dignitaries. Premier Zhou Enlai toasted U.S. President Richard Nixon with Moutai to mark his 1972 visit to the communist country that paved the way for a normalization of relations between the two nations. The liquor was served in 1984 after U.K. Prime Minister Margaret Thatcher signed the agreement to hand over Hong Kong to China in 1997.
Baijiu, the generic name for white spirits, may grow 8 percent annually to a $34 billion market in China by about 2016, Gilbert Ghostine, president of London-based Diageo's Asia unit, said in November 2011. Diageo sells the Shui Jing Fang baijiu brand. China's Hu and Premier Wen Jiabao are due to hand over power to a new generation of leaders at a once-a-decade communist party congress that starts on Nov. 8.
-- Richard Frost, Xin Zhou. Editors: Darren Boey, Allen Wan
Before it's here, it's on the Bloomberg Terminal.
LEARN MORE