Your Neighborhood Applebee's Is Doing Just Fine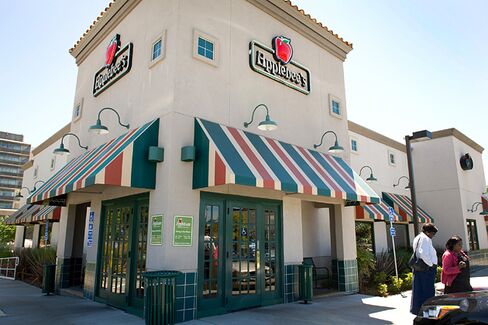 Hurricane Sandy left a mess in her wake, but casual dining establishments seem to have gotten through relatively unscathed. "In many communities our restaurants are the only operations that have power as a result of their generators or because they have refrigerated trucks on hand," says Dan Smith, a spokesman for DineEquity, which owns the Applebee's and IHOP brands. "A lot of our franchisees are seeing good traffic."
DineEquity closed about 475 East Coast restaurants in preparation for Sandy. By Tuesday, that number was down to 200, says Smith, who adds that "today only about 100 are still closed and our franchises are rapidly bringing more restaurants back online." Overall, Smith says, it's too early to know how much Applebee's and IHOP lost in revenue due to closures and spoiled food.
Stephen Anderson, an analyst at Miller Tabak, predicts that casual dining restaurants like Applebee's won't see a dent from Sandy. "I think there will be no net loss," he says. "In early November, a lot of people who've been stuck inside will be wanting to get out of the house and that will balance things out." Anderson also points out that casual dining spots are rare in Manhattan. "The only options you really see are around Times Square."
In general, these chains are at an advantage. "A lot of the independents are probably having a harder time in terms of sourcing," says Anderson. "If something goes down in the New York area, big chains can source from elsewhere." And although some chains will certainly suffer the loss of food supplies gone bad, Anderson predicts that factor won't do much to move the needle.
Overall, Anderson predicts that politics likely wreaked more havoc on casual dining's October revenue than Hurricane Sandy. "This month, you had four highly watched presidential debates that kept people inside," he says. "That effect is spread nationwide."
Before it's here, it's on the Bloomberg Terminal.
LEARN MORE