Romney Ohio Fate Tied to 47 Percenters Along Appalachians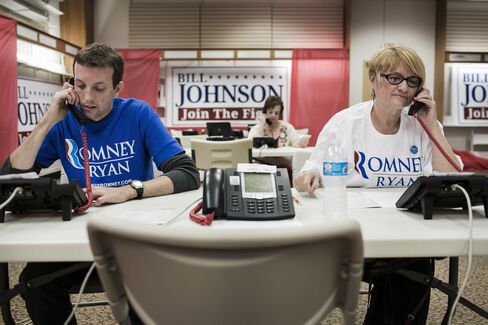 Pastor Rick Towe shuns politicking from the pulpit, avoiding any mention of President Barack Obama and Mitt Romney during a recent Sunday sermon at the small Pentecostal church in the southeastern Ohio River town of Kanauga. Yet the battle for the White House always seems to find him.
"I hear more that Obama is a Muslim than Mitt Romney is a Mormon," Towe said after the service. "My e-mail box is full, mostly from Christians running down Obama."
In the battleground state of Ohio, the Appalachian foothills stretching from the state's southern tip to the southwestern corner of Pennsylvania is the land Romney described as the "47 percent," a region of high dependence on government assistance -- jobless pay, food stamps, and aid to the poor.
It's an area where cultural issues such as gay marriage and abortion and candidates' biographies override economics and taxes.
"There's a cynicism about politics and politicians who come down and promise things and then nothing seems to happen," said Paul Beck, a political science professor at Ohio State University in Columbus.
Balancing Votes
For Romney, southeastern Ohio presents the political flip side of Obama's challenge to turn out young and minority voters in urban areas. While Ohio mirrors the nation in some major racial and demographic categories and is a presidential bellwether, the counties near the river are 90-plus percent white and the percentage of residents older than 65 is above the state average. Voters here decisively endorsed the candidacies of Republican nominees John McCain and George W. Bush in the previous three elections.
Gallia County, for instance, chose McCain by 62 percent to 36 percent over Obama four years ago. In neighboring Meigs County, McCain won 58 percent to Obama's 39 percent. Romney needs to match or exceed those lopsided victories to counter Obama's advantage in the cities.
"I see these counties going nearly all Republican," University of Akron political scientist John Green said of the region. "This is a sparsely populated area, but collectively in a close election they could mean a lot."
Shaving Support
Former Ohio Governor Ted Strickland, a Democrat, said the goal of the Obama campaign is to "shave off some of those numbers" from Republicans in those counties.
"If they were voting their economic interests, they'd be voting hugely Democratic," Strickland said. "Mitt Romney was talking about these voters when he talked about the 47 percent."
Reviving the economy in this area is an entrenched challenge. As Ohio's jobless rate dropped to 7 percent in September, continuing a steady decline from 8.6 percent a year earlier, the signature economic trait of this region settled by the French in the late 1700s is poverty. Almost a half-century ago, President Lyndon Johnson laid the foundation for his "Great Society" social assistance programs with a speech at Ohio University in the college town of Athens.
"We must abolish human poverty," Johnson said in the May 1964 speech. Little has changed, though, as poverty rates range from the high teens to more than 30 percent in Athens County.
Enduring Poverty
Poverty is a constant that "really doesn't matter in this election," said Jack Frech, director of the Department of Job and Family Services for Athens County. "And tax cuts don't help us because we really don't have any rich people down here. We're 100 percent of the 47 percent."
This is also an area known for exits. Gallia County is where Bob Evans opened the first of more than 600 restaurants bearing his name in 18 states; its headquarters is now in Columbus, the state capital.
Rocky Shoes and Boots Inc. abandoned production in Nelsonville for the Caribbean in 2000. A former factory is now a sales outlet in the Athens County town, where Romney-Ryan yard signs line the front of the building.
Coal mines that used to support the region for generations are shuttered and the pledges of new jobs not delivered -- coming from Democrats and Republicans -- are remembered by suspicious voters.
Beck of Ohio State University said the regional perception that Democrats who are pro-environmental enforcement are enemies of coal has stuck in the minds of many voters.
'Decimated' Area
"You're down here in an area decimated by the policies of this administration," said Ed Zatta, 47, who runs a pharmacy in Pomeroy in Meigs County. "There's not much going on down here."
Median household income in the county was $33,407 in 2010, compared with a statewide figure of $47,358, according to the U.S. Census Bureau.
Etta Spence, a retired grocery store cashier who lives in Bidwell, said that while she isn't excited by her choices on Election Day, "Mitt is a lot more precise about what he's going to do."
"I don't know if things are going to change, but they won't change under him," said Spence, 65, referring to Obama.
In Spence's county of Gallia, median household income was $37,409 in 2010, Census Bureau data show.
Biographies Matter
The politics of personality and origins now matter more than party affiliation in an area that once was reliably Democratic. Voters here endorsed Democrat and Arkansas native Bill Clinton twice for president and helped elect Strickland, who's from far southern Scioto County, as governor in 2006. "They were people they could relate to," Beck said.
Political cynicism has elevated the value of cultural issues like abortion and gay marriage. In Ohio's Republican primary, residents here strongly backed the candidacy of Rick Santorum, a Roman Catholic who was raised near the mouth of the Ohio River in suburban Pittsburgh.
In a region dominated by Protestant churches, Gallipolis -- pronounced Galli-police -- also has a Church of the Latter Day Saints, Romney's religion, with about 300 members.
"We don't talk about politics at church," said Bishop Kimball Clark, a physics professor at the nearby University of Rio Grande. "We have members who are very true Democrats and others who go the other way."
Gay Marriage
Voters in these counties turned out in large numbers in 2004 to support Bush, drawn to the polls also by a ballot measure banning gay marriage. Green, of the University of Akron, said the amendment, which was approved statewide by 62 percent to 38 percent, increased the state voting totals by 4 percent to 5 percent. Turnout in some southeastern counties jumped by more than 20 percent over the 2000 election.
"You don't have an issue like that on the ballot this time, but there are very negative views of President Obama from religious conservatives," Green said.
Pomeroy resident Anna Cogar, 19, voting for the first time, will cast her ballot for Romney. "I like the fact that he's a Christian, by the book," Cogar said, adding that Obama "is not a Christian." Romney is a Mormon; Obama is a Protestant.
In Meigs County, where the September jobless rate was 10.7 percent in September, one-in-five people -- including a third of children -- live in poverty. The average weekly wage in the first quarter of 2012 was $534, the lowest of the state's 88 counties.
All of this figures into the political math in southeastern Ohio, which, by itself, is a voice confined to the state's back benches. In a close statewide race, which elections normally are here, the votes from the hills and hollows could loom large.
"The question is turnout," Green said.
Before it's here, it's on the Bloomberg Terminal.
LEARN MORE