Greenwich Mansions Leveled as Sandy Swept Connecticut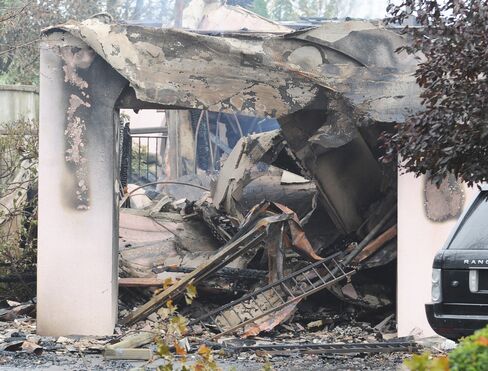 Flames destroyed three waterfront homes in the hedge-fund mecca of Greenwich, Connecticut, as a firestorm driven by Sandy's gale threatened to rip through one of the wealthiest neighborhoods in the U.S.
Combined, the mansions were valued at almost $14 million, including one that was purchased in 2011 for $6.8 million, according to town records. All three were on Binney Lane, a private road protected by a sea wall above Long Island Sound.
Governor Dannel Malloy visited the town Oct. 30, heaping praise on firefighters who prevented the Oct. 29 conflagration from spreading to nearby homes. Sandy's winds, which fed the fire, also knocked down trees and power lines across the town.
"What's remarkable here is what the fire department actually accomplished," Malloy told reporters as he toured the devastation Oct. 30, a video posted on AOL Inc.'s Greenwich Patch website shows.
"The flames were almost lapping at these houses right across here," he said, standing in the driveway of a destroyed home and pointing at undamaged neighboring structures. "If they had gone, the next ones would have gone, and the next ones."
Sandy's Devastation
Surging waters from the sound drove firefighters from the scene during the storm, which packed gusts of as much as 70 miles (113 kilometers) an hour as it swept past. Sandy paralyzed New York City, flooding subway tunnels and blacking out lower Manhattan, and pounded entire communities in New Jersey with ocean swells. At least 72 U.S. deaths were linked to Sandy.
Greenwich firefighters returned to Binney Lane as the storm subsided to put out the blaze and prevent it from spreading. Yellow tongues of flame licked from windows of one home, surrounded by floodwater and toppled trees, as rain and debris flew past, in a video released by the fire department.
While Connecticut escaped much of the destruction heaped on New York and New Jersey by Sandy, storm surges and winds knocked out power to about 600,000 customers. Waterfront communities on Long Island Sound bore the brunt of the wind and waves, and at least three deaths occurred, including a firefighter in Easton who was killed when a branch fell on his vehicle.
A firestorm in New York's Queens borough leveled at least 111 homes during the height of Sandy's fury. About 200 firefighters fought wind-whipped flames, struggling through floodwaters that swept over the peninsula that juts out into Jamaica Bay opposite Floyd Bennett Airfield.
Evacuations Ordered
Malloy ordered some residents in coastal communities to evacuate as the storm approached on Oct. 29. Firefighters began knocking on the doors of about 4,000 of the 20,000 homes in Greenwich in the afternoon, telling occupants to leave, according to Frank Farricker, a resident and former Planning and Zoning Commission secretary.
Many residents of the Old Greenwich neighborhood, where Binney Lane is located, were told to go because that section of town lies closest to the waters of the sound, Farricker said.
The three homes destroyed were at 36, 44 and 45 Binney Lane, where the blaze started and where residents were home at the time, according to Robert Kick, an assistant fire chief. The cause is under investigation, he said. While firefighters reported minor injuries, no residents were hurt.
Town records list 45 Binney Lane's owners as Elliot and Nancy Alchek and give the assessed value of the 6,751 square-foot home as $6.86 million. Attempts to reach Elliot Alchek by telephone yesterday were unsuccessful.
$6.8 Million Sale
The assessed value of 36 Binney Lane is listed as $3.92 million, although it sold in June 2011 for $6.79 million, town records show. The 6,906 square-foot house is owned by Jeffrey and Christine Dimodica, the records indicate. Attempts to reach Jeffrey Dimodica also weren't successful yesterday.
David Mullen, a doctor at Greenwich Hospital and the owner, with his wife, Gina Gladstein, of 44 Binney Lane didn't respond to a message left at his office yesterday. Town records list the 5,346 square-foot home's value as $2.96 million.
Greenwich is about 30 miles northeast of midtown Manhattan and has emerged over the last two decades as a hedge-fund capital. It is home to industry leaders including Paul Tudor Jones, founder of Tudor Investment Corp., and Steven A. Cohen, the billionaire who runs SAC Capital Advisors LP.
Old Greenwich is one of the town's most prestigious neighborhoods. The area hit by fire was once a destination for New York financiers, who built beach houses that have since been replaced by year-round homes, according to Gideon Fountain, a real estate agent at Sotheby's Greenwich. Other premier waterfront neighborhoods in the town may have suffered less damage from Sandy, which began as an Atlantic hurricane, because they are more elevated from sea level, he said.
"The town pretty much slopes down to Old Greenwich," Fountain said.
Almost two-thirds of Greenwich was still without power at 6 p.m. yesterday. First Selectman Peter Tesei, a leader of the town's government, didn't respond yesterday to requests for comment on the fire or other Sandy-related issues.
Before it's here, it's on the Bloomberg Terminal.
LEARN MORE