Obama Focuses on Day Job as Storm Makes Romney Regroup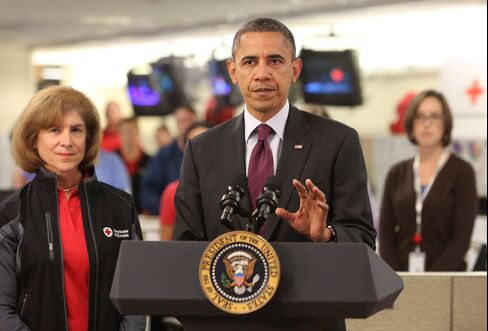 With a push from Atlantic superstorm Sandy, Barack Obama is approaching the last lap of his re-election campaign by concentrating on his day job.
Less than a week before the Nov. 6 general election, the president is assuring Americans, marshaling federal resources and setting the agenda for news coverage of a crisis in which his Republican challenger, former Massachusetts Governor Mitt Romney, has no official role.
Obama has "both the advantage of being able to act presidential and the risk that there might be repercussions from the failure of this disaster to be cleared up as quickly as people want," said Paul Beck, a political scientist at Ohio State University. "This is a very important last week and a very close contest."
The devastation caused by Sandy allowed Obama to promote indirectly the merits of government action over a smaller federal footprint that Romney has advocated. Romney yesterday refused to answer repeated questions about whether he would shift Federal Emergency Management Agency duties to the states, as he said he would during the primary campaign.
Romney returns to the campaign trail today, with three events in the swing state of Florida with Senator Marco Rubio and former Governor Jeb Bush. He plans to campaign tomorrow in Virginia, a battleground state where the storm forced him to cancel earlier campaign stops.
New Jersey Stop
Before Obama resumes campaigning tomorrow in Nevada and Colorado, he is meeting with FEMA officials and traveling to hard-hit New Jersey, where he'll survey damage with the state's Republican governor, Chris Christie, who has campaigned on Romney's behalf and was the keynote speaker at the Republican nominating convention.
The New Jersey stop allows Obama to illustrate a pledge he and Romney each has been making to swing voters in recent days: to work with leaders from the opposing political party for the common good.
In an interview yesterday on the Fox News Channel, Christie gave Obama "great credit" for his storm response so far. He said he'd spoken three times with Obama about the storm and "he's been very attentive, and anything I've asked for, he's gotten to me."
Asked whether Romney would go to New Jersey to tour storm damage, Christie said he didn't know or care.
Local Concerns
"I've got a job to do here in New Jersey that's much bigger than presidential politics, and I could care less about any of that stuff," he said. "If you think right now I give a damn about presidential politics, then you don't know me."
He said on CNN last night that Romney called him Oct. 28 to check on the state's situation.
New York Mayor Michael Bloomberg, in an interview yesterday at an emergency operations center in Brooklyn, said Obama and White House Chief of Staff Jack Lew called him, while he hadn't spoken with Romney. Bloomberg, who hasn't endorsed either candidate, said he declined a presidential visit.
"We'd love to have him but we've got things to do," Bloomberg said, and Obama's visit to New Jersey "represents the whole region."
The mayor is the founder and majority owner of Bloomberg LP, the parent company of Bloomberg News.
While New Jersey is a safely Democratic state in the presidential campaign, Christie's praise may resonate with voters in states that swing between the two parties in national elections.
Romney has said he would give more responsibility for disaster relief to state governments or private companies. In a June 2011 debate during the Republican primary campaign, he was asked whether some of the duties of FEMA should be dispersed.
Romney's Stance
"Every time you have an occasion to take something from the federal government and send it back to the states, that's the right direction," Romney said. "And if you can go even further and send it back to the private sector, that's even better."
The devastating storm interrupted a closely fought presidential race. Three polls this week from the Pew Research Center, NPR News, and ABC News/Washington Post showed the race tied. A CBS News/New York Times poll released yesterday gave Obama a 48 percent to 47 percent lead over Romney among likely voters.
An NPR News survey Oct. 23-25 found Obama ahead by four points in a smaller poll of 12 swing states -- Nevada, Colorado, New Mexico, Iowa, Wisconsin, Michigan, Ohio, Pennsylvania, New Hampshire, Virginia, North Carolina and Florida. The findings were within the survey's margin of error of 4.5 percentage points.
Campaign Hiatus
With millions of people still coping with the storm's aftermath, Obama and Romney yesterday took a day off from official campaigning.
Romney and his running mate, Representative Paul Ryan of Wisconsin, turned public appearances in Ryan's home state as well as Ohio and Iowa into storm-relief events.
In Kettering, Ohio, Romney stood before tables laden with diapers, canned goods, and bottled water, and solicited help for those hurt by the storm rather than delivering a stump speech.
"We have heavy hearts, as you know, with all the suffering going on in a major part of our country," he said. "Your generosity this morning touches my heart."
As supporters waited for Romney to arrive, his campaign played a biographical video touting Romney's record. Romney later recounted how he welcomed victims of Hurricane Katrina to Cape Cod as governor of Massachusetts.
Executive Power
Obama, who spent most of the day at the White House monitoring relief efforts, harnessed the full power of his office, making a surprise visit to a Red Cross site and pledging all available federal resources to aid in the recovery.
He held tele-briefings with federal and local officials and utility company executives and contacted the governors and mayors in the storm's path.
Obama made clear that state and local officials should be in touch with him directly if they had any unmet needs, the White House said in a statement after one of his calls.
The White House announced today that Obama will hit two battleground states tomorrow, with campaign events in Las Vegas and in Boulder, Colorado.
While the impact of the storm on early voting remained a concern for both campaigns, most polling places are located in schools, courts and fire stations that are on priority lists for power restoration, said Kenneth Burris, chief executive officer of Witt Associates, a Washington-based disaster-management consulting group founded by former FEMA director James Lee Witt.
"With a presidential election coming up, local governments have identified those places that are critical to have the power back on by Nov. 6," Burris said.
Campaigns Engaged
As the candidates focused their public remarks on the storm's devastation, the campaigns didn't stop engaging, with each casting itself as having the upper hand in the final days of the race.
Former President Bill Clinton campaigned on behalf of Obama in a stop at the University of Minnesota in Minneapolis and will appear today in Iowa.
Shortly after the Romney campaign announced advertising in reliably Democratic Pennsylvania, as well as in Michigan and Minnesota, Obama's campaign manager, Jim Messina said the decision was made "out of weakness, not strength."
Messina said Obama is leading or tied in every battleground state poll and has an early vote advantage in every state across the country while Romney has a "narrow and improbable path" to capturing the 270 Electoral College votes needed to win.
"The machinery of the campaigns go on even if the principals are doing different things," Beck said.
Advertising War
Voters only had to switch on their televisions to see both campaigns engaged in a heated ad war. In Ohio, where one in eight jobs is connected to the auto industry, the candidates continued their battle over the government's rescue of General Motors Co. and Chrysler Group LLC.
The Obama campaign began broadcasting a new ad yesterday, calling dishonest a Romney spot that says Chrysler plans to move Jeep production facilities to China. Even before the Romney ad began airing, Chrysler released a statement saying that "Jeep has no intention of shifting production of its Jeep models out of North America."
Romney's 30-second spot shows cars being crushed as a narrator says Obama "sold Chrysler to Italians who are going to build Jeeps in China. Mitt Romney will fight for every American job."
Chrysler, majority owned by Italian Fiat SpA, is retaining and expanding its Jeep production in North America, including in Toledo, as it separately weighs expanding into China, the world's largest auto market.
The Romney campaign plans to advertise statewide in Pennsylvania, which aides say is now in play after being considered a safe victory for Obama.
Before it's here, it's on the Bloomberg Terminal.
LEARN MORE