Arrium Rejects Increased $1.25 Billion Takeover Offer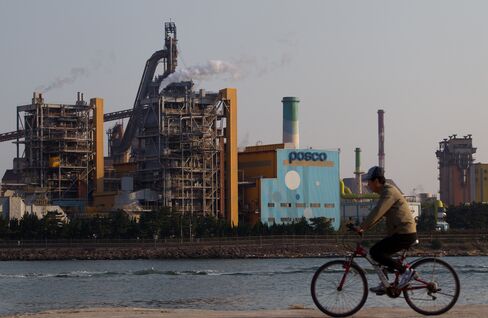 Posco and Noble Group Ltd., leading a consortium to buy Australian steelmaker Arrium Ltd., terminated their A$1.2 billion ($1.25 billion) offer because the target's board rejected two bids and refused to engage.
The group, having raised its bid to 88 cents a share from 75 cents, needed to access financial information about Arrium to assess the capital required to improve the company's steel division, Martin Debelle of Citadel PR, an external spokesman for the consortium, said by phone. Sydney-based Arrium had net debt of A$2.14 billion as of June 30.
"They were probably right to reject both offers particularly the first low-ball one," said Gavin Wendt, senior resource analyst at Mine Life Pty in Sydney. "But this does place pressure on the company to deliver what they say they will and the share price is likely to reflect that."
Arrium today rejected the improved offer from the group, saying the 17 percent higher bid undervalued the company. Buying the steelmaker, which changed its name in July from OneSteel Ltd., would have given Noble and Posco, Asia's third-biggest steelmaker by output, a potential 9 million metric tons in annual supply of iron ore as well as access to as much as 13 million tons a year of port capacity in South Australia.
The Arrium board may have been looking for a price of more than A$1, said Jamie Spiteri, head dealer at Shaw Stockbroking Ltd. in Sydney. The steelmaker's shares fell 1.9 percent to 78.5 cents at the close in Sydney.
Acquisitions in Australia
The attempted acquisition would have been the largest of an iron and steel asset in Australia since Marubeni Corp. agreed to pay A$1.5 billion for a share of billionaire Gina Rinehart's Roy Hill project in March, data compiled by Bloomberg show. Acquirers have announced $6.23 billion of Australian iron and steel asset purchases in the past year, with more than 99 percent of the spending by overseas buyers, the data show.
"Without due diligence we can't value the proposal," Citadel's Debelle said. "They're denying us due diligence and they're refusing to talk to us. We needed to do due diligence so we could assess what capital was required to de-leverage the business" and improve the steel division, he said.
It is "business as usual" for the company after the bid was terminated, Arrium's external spokesman Tim Duncan said today by phone. The 88 cents-a-share offer was "highly conditional" and involved "significant transaction risk" as the group needs to hold talks with Arrium's lenders, the company said today in an earlier statement. It rejected the initial 75 cents-a-share bid on Oct. 1.
Steelmakers Australia
Noble and Posco, Asia's biggest publicly traded commodity supplier, led the Steelmakers Australia group, which also included Korea Investment Corp., National Pension Service of Korea and Korea Finance Corp. Noble last year acquired Australian iron ore producer Territory Resources Ltd.
Iron ore accounted for more than half of Arrium's earnings before interest, tax, depreciation and amortization in the financial year ended June 30, data compiled by Bloomberg show. Since Oct. 1, the steelmaking ingredient has rebounded as much as 15 percent to $120 a ton.
"The recent recovery in the iron ore price to about $120 a ton has removed debt stress and the risk of equity dilution," Credit Suisse Group AG said today in a note. "The rapid rejection by Arrium's board of the largely unchanged 88 cents-a-share consortium offer indicates that it is well below a price that the board deems deserving of serious consideration."