Storm Victims, Obama's Leadership in FEMA's Fugate Hands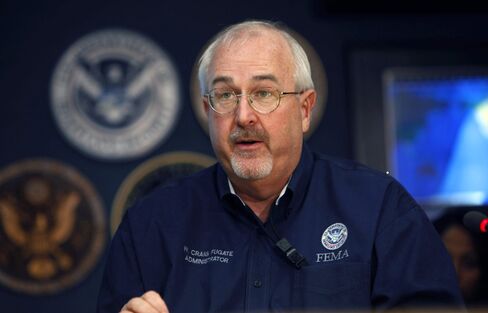 Federal aid for Hurricane Sandy's victims -- and perhaps public perception of President Barack Obama's leadership -- is in the hands of a straight-talking former paramedic who in a crisis never forgets his love of University of Florida football.
The informal manner and storm-tested experience of W. Craig Fugate, administrator of the Federal Emergency Management Agency, have helped resurrect the agency's reputation after its botched response in 2005 to Hurricane Katrina, emergency-response professionals say.
Michael D. Brown, President George W. Bush's FEMA director during that disaster, was the past manager of the International Arabian Horse Association. Fugate, by contrast, has spent most of his adult life in the emergency response realm.
As head of the Florida Division of Emergency Management in 2004, Fugate, 53, once oversaw the response to four hurricanes in six weeks. Jeb Bush, governor at the time, now calls Fugate "an experienced and talented" crisis leader.
"If I were President Obama, I'd be very secure in the knowledge that" Fugate is "there handling things," said Bryan Koon, his successor at Florida's emergency agency.
Fugate is handling the federal response to a storm hitting the East Coast from North Carolina to Maine. The record 900-mile-wide storm might knock out power for 10 million people, said Johns Hopkins University engineer Seth Guikema. Insured losses may exceed $6 billion in the U.S., according to estimates from Kinetic Analysis Corp. compiled by Bloomberg.
Competence Required
A week before the Nov. 6 presidential election, the administration needs to show competence, said Matt Mayer, who was an official at the Department of Homeland Security under President George W. Bush.
"If there's a major flub, it could play into the meme of the Obama administration's reaction to crises," he said, including the attack on the U.S. consulate in Libya that caused the death of the ambassador and three other Americans.
On a conference call with reporters yesterday, Fugate said 400 generators are being sent to the storm-hit region for water-treatment plants and hospitals that might lose power. The agency has stored in the region 600,000 liters of water and more than 490,000 meals, he said.
"As the storm is coming ashore, we'll be rapidly moving into response operations," he said.
Fugate has been in the spotlight before, dealing with Florida's myriad natural disasters, said David Paulison, a former Miami fire chief and Fugate's predecessor at FEMA.
Storm Experience
"I've worked with Craig a long time and I've not seen political pressure affect him," he said. "He's very calm."
In 2004, Fugate confronted a situation similar to what he faces now. Hurricanes Charley, Ivan, Frances and Jeanne thrashed the state just months before a presidential election. Fugate choreographed the preparation for one disaster while engineering relief efforts for the others, said Mike DeLorenzo, deputy director of Florida's emergency response agency.
The storm destroyed some polling places, and Fugate assembled a task force to troubleshoot. Only minor problems were reported on Election Day, DeLorenzo said.
FEMA's past failures show the political risks to presidents. The agency's sluggish response to Hurricane Andrew in August 1992 forced President George H.W. Bush to dispatch his transportation secretary, Andrew Card, to Miami to take charge of federal recovery efforts.
'Brownie' Legacy
In the immediate aftermath of Hurricane Katrina in 2005, President George W. Bush told then-FEMA head Brown, "Brownie, you're doing a heck of a job." The comment became a punch line for comedians and a symbol of the administration's failed response. Brown was out of the job 10 days later.
While the resume of Brown as a horse executive became part of the ridicule, Fugate has focused on emergency services.
He began as a volunteer firefighter and paramedic in his hometown of Gainesville, and then became emergency manager for Alachua County. In 1997, he was made chief of the preparedness response bureau in Florida's emergency-management division.
Fugate's co-workers in Florida could gauge how the day was going by which University of Florida Gators hat he was wearing, Koon said. As a situation worsened, Fugate would don the most beat-up cap in his collection, he said.
When Fugate was called into a videoconference to talk about the response to 1995's Hurricane Opal, Fugate was shown with a University of Florida flag draped over the state seal, said Barry Scanlon, a former FEMA official. It was a playful taunt of an emergency official who was a University of Tennessee fan, said Scanlon, president of Witt Associates, a Washington-based disaster-management consultant.
Coordination Focus
In 2001, then-Florida Governor Bush appointed Fugate director of Florida's emergency-management agency. Obama tapped Fugate to head FEMA soon after becoming president in 2009.
As FEMA administrator, Fugate has emphasized fast and effective coordination with local officials.
He has made it a priority to ensure that federal assistance in a disaster's aftermath doesn't overlap with what local governments and businesses can provide, Jeb Bush said.
"He knows the fed's role is to support the efforts at the local and state level," Bush said in an e-mail yesterday.
Not all Fugate's efforts have succeeded. Last year, a disaster-warning system that was supposed to be carried on radio and television didn't work in some parts of the U.S. during its first national test.
Record Declarations
Last year, Obama signed a record 242 disaster declarations, opening the administration to criticism that its decisions were more based on winning votes in disaster areas than in targeting aid to the hardest hit. FEMA advises the president on such declarations.
Paulison said Fugate's actions are based on how best to help victims, not politics.
After Hurricane Isaac hit the Gulf coast in August, Fugate visited three times, sometimes by himself, to check on recovery efforts, said Robert Latham, executive director of the Mississippi Emergency Management Agency, who said Fugate offered candor and encouragement.
"What Craig understands is that every one of their communities is different," and need different assistance, Latham said.
Fugate is clear and to the point, an important attribute, DeLorenzo said. "When you're in a catastrophic event, you just don't have a lot of time. Time is your enemy."
Fugate will have little time to consider football in the next 72 hours as he grapples with the potential of 11-foot storm surges in Manhattan and three feet of snow in West Virginia.
Before it's here, it's on the Bloomberg Terminal.
LEARN MORE