Eastern U.S. Struggles Back to Life After Sandy Onslaught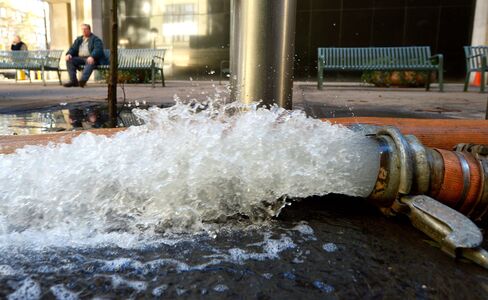 The Northeast U.S. began a slow and uneven recovery from the biggest Atlantic storm in history as financial markets reopened, airports resumed flights and most government workers returned after a two-day shutdown.
Property damage from the storm, which plowed across an area broader than Texas, might reach $20 billion and its harm to the economy might more than double that loss. It caused at least 62 U.S. deaths after at least 69 in the Caribbean, according to the Associated Press.
"This is one of the biggest disasters to ever have struck this state and even this country," said U.S. Senator Chuck Schumer of New York, briefing reporters with New York Governor Andrew Cuomo, a fellow Democrat.
New York City Mayor Michael Bloomberg said, "We are on our way back to normal."
In neighboring New Jersey, Republican Governor Chris Christie ordered Halloween celebrations postponed until Nov. 5. The U.S. Internal Revenue Service gave businesses in the storm area until Nov. 7 to file returns and payments normally due Oct. 31.
Sandy was "clouds and showers" by today, although flood warnings remained in some areas, according to the National Oceanic and Atmospheric Administration. Millions of lives were still disrupted by power outages, floods and inundated transit systems. Limited commuter-rail service resumed today and some subway service will restart tomorrow, Cuomo said.
Navy Dispatched
"The challenge here for us is to build back and build back better," Cuomo said at the briefing. "The goal is to improve the city and state."
To help heavily damaged shore communities, the U.S. Navy is sending three large-deck ships to waters off New York and New Jersey, according to a Navy official. The USS Wasp, USS San Antonio and USS Carter Hall are coming from Norfolk, Virginia, said the official, who asked for anonymity because the move hasn't been announced.
President Barack Obama tour damaged areas by helicopter with Christie, seeing what the governor described as "absolute devastation" in New Jersey seaside towns with houses ripped from foundations and piers collapsing into the ocean. Obama, who earlier in the day was briefed at the Federal Emergency Management Agency in Washington, promised fast federal aid.
'Long Haul'
We won't "tolerate any red tape," Obama said at the Brigantine Beach Community Center. "We are going to be here for the long haul."
Christie praised the Democrat.
"It's really important to have the president of the United States acknowledge the kind of suffering that's going on here in New Jersey, and I appreciate it very much," he said.
The storm that interrupted the U.S. election campaign eight days before Election Day weakened by today to a surface trough of low pressure over western Pennsylvania, according to the Hydrometeorological Prediction Center in College Park, Maryland.
Flood warnings remained in parts of the mid-Atlantic and northeast states. Heavy snow fell in the mountains of southwestern Pennsylvania, western Maryland, West Virginia, eastern Tennessee, eastern Kentucky and extreme western North Carolina. Dangerous surf will continue from Florida through New England for the next couple of days, the center said.
Damage Assessed
Rainfall swamped several northeastern and Atlantic coastal areas, according to the National Hurricane Center. Wildwood Crest, New Jersey, reported 11.9 inches of rain. Easton, Maryland reported 12.5 while Georgetown, Delaware, received 10.2 inches, it said in an advisory.
From Virginia to Massachusetts, officials of governments, transit systems and businesses joined homeowners in assessing damage and arranging for recovery. The federal government and Metro transit system resumed full service in Washington.
Sandy may cause as much as $20 billion in economic damage and losses, according to Eqecat Inc., a risk-management company in Oakland, California. The U.S. economy may lose $30 billion in output because of Sandy, according to an analysis by Wells Fargo & Co. senior economist Mark Vitner.
The storm may cut output in the world's largest economy by $25 billion in the fourth quarter, according to Gregory Daco, a U.S. economist at IHS Global Insight. He said that could reduce the fourth quarter pace of growth to a range of 1 percent to 1.5 percent, from the firm's earlier estimate of 1.6 percent.
The ING New York City Marathon, the world's biggest, will be held as scheduled Nov. 4, Bloomberg said.
Marathon Efforts
Whether thousands of runners from outside the region can reach the city is another matter. About 20,000 of the expected 47,000 are international participants, organizers said. John F. Kennedy International and Newark Liberty International airports, closed for two days by flooded runways and other damage, will reopen today with limited service, the Port Authority of New York and New Jersey said. LaGuardia and Teterboro airports remain closed.
The emergency declaration signed by Obama for the parts of New York and New Jersey hardest hit by the storm will free federal money to reimburse the states, Federal Emergency Management Agency Administrator Craig Fugate said. Other state declarations Obama signed before the storm have a $5 million limit on direct federal aid, he said.
The storm cut power to more than 8.2 million electricity customers without power in 20 states from South Carolina to Maine and as far west as Michigan and Indiana, according to the U.S. Energy Department.
Power Outages
Power was lost in Manhattan "river to river," south of 35th Street, Bloomberg said Oct. 29. Some of the blackout was deliberate, as Consolidated Edison Co. shut off electricity to protect its underground equipment from potential damage, said Chris Olert, a spokesman for the company.
While New Jersey utilities have restored power for 400,000 customers, 2 million are still in the dark, said Mary Goepfert, a spokeswoman for the state's Office of Emergency Management.
New Jersey National Guard troops are helping in flooded towns in the northeastern part of the state. Yesterday, workers rescued 650 people in Little Ferry, she said.
As of this morning 6,329 people and 49 pets were in New Jersey's 127 shelters, Goepfert said.
Public Shelters
In Pennsylvania, 858,948 were without power as of 2 a.m., posing the biggest storm-related challenge, said Ruth Miller, a spokeswoman for the Pennsylvania Emergency Management Agency. The state's 38 shelters were being used by 519 people.
The Federal Emergency Management Agency is assisting by flying over the state to assess damage, Miller said. "FEMA has fulfilled any resource request we've sent them," she said in an e-mail.
About 128,000 Maryland electricity customers are without power, a decrease from a peak of 365,000, said Ed McDonough, a spokesman for the Maryland Emergency Management Agency. Several feet of snow have fallen in the western panhandle, and Crisfield, a southern Maryland town on the Chesapeake Bay, is experiencing flooding, he said.
Downed trees and other debris litter 197 secondary roads in Virginia, the majority of which are in the northern part of the state, said Marshall Barnhill, a spokeswoman for the Virginia Department of Emergency Management.
The cleanup is being slowed because downed power lines need to be secured, she said. Forty-two thousand don't have power, a decrease from a high of 200,000. Only 24 people remain in the state's shelters, Barnhill said.
Before it's here, it's on the Bloomberg Terminal.
LEARN MORE