Ohio Steel Towns Feeling Recession Fallout Waver on Obama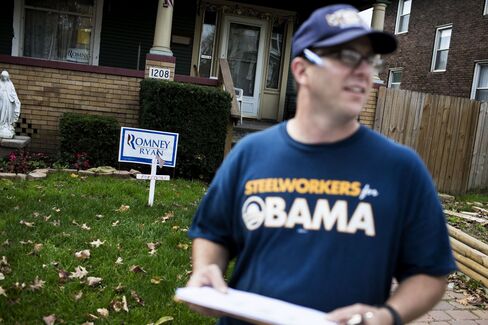 Kathryn Adams, a Democrat all her 56 years, chokes for a moment as she speaks.
"Life is so much harder now for so many people than it was four years ago," says Adams, a Methodist campus minister at Youngstown State University in Ohio, describing the struggling families she has served in soup kitchens and the declining collections at the local churches that support her work.
"Too many people are hurting, and it's time for a change," she said, in explaining why she plans to vote against Barack Obama, the man she backed for president in 2008.
Even as the darkest days of the recession have passed, times are still tough in Youngstown and surrounding industrial towns along the Mahoning River, a cradle of the steel industry in northeastern Ohio. Boarded-up homes and empty storefronts are common, and many families are stretching shrinking paychecks.
Ohio's economy is doing better than most states in the U.S. Thus, Mitt Romney's hopes of winning Ohio, which every successful Republican presidential candidate has done, depend on the uneven nature of a recovery that continues to hit hard some traditionally Democratic areas.
Fewer than a third of the 20,300 jobs that the Youngstown metropolitan area lost during the recession, which ended in June 2009, have been replaced, according to the Bureau of Labor Statistics. In Steubenville, a steel town along the Ohio River 60 miles to the south, unemployment in August was 10 percent.
'Cleared the Way'
Other parts of Ohio are doing well, with the auto industry's comeback following the Obama-backed government rescue and a state jobless rate that fell to 7 percent in August. Republican Governor John Kasich, a Romney ally, has celebrated Ohio's progress.
"We just really kind of cleared the way for people to feel confident that they can invest here," he said on NBC television's "Meet the Press" on Oct. 28.
Even in the Mahoning Valley, the unemployment rate has plummeted from 13.3 percent in March 2010 to 7.9 percent in August, close to the national average, according to the BLS. Rarely during the decades-long decline of the region's steel industry has Youngstown's jobless rate come close to matching the national average.
Still, the recession and its aftermath struck a lasting blow to the region. Many workers have taken deep pay cuts. Average weekly earnings among private-sector workers in September were down 16 percent compared with five years earlier.
Giving Up
The improving unemployment rate masks the difficulty of finding a job, much less a good one. More people have left the labor force -- either because they moved out of the area or gave up looking for work -- than have found new jobs.
The number of suicide threats, and requests for food aid and utility assistance, climbed in the first nine months of this year from a year earlier at the regional Help Hotline Crisis Center. Christine Shehadi, an emergency room nurse at St. Elizabeth Health Center in Youngstown, said her department treats about two patients a week after suicide attempts, many of them men who have lost their jobs.
Though the region never experienced the run-up in real estate prices that other parts of the country did, more than 16.8 percent of homes in the metropolitan area were worth less than their mortgages as of June 30, according to CoreLogic, a real estate information company based in Santa Ana, California.
Steubenville Suffering
In Steubenville, the economy has shown fewer signs of life. Only about 800 of the 5,600 jobs lost in that metropolitan region since the December 2007 start of the recession had been regained as of September.
Four years ago, Obama barely won Steubenville's Jefferson County, in the conservative Appalachian region of the state, carrying the county by just 76 votes out of more than 36,000 cast. The economic decline makes the county a greater challenge this year.
Youngstown's Mahoning Valley is a durable stronghold of organized labor. Mahoning County and neighboring Trumbull County, with less than 4 percent of the state's population, supplied more than 22 percent of Obama's victory margin in Ohio four years ago.
The traditional Democratic route to victory in Ohio demands not just a win in northeast Ohio. It calls for a big win.
The travails of workers in the region, however, took a toll on the party's vote in the 2010 midterm elections.
The combined Democratic victory margin in Mahoning and Trumbull counties in the governor's race dwindled to 49,786 votes from 92,047 four years earlier and in the U.S. Senate race to 21,307 in 2010 from 80,403 four years earlier. Democrats won both offices in 2006 and lost both in 2010.
Obama Express
David Betras, the Mahoning County Democratic Party chairman, has a ready list of positive news as he knocks on doors and tools around town in the "Obama Express," a maroon 15-passenger Ford van festooned with a red, white and blue antenna streamer that the local party is using as part of its early-voting turnout operation.
He can point to prominent symbols of progress.
The General Motors Co. plant in nearby Lordstown recently added a third shift. Vallourec SA's V&M Star is building a $650 million steel plant not far from the site of "Jenny," the now-demolished blast furnace that Bruce Springsteen paid tribute to in his 1995 lament to the steel industry's decline, "Youngstown." It's the first new steel mill built in the region in decades.
Then there's the promise of oil and natural gas drilling in the region's Marcellus Shale made possible by hydraulic fracturing, or fracking, which involves pumping water, sand and chemicals underground to extract gas embedded in rock.
'Actually Rescued'
Betras's pitch to voters stresses the Obama-backed auto bailout's role in the comeback of the Lordstown plant and the connection between the new steel mill and the president's policies. These include anti-dumping duties the Obama administration imposed on Chinese steel tubing, which the new plant produces. The party leader predicts the county will "meet or beat" the margin it racked up for Obama four years ago.
"We were actually rescued. We were helped. This man, this president, did it," Betras says. "People can drive by V&M and see big steel cranes building a steel mill."
The region has a lot of lost ground to make up. The 350 employees V&M Star announced it would hire when its new plant becomes operational don't match the 1,200 steel workers RG Steel laid off in June in nearby Warren.
'Systematic Decline'
The potential gains from fracking largely remain in the future, with most drilling activity farther south and most of the workers migrants with experience in the oil and gas fields of Texas and Oklahoma. Related employment gains for locals so far have mainly been in the hospitality industry, says John Russo, co-director of the Center for Working-Class Studies at Youngstown State University.
Workers in the area have sustained a "systematic decline in standard of living" with a decrease in higher-paying manufacturing jobs, a shift away from generous benefit packages, more part-time work and more contingent contract work, Russo says.
Manufacturing employment in the region in September was down 15 percent from five years earlier. Even pay among factory workers has declined. Average earnings among manufacturing employees in the metropolitan area totaled $15,029 during the first three months of the year, down from $19,062 for the same period five years earlier, according to the most recent data available from the Bureau of Labor Statistics quarterly wage census.
Going Downhill
At the Hot Dog Shoppe in Warren, where a lunch of two chili dogs and a milkshake costs just $4.30, Jim London says the economic toll on the area is as plain as the flaking paint and sagging porches on homes around the city.
"It's going downhill," says London, 67, a retired auto worker who still wears a Chevrolet T-shirt. "People don't take care of their homes. I don't think it's because people don't have pride. They don't have money."
A landmark nine-story building on Warren's Courthouse Square sold at auction last year for just $75,000.
Martyn Moss, 47, of New Middleton, Ohio, can get a read on the job market from his own neighborhood, where a friend with a master's degree has spent six months unsuccessfully searching for a job.
"If you want a minimum-wage job, you can find a lot of them in the service industry, but nothing substantial you can raise a family on," says Moss, a building services manager.
Moss plans to vote for Obama, though not as enthusiastically as in the last election. "I don't think he had fair cooperation," he says. "He deserves another four years."
He offers no praise, however, for the state of the economy, which Moss sums up in a phrase: "still stagnant."
Before it's here, it's on the Bloomberg Terminal.
LEARN MORE