Flashlights Still a Hot Commodity in Manhattan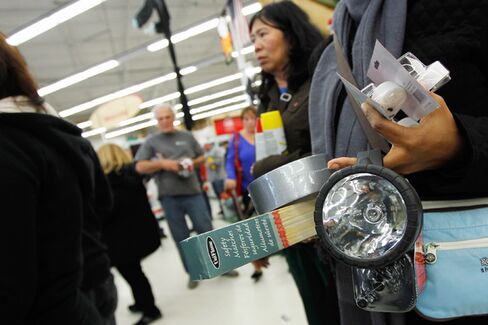 When Bob Fendell heard there was a storm coming, he could only think of one thing: flashlights.
The owner of University Housewares has been selling supplies to the Columbia University community since 1986, and he knew that his supply of flashlights, batteries, and landline telephones was going to go fast. "Last year for Hurricane Irene I had to pay $1,000 to have an emergency shipment overnighted from Texas," he said. "There were lines in the street of people waiting to buy them." This year, he prepared ahead of time.
Fendell drove to his supplier's warehouse in Brooklyn last weekend to pick up an emergency shipment of batteries and flashlights. He doesn't have another shipment of goods arriving until Friday, but he knows some vendors who've been sharing supplies so he expects to remain fully stocked until then. It's a good thing, too. Sandy may have passed, but those who weathered the storm without emergency provisions have been coming in droves today to stock up so they're not caught off guard next time.
Before it's here, it's on the Bloomberg Terminal.
LEARN MORE