Brooklyn Cafe Cleans Up Sandy With Eye on Sandwich Order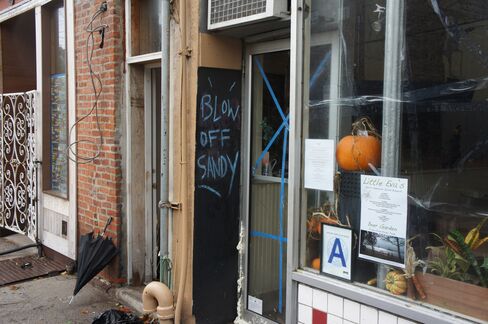 His basement was filled with eight feet of seawater. Thousands of dollars of food and supplies were ruined. And New York City restaurateur Frank Morales felt lucky.
The day after superstorm Sandy slammed into Brooklyn's trendy Red Hook neighborhood, Morales, 43, got his hands on a water pump and start putting his F&M Cafe & Restaurant back together. As he and a crew of workers removed water and debris yesterday, neighbors and fellow shop owners descended on his restaurant offering him money to let them use the pump.
"My neighbors are begging me," said Morales, who was born and raised in Red Hook and now lives in Hewlett, Long Island. "Nobody has pumps. You can't get one anywhere."
Morales's restaurant was one of dozens of businesses damaged in the waterfront neighborhood by a storm surge and strong winds. The popular Fairway grocery store that sits right on the pier was filled with several feet of water. A bar called Rocky Sullivan's a block away from the harbor was flooded and had refrigerators, food, tables and a stand-up Pac-Man arcade spoiled, according to landlord Steve Deptula.
"I never anticipated this level of water," said Deptula, who owns three buildings in Red Hook. "No one did."
As the water flowed out of his basement into the street's sewer, Morales began to contemplate how soon he could re-open F&M Cafe, located about four blocks from the waterfront. His main concern was a catering order for three dozen, foot-long sandwiches for a construction site in Manhattan that was scheduled for delivery on Nov. 2.
New Inventory
"I'm going to do my damndest to get everything clean and to get all new inventory in," Morales said. "I don't want to lose that order."
Even if Morales can make the foot-longs by Nov. 2, Sandy will have cost him thousands of dollars in lost revenue and the cost of cleanup, he said.
"It's going to hurt me, and a lot of other families I have working for me," said Morales, who employs about eight people. "This is costing me a lot of money."
While Morales has flood insurance, he has never had to make a claim on it and was concerned about how much it would cover. Hurricane Irene didn't cause any damage last year. He's hoping that after cleaning up, he'll be able to open his kitchen with a generator and new inventory.
Flipped Fridge
Sandy's power was evident in how it took the restaurant's walk-in refrigerator in the back of the building and flipped it upside down, ruining all the food inside. Across the street, large wooden planters with trees in them had been pushed all the way from the pier, four blocks away. In a parking lot near Rocky Sullivan's, a 15-foot motorboat had floated off its trailer and set down about 50 yards away.
The Red Hook Lobster Pound suffered about $100,000 in damage when five feet of water overtook the restaurant, according to owner Ralph Gurham. Spoiled lobster meat accounted for about a third of the losses, including live ones killed when the sea overtook the tanks in the front of the shop.
"It was unbelievable," said Nilda Martinez, 62, who lives on the same block as Rocky Sullivan's. "The water flooded the street within a few minutes. It was frightening."
Morales kept his restaurant, which serves Italian, Spanish and American style food, open through late afternoon on Oct. 29. He then packed up and went back to Long Island and watched the water push down the street over the next several hours via security cameras. Then the electricity went out, and he was left to wonder what he'd find the following morning.
"Everyone thought the same thing, that we wouldn't get hit bad," Morales said. "Everyone is surprised. This is the worst ever."
While he has a lot of work to do, he's still not considering leaving the neighborhood after owning the building for 11 years and running the café for four.
"I love this area," Morales said. "I'm never going to move. It's a great area. It's just things happen. What are you going to do?"