B-School Twitter Roundup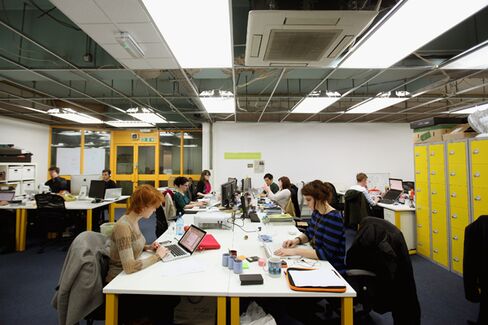 This week's Twitter roundup of happenings in the business school world includes Columbia Business School professors teaching nonprofit executives in West Harlem, new statistics that show a record number of students plan to specialize in entrepreneurship, and 25 business professors around the world who are competing for a $100,000 prize for best teacher.
The Association to Advance Collegiate Schools of Business and the University of North Carolina's Kenan-Flagler Business School are partnering to design a custom simulation leadership tool that will help business schools test students' skills in this area (@AACSBDan, 10/29).
Kristen Fanarakis blogs about her experience as an online MBA student at the University of North Carolina's MBA@UNC program, as part of an effort by the school to promote their new "Online MBAs Aren't Created Equal" ad campaign (@MBAatUNC, 10/28).
Andy Rachleff, a faculty member at the Stanford Graduate School of Business who teaches courses on technology entrepreneurship, explains why he urges his students not to go work for startups after graduating from business school (@StanfordBiz, 10/27).
Business professors from the University of British Columbia's Sauder School of Business, INSEAD, and the University of Texas at Austin's McCombs School of Business are among those competing for the Economist's Business Professor of the Year Award and a $100,000 prize (@UBCMBA, 10/26).
Ten students who attended Procter & Gamble Chief Executive Officer Bob McDonald's lecture at Indiana University's Kelley School of Business last week won shares of P&G stock (@IUKelleyMBA, 10/26).
John Delaney, dean of the University of Pittsburgh's Katz Graduate School of Business, blogs about his theory on why applications are dropping at many MBA programs and what that means for business schools going forward (@KatzPittBiz, 10/26).
Priya Chidambaram, who graduated last May with an EMBA from the Wharton School, shares advice on how she balanced work, school, and raising two young children while she was in the program (@Wharton, 10/26).
New statistics from the Graduate Management Admission Council show that out of nearly 226,000 GMAT exams taken in testing year 2012 by people who selected an intended concentration, a record number of people—more than 12,000—indicated they planned to pursue entrepreneurship (@GMACNewsCenter, 10/26).
Casey Bankord, a part-time business student at Northwestern University's Kellogg School of Management, and his business partner are trying to shake up the publishing industry with a startup called SlimBooks that will use a new platform to publish books shorter than 100 pages in a condensed time frame (@KelloggSchool, 10/25).
Professors from Columbia Business School lent some of their business expertise this month to local nonprofits, teaching 21 executives from West Harlem some of the principles behind value-based leadership, conflict management, and team management (@ColumbiaSpect, 10/25).
Before it's here, it's on the Bloomberg Terminal.
LEARN MORE