A Day in the Life: Senior Construction Manager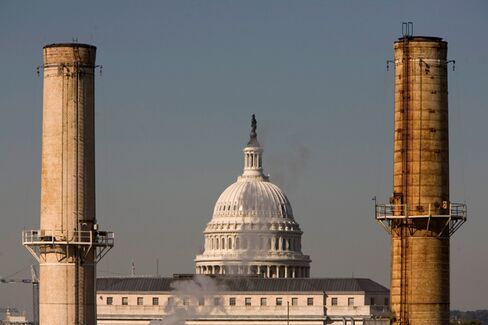 "A Day in the Life" is an ongoing series that highlights popular post-MBA job functions, as seen through the eyes of recent grads in the positions.
What does the typical workday look like for a construction project manager at an engineering and construction services firm? To find out, Bloomberg's Melanie Danko spoke to Tony Principi, a 2011 MBA grad from the University of California at San Diego's Rady School of Management. Principi holds that position with the Government Services Business Unit of Parsons. He is also the senior construction manager for the $400 million rehabilitation and expansion of the U.S. Capitol Power Plant in Washington, D.C.
Prior to joining Parsons, Principi was an active-duty officer in the U.S. Air Force, stationed in Virginia, Turkey, England, Germany, and Iraq. He currently resides in Annapolis, Md., with his wife, Vallerie, and their three children.
Here's a look into Principi's typical workday, in his own words:
4:00 a.m. Construction is a business for early risers. I'm out of bed around four and on the road by 4:30 for the 40-minute commute to Capitol Hill. I listen to the late-night radio, as the typical commuter's talk radio hasn't even begun for the day. As I drive, I think through my schedule for the day and all factors that face the project.
5:15 a.m. At my desk, I review my meeting schedule and the construction work tasks for the day and answer e-mails.
6:00 a.m. I attend the construction superintendents meeting and get a quick rundown on the day's activities. Our discussions are candid, as construction safety and construction productivity are not always complementary in the short term, such as having workers onsite on the weekends, worrying about their attentiveness on the weekend, or energy level, but we are all committed to a "safety first" method.
7:30 a.m. The next two hours are spent preparing and reviewing the numerous reports that my team prepares. Our client, the Architect of the Capitol, manages construction and maintenance of some of America's most treasured buildings (Supreme Court, Library of Congress) and answers directly to the legislative branch of the federal government. As such, accurate, timely, and polished reports are a key priority. I review the project financials at this time, thankful for my accounting course at UCSD whenever I have to work on a balance sheet or financials.
9:30 a.m. We sit down with the client to discuss project progress and to address schedule, technical, and financial risks to the project. My list of risks is lengthy, and I take comfort in addressing them frequently with our client. If the client is happy with our risk mitigation strategies and confident that the schedule is healthy, I've got more time to focus on managing the construction most effectively.
11:00 a.m. Lunch at my desk and a few minutes of peace and quiet.
11:30 a.m. I put on my boots and hardhat and walk the site with one of our construction and safety managers. I believe that a management presence amidst the actual construction activities shows a level of interest and investment that can be inspiring to both the labor force and junior managers. I ask questions and address issues of safety concern and construction quality. It keeps me in touch with the pace of work and affords me some working-level perspective, as well as gives me new insights from the labor force.
2:00 p.m. My afternoon is split between meetings and document review. Technical issues related to the means and methods of construction afford the project team an opportunity to sit down together. In addition, we spend a great amount of time documenting the progress of construction, reviewing construction plans, and answering formal "requests for information" from the different organizations involved in the physical construction.
5:00 p.m. Construction activities are pretty well wrapped up, and barring any unforeseen occurrences, so is my day. I check the weather for the upcoming days to plan. I battle the annoying D.C. traffic alongside the rest of the city's commuters. I reflect on the day, decompress, and start mentally planning for tomorrow. I like to have put most of my construction thinking behind me by the time I roll into the driveway so that I can give my family some undivided attention. I succeed in that regard half the time as I cross into Annapolis.
6:30 p.m. Finally home. I spend time with the baby before my wife puts him to bed. Then it's dinnertime with the family and lots of talk about school, sports, and the weekend to come.
7:30 p.m. I read my young daughters some bedtime stories. We've been focused on Dr. Seuss's Horton Hears a Who! this month. They never seem to tire of it.
9:00 p.m. I check the last e-mails of the day and approve timesheets. I then go to sleep but keep both work phones within arm's reach on my nightstand.
Before it's here, it's on the Bloomberg Terminal.
LEARN MORE