U.S. Stock Market to Close as Hurricane Sandy Nears New York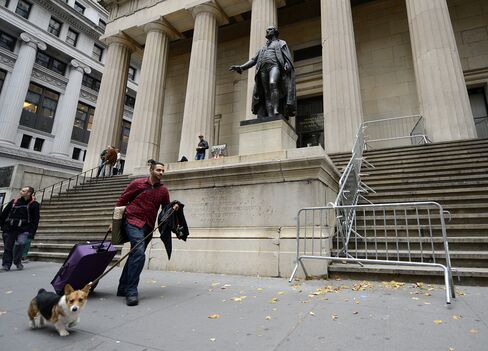 The U.S. securities industry canceled all stock trading as a precaution to protect workers as Hurricane Sandy barrels toward New York City, the Securities and Exchange Commission said in a statement.
"The U.S. equity markets will not be open Monday because of the impending storm," SEC spokesman John Nester said in a statement. "The decision was made by the market and market participants after careful consideration in consultation with the SEC. The SEC will continue to be in communication with the markets as the situation warrants."
NYSE Euronext said it supports "the consensus of the markets and the regulatory community that the dangerous conditions developing as a result of Hurricane Sandy will make it extremely difficult to ensure the safety of our people and communities, and safety must be our first priority,'' according to a statement from the exchange operator. "We will work with the industry to determine the next steps in restoring trading as soon as the situation permits."
Before it's here, it's on the Bloomberg Terminal.
LEARN MORE