Ohio's Auto-Driven Rebound Boosts Obama in Pivotal Race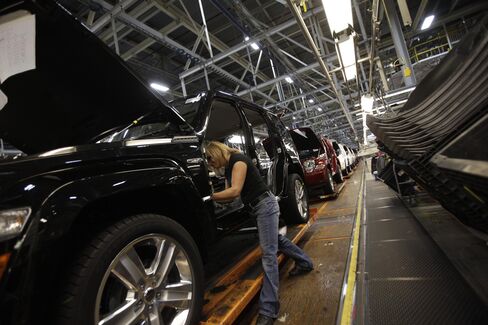 Chrysler Group LLC is hiring more than 1,100 new workers at its sprawling Toledo, Ohio, manufacturing complex. JPMorgan Chase & Co. is looking for hundreds of bankers in Columbus. And the Cleveland Clinic has been adding registered nurses at such a clip that it rented out the Cleveland Browns football stadium for a job fair.
Long an emblem of rust belt decay and despair, Ohio is now outpacing the national economy. The Midwestern swing state, which may decide the presidency on Nov. 6, is shaking off the recession's effects and minting paychecks. If the U.S. could swap its 7.8 percent unemployment rate for Ohio's 7 percent mark, more than 1.2 million idle Americans would be at work.
"We're doing great," says Rich DeVore, 47, president of a United Autoworkers Union local in Perrysburg, on the outskirts of Toledo. "You see a lot of great things happening."
For President Barack Obama, who ordered a government rescue of the auto industry, an Ohio where joblessness has fallen by one-third since July 2009 positions him to claim the most coveted of the politically competitive states -- one whose 18 electoral votes are historically a must-win for Republicans.
Since the recession's end in June 2009, Ohio has added 126,400 jobs, a 2.5 percent increase that exceeds the 2.3 percent national figure over that period. The gains have been divided almost evenly among manufacturing, professional services and health care.
Adding Jobs
Earlier this month, Humana Inc. announced it was hiring 200 more people, including pharmacists and shipping clerks, at its Cincinnati distribution center. In Columbus, JPMorgan Chase expects to take on 500 new workers on top of 2,500 new hires in 2011. The bank's 2-million-square-foot McCoy Center in central Ohio is its largest single facility in the world and employs more people than the bank's New York headquarters.
Even though Ohio is outperforming many other parts of post-recession America, it is not booming. The state's 7 percent unemployment rate, while better than fellow industrial mainstays such as Michigan and Indiana, remains well above Ohio's 5.4 percent average for the years 2000 to 2007.
The auto industry comeback, too, is a story of relative, rather than absolute, success. The almost 76,000 Ohioans making motor vehicles or motor vehicle parts is up almost 20 percent from the mid-2009 nadir. At the same time, auto-related employment remains below the pre-recession figure and is less than half the 155,000 employed in 2000, according to the Bureau of Labor Statistics.
Green Disappointment
State officials also have had limited success capitalizing on northwest Ohio's tradition of advanced glass making -- Owens Corning Inc. is headquartered in Toledo -- to diversify into solar energy. So-called green energy industries account for just 1.3 percent of Ohio's employment, according to a 2011 state government study.
As the presidential campaign hurtles into its final week, polls show the race in Ohio tightening. Bill Burton, who runs the Obama-aligned Priorities USA Action super political action committee, said that when the year began, he thought Ohio might be lost. That's changed, he said, mainly because of the state's improved economy.
That stronger economy is largely an auto story. In August, General Motors Co. spent $220 million on its Lordstown operation to continue production of the Chevy Cruze. Chrysler's new Toledo initiative represents a $500 million infusion. And 50 workers have joined 400 employees at Johnson Controls Inc. in Holland, Ohio, thanks to the company's $138 million bet on more fuel-efficient auto batteries.
'Right Direction'
As a result, the state's unemployment rate is 3.6 percentage points lower than its July 2009 peak of 10.6 percent and well below the 9.1 percent of Obama's first full month in office. It's also more than two percentage points lower than during the same month in 1984, when President Ronald Reagan won Ohio with his "Morning in America" re-election campaign.
"We're heading in the right direction," says DeVore. "Has it been slow? In some cases, yes. But there are signs we're coming back."
Ohio ranks sixth among the 50 states in overall economic health for the year ending June 30, according to the Bloomberg Economic Evaluation of States index, which measures personal income, job growth and home prices, among other indicators.
The president's $80 billion rescue of GM and Chrysler is credited by independent economists with keeping the state afloat. In Ohio, one of every eight jobs is tied directly or indirectly to the auto industry, according to a 2010 report by the Center for Automotive Research in Ann Arbor, Michigan.
No Bailouts
Nationally, 1.1 million jobs were at risk in an industry collapse, according to a December 2008 Bush administration estimate.
The auto rescue's political importance is reflected in Republican presidential nominee Mitt Romney's efforts to explain his opposition to the Obama administration's industrial intervention. The president has hammered Romney for a November 2008 New York Times opinion piece in which the former Massachusetts governor warned that if the auto industry received a government bailout, "its demise will be virtually guaranteed."
With the carmakers restored to health -- GM alone made a $9.2 billion profit last year -- Romney says he favored government guarantees of private loans to GM and Chrysler, not the companies' liquidation. Such financing wasn't available amid the 2008 global credit freeze, according to the Obama administration, auto industry executives and independent economists such as Mark Zandi of Moody's Analytics.
Ripple Effects
Ripples from the automakers' comeback are visible at companies such as Automatic Feed Co., a machinery manufacturer in Napoleon, Ohio, which has enjoyed a revival from the 2008 financial crisis.
As auto sales plunged from an annual rate of almost 17 million vehicles in February 2007 to barely 9 million two years later, demand for Automatic Feed's coil-pressing machines evaporated. Annual revenue shriveled to $4 million from $30 million.
To stave off bankruptcy, the family-owned company let go all but 25 of its 110 workers. Those who survived took 40 percent pay cuts; managers saw their salaries shrink by 60 percent. To pinch pennies, Nathan Weaks, 56, the company's treasurer, and other executives took turns mowing the small lawn in front of the plant.
"Our goal was just to survive and get through it," said Weaks, who supports Romney. "It's been tough, but somehow it's managed to work out for us as a company and for our people."
Hiring Again
Revenue for the most recent fiscal year will be about $25 million, and the company is profitable, says Weaks. Including jobs outsourced to a small local machining and fabrication shop that has taken over part of Automatic Feed's building, total employment is roughly back up to pre-crisis levels.
"Last month, we hired five or six people," he says. "We have another five or six we're trying to hire between now and the end of the year."
The gains extend beyond autos. Alliance Data Systems' Columbus-based retail services unit this year added 872 jobs. The unit, which provides private-label credit card operations for retailers such as J. Crew and Pier One, added entry-level call center positions that pay about $11 an hour as well as executives making six-figure sums.
"We're in a really high-growth mode," says Mark Stewart, the unit's human resources chief. "We hired more this year than any year in the past."
'Speed-Dating'
Health care, the subject of Republican attacks on Obama because of his overhaul of the industry, has been an especially bright spot for Ohio's labor market. Cleveland Clinic this year hired more than 7,000 individuals, increasing its workforce after attrition by about 2,500 jobs, says Scott Doak, senior director of talent acquisition.
The medical center, praised by both Obama and Romney for its cost-effective care, hired 450 registered nurses at a three-day job fair in March at the city's professional football stadium. "It was pretty cool; it was like speed-dating," says Chelsea Adkins, 23, a nurse hired at the event.
The clinic also added scores of doctors, radiologists, care assistants and janitors. And the job offers won't stop any time soon. The medical center typically averages about 2,000 job openings, Doak says. Next month, he hopes to add 100 new personal-care assistants.
Obamacare Jobs
As Obama's health-care overhaul takes effect, employment in the industry is expected to surge in Ohio and throughout the U.S. A June study by the Georgetown University Center on Education and the Workforce concluded that because of growing demand for care, health-care employment in Ohio will grow 28 percent to 870,570 workers by 2020, twice as fast as all other sectors of the economy over that time.
Those inclined toward optimism also can find reasons for it in the energy industry. A natural gas boom in the eastern part of the state has boosted steel production. Embryonic efforts to branch out into alternative energy are beginning to bear fruit.
Isofoton North America, a unit of Isofoton SA of Spain, has taken over a shuttered auto parts plant in Napoleon and plans to hire 120 workers. Wind farms have sprouted across rural portions of the northwest, bringing tax revenue to some localities and unexpected six-figure annual paydays for landowners.
In rural Paulding, $1.6 million in annual payments from two wind farm operators helped restore county offices to five-day-per-week operations from four and are giving county workers a shot at their first raise in seven years, says Tony Zartman, county commissioner.
'Short Memories'
Green energy may pay off one day in the future. The present belongs to a metal-bending industry that is as American as they come.
In Defiance, home to a GM foundry that's been a bulwark of the local economy since 1948, Joe Eureste, 58, of United Autoworkers Local 211 says several small businesses in his Republican-leaning area would have gone under without the auto rescue.
"When things start to get better, people have short memories," he says, adding moments later about next week's vote: "But people know what their bread and butter is."
Before it's here, it's on the Bloomberg Terminal.
LEARN MORE