Pinochet's Victims Win as Chilean Vote Deals Blow to Pinera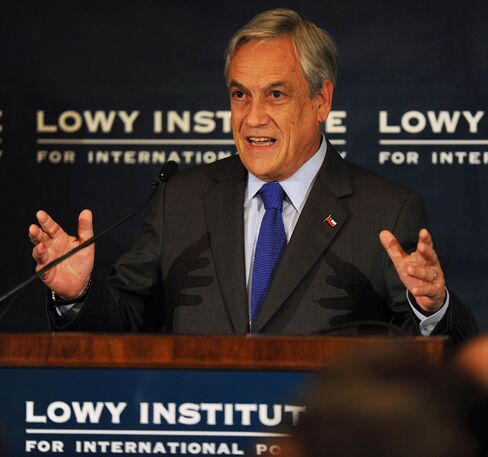 Chilean President Sebastian Pinera's coalition suffered a blow in local elections yesterday, including the defeat of former dictator Augusto Pinochet's chief bodyguard and victories for relatives of those who died during the 1973-1990 military regime.
Pro-government candidates lost a net 23 of the 144 municipalities they controlled nationwide. Losses included the Santiago neighborhood of Providencia, where the head of Pinochet's bodyguards was ousted after 16 years in office. Opposition winners included the granddaughter of Salvador Allende, the president who died when Pinochet seized power, and the daughter of Allende's vice-president, who also died during the dictatorship.
The opposition victory marks a blow to Pinera's leadership within his administration and coalition as a whole ahead of the November 2013 presidential election, said Patricio Navia, a political scientist at New York University.
"This is really bad for Pinera," Navia said by phone from Santiago. "His government is now a lame-duck government, and he's going to have to rush to reshuffle his Cabinet because ministers will run away from him."
Miner Rescue
Pinera is barred by law from seeking a second consecutive term, while members of his cabinet, including Public Works Minister Laurence Golborne, who led the 2010 rescue of 33 trapped miners in the Atacama Desert, are seen as possible candidates to replace the billionaire investor turned politician.
The two leading opposition groups, stretching from the Christian Democrats to the Communist Party, won 43.1 percent of the votes for mayors, according to the electoral service. With more than 95 percent of the votes counted, the ruling coalition had 37.5 percent.
Pinera had an approval rating of 27 percent in August, the lowest of any president since Chile's return to democracy in 1990, according to Santiago-based polling company CEP. His predecessor, Michelle Bachelet, who hasn't said if she will run for president next year, left office with 78 percent approval. The July 5-Aug. 9 poll of 1,512 people has a margin of error of three percentage points.
Allende's Granddaughter
Student protesters, who have been holding almost weekly marches since June 2011 for lower-cost schooling, will view yesterday's results as a victory because opponents of their movement suffered defeats, said Navia.
Pro-government mayor Cristian Labbe, who headed personal security for Pinochet and last year ordered police to evict students who had taken over schools in Providencia, lost to independent candidate Josefa Errazuriz by more than 12 percentage points. Pablo Zalaquett, the pro-government mayor of central Santiago who also opposed student marches, lost to Carolina Toha by almost 7 points.
1973 Coup
Toha is the daughter of Jose Toha, who was President Allende's vice president. Maya Fernandez, granddaughter of the Socialist leader who took his life rather than surrender to Pinochet's forces during the 1973 coup, ousted pro-government incumbent Pedro Sabat in the Santiago neighborhood of Nunoa.
More than 55 percent of eligible electors abstained yesterday after new rules were put in place that made voting voluntary. Less than 5.5 million Chileans voted yesterday, down from nearly 6.4 million in the previous election four years ago.
"We would have wanted greater participation," Pinera said in a televised speech last night. "Many Chileans decided not to exercise their right to vote or participate in these elections, and this is a warning sign that doesn't and shouldn't pass unnoticed or leave us indifferent."
Before it's here, it's on the Bloomberg Terminal.
LEARN MORE