Chef Michael Ferraro's Pumpkin Bag Lunch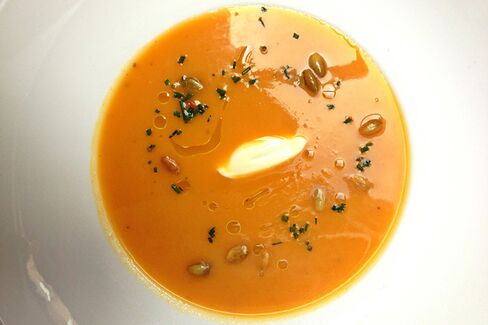 Pumpkin seems a ubiquitous ingredient this time of year. In addition to its sweeter iterations as a flavor in hot drinks and cakes, this fall squash is also highly enjoyable in soup, especially as the weather cools.
Michael Ferraro, executive chef at New York's international comfort food eatery Delicatessen, shares his recipe for pumpkin-spiced beer and cheddar soup. "People don't think 'pumpkin and sour,' or beer, though there's a lot of pumpkin-flavored beer," says the chef, voted one of Zagat's 30 Under 30 in New York's restaurant scene in 2011. To remove the skin, Ferraro recommends cutting the pumpkin in half, then into quarters, and so on, until you have four-inch wedges that you can cut into four-by-four-inch squares, which are easier to cut the skin from.
Ingredients
Serves 4
1-1/2 tbsp olive oil
1-1/4 tbsp butter
1/4 onion (chopped)
1/2 jalapeño
2 garlic cloves (whole)
1/4 pumpkin (peeled, seeded, and chopped)
1 tbsp maple syrup
1/4 tbsp nutmeg
1/4 tbsp cinnamon
1 cup pumpkin-spiced beer
1/2 quart milk
1 cup cream
1 cup half-and-half
1/4 tbsp Tabasco sauce
1 tbsp flour
1 cup cheese (cheddar and fontina)
1 sprig fresh thyme
1-1/2 tbsp pumpkin seeds
1/2 tbsp chives (diced)
Salt and pepper
Instructions
(For the roux)
1. Add 1 tbsp butter and flour into a small sauce pan.
2. Cook for 5 minutes on medium heat, stirring constantly.
3. Set aside.
Soup
1. In a medium soup pot, add the olive oil with butter, then sauté the onion, jalapeños, garlic, and chopped pumpkin. Mix until tender.
2. Add in maple syrup, nutmeg, cinnamon, and pumpkin-spiced beer. Let it reduce for 10 minutes.
3. Pour in the milk, cream, half-and-half, Tabasco, roux. Add in salt and pepper to taste, then simmer for 25 minutes.
4. Put in cheese mix, and with an emulsion blender, create a smooth consistency and then pour through a fine-sift strainer.
5. Garnish with chives and lightly toasted pumpkin seeds. Use remaining olive oil and salt.
Before it's here, it's on the Bloomberg Terminal.
LEARN MORE