Romney's Pledge on China Currency Won't Be Met in a Day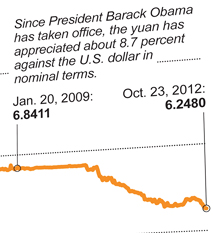 Republican presidential nominee Mitt Romney has pledged to declare China a currency manipulator on his first day in office. It may not be that easy, or have the desired effect.
U.S. law requires the Treasury Department to consider whether other nations are controlling exchange rates to gain an unfair trade advantage and issue a report on the subject twice a year. A Romney administration may not have the personnel in place to take such action on Inauguration Day, Jan. 21.
"The most likely thing is once in, he would direct his secretary of the Treasury to accelerate issuance of the report," William Reinsch, president of the National Foreign Trade Council, a Washington-based business group, said in an interview. "There's no penalty for issuing it earlier."
Romney could issue an executive order to name China a currency manipulator, according to Reinsch. "The relevant question, of course, is whether the Chinese would pay any attention," he said.
Critics of China's exchange-rate policies, such as Romney, say that an unfairly low yuan makes Chinese goods cheaper, allowing the Asian nation to flood the world with exports at the expense of producers in other countries including the U.S.
"On day one, I will label them a currency manipulator, which allows us to apply tariffs where they're taking jobs," Romney said during the Oct. 22 debate with President Barack Obama. "They're stealing our intellectual property, our patents, our designs, our technology, hacking into our computers, counterfeiting our goods."
Start Negotiations
The law doesn't by itself raise tariffs or trade barriers, or require any action other than initiating negotiations. U.S. and Chinese officials talk on a regular basis, including at the annual Strategic and Economic Dialogue meetings that alternate each year between the two countries.
The former Massachusetts governor's stance has drawn criticism from the U.S. Chamber of Commerce, the nation's largest business lobbying group. The U.S.-China Business Council, whose members, including General Electric Co. and Boeing Co. do business in China, has also been critical of the campaign rhetoric.
Negotiations with China have "led to China's exchange rate strengthening by more than 30 percent since 2005," John Frisbie, president of the Washington-based business council, said in a statement.
Trade War
"In the worst case, a Romney decision to go to the brink with Beijing on the value of its currency would result in a mutually damaging trade war that slowed economic growth and increased unemployment in both countries and caused higher inflation and interest rates in the United States," Richard C. Bush III, director of the Brookings Institution's Center for Northeast Asian Policy Studies, wrote in an Oct. 22 opinion article.
When asked by debate moderator Bob Schieffer whether such an action would spark a trade war, Romney said China sells too much to the U.S. to escalate tensions.
The U.S. trade deficit in goods with China reached a record $295.4 billion in 2011, an 8 percent increase above the level in 2010. Since Obama took office in January 2009, the yuan has appreciated about 8.7 percent against the U.S. dollar in nominal terms, rising from 6.8411 yuan to one dollar on Jan. 20, 2009 to 6.248 yuan to one dollar yesterday. In real terms, the yuan has risen even more against the dollar because the inflation rate in China is higher than in the U.S.
Delayed Report
"Governor Romney's position on this issue is clear," Amanda Henneberg, a campaign spokeswoman, said in an e-mail. "As he said in this week's debate, 'On day one I will label them a currency manipulator.'"
The U.S. hasn't designated another nation a currency manipulator since 1994, when it conferred that status on China. The Treasury on Oct. 12 delayed until next month -- probably after the election -- its next report on exchange-rate regimes.
The Treasury's latest report on exchange-rate policies, issued May 25, said China has made progress in allowing the yuan to appreciate, particularly since June 2010, when the nation moved away from pegging the currency to the dollar. It also said there is evidence the yuan "remains significantly undervalued" and further appreciation is warranted.
There's no bright line to show when a nation is manipulating exchange rates to gain a trade advantage, according to Nicholas Lardy, a senior fellow at the Peterson Institute for International Economics in Washington.
Eye of Beholder
"It's like pornography -- it's in the eye of the beholder," Lardy said. "The unique thing about China was that they consistently bought foreign exchange over a period of many, many years."
Buying foreign currency floods China's market with yuan, pushing down the value of the domestic currency. The danger a country runs by pursuing such a strategy is inflation, and China has taken yuan out of circulation by selling bonds to minimize the impact, Lardy said.
China's central bank has largely stopped intervening in its foreign-exchange market, in part because of pressure from nations including the U.S. and Mexico to allow the yuan to appreciate, he said.
The Omnibus Trade and Competitiveness Act of 1988 requires the Treasury secretary to report twice annually on the exchange-rate policies of other countries. If the Treasury finds manipulation in countries that have "material global current account surpluses" and significant trade surpluses with the U.S., it must "take action to initiate negotiations with such foreign countries on an expedited basis, in the International Monetary Fund or bilaterally," according to the law.
Clinton's Declaration
President Bill Clinton's administration in 1994 named China a currency manipulator, an action that had little effect, according to Lardy.
Other countries that manipulate the value of their currencies include Japan, Saudi Arabia, Switzerland, Israel, Singapore and Denmark, Joseph Gagnon, a senior fellow at the Peterson Institute, said in a July report.
The U.S. presidential candidates "have relentlessly blamed China to cover up their own inabilities to put the domestic economy on track, regardless of the truth," according to an article yesterday in China's state-run Xinhua news service. "The tactic only serves to reveal that the world's superpower, indeed or temporarily, is running out of ways to sort out the real problems."
Candidate Obama
During an October 2008 presidential debate against U.S. Senator John McCain, Obama said: "We should enforce rules against China manipulating its currency to make our exports more expensive and their exports to us cheaper."
Naming China a currency manipulator in itself won't have much of an effect unless Romney is able to establish criteria to hold the country accountable, according to Scott Paul, executive director of the Washington-based Alliance for American Manufacturing.
Those criteria may include the expected rate of appreciation, impact on the trade balance between the two nations and a statement on how much the yuan is undervalued, he said. Romney would also need to explain the consequences if the yuan didn't appreciate, said Paul, who supports branding China a currency manipulator.
"I have no doubt that Mitt Romney would name China a currency manipulator on day one," he said. "The key is what happens after that."
Before it's here, it's on the Bloomberg Terminal.
LEARN MORE