Reuss Walks GM Tightrope 20 Years After Father's Firing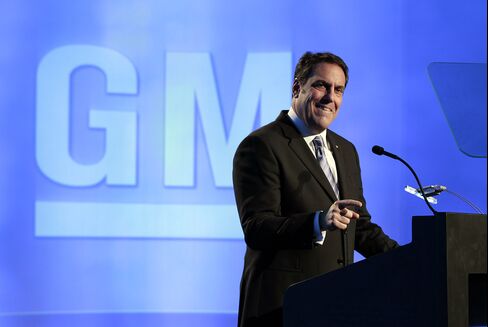 Mark Reuss remembers the day, 20 years ago, when his father's career was blindsided. Reuss had a tuxedo hanging in his car to wear that night to a long-planned event honoring his father's 35-year career at General Motors Corp. when his mother called.
"Your dad's been fired," she said.
Lloyd Reuss had been president of GM and a possible candidate for the next chief executive officer. He had lost out in one of the periodic games of musical chairs that shook GM. Suddenly, everything changed.
"I didn't know what to do," said Mark Reuss, now 49.
After reflection, he decided to keep his job as a mid-level engineer at GM's plant in Flint, Michigan. Now, his responsibilities as head of North American operations are similar to those of his father, and Mark Reuss, too, is on the short list to be the next CEO of GM.
Whether that happens depends, in part, on whether he can get dealers, marketers and the rest of his organization to turn an onslaught of new vehicles into a new image for Chevrolet and General Motors Co.
He has spent 18 months preparing GM for its most important sales push in a generation. The company is replacing 89 percent of its North America vehicle lineup between next year and 2016, including 13 new Chevys in 2013. The new-model roster includes a redesigned Chevrolet Silverado pickup, among the most profitable lines in automotive history, and the Corvette sports car.
'Car Guy'
"It's terribly important," John Wolkonowicz, an independent auto analyst, said of GM's new vehicles. "Their product range right now is a bit old. They need what they're coming out with yesterday."
GM has recovered dramatically since the biggest industrial bankruptcy in U.S. history in 2009. Last year, it regained the crown as the world's No. 1 carmarker and earned $9.19 billion. Now, its ability to stand up to reinvigorated rivals, continue its rebound and shake off its image as a ward of the U.S. government depend in large part on whether Reuss's plans are successful.
The tightrope Reuss has to walk is a thin one. He has credibility within the company as a career "car guy" -- the ultimate compliment in the Motor City. Yet his pedigree raises questions about whether an insider can act enough like an outsider to continue GM's turnaround.
"For all of the talk of the new GM, it acts a lot like the old GM," said Jeremy Anwyl, vice chairman of Edmunds.com. "They all acknowledge that they've got to tackle the old way of doing things. But you go and look at Chrysler and Ford, and you can see how the culture has really been attacked. And I just don't see that happening at GM."
Pushing Dealers
Reuss himself, in interviews, said he's trying to instill a spirit of winning, rather than merely surviving. His goal is to restore the greatness of GM's past, unseen since the early days of his dad's career, before Toyota Motor Corp. and other Japanese automakers started attracting Baby Boomers and exploiting long-held resentment against Detroit automakers. He wants the company and its Chevy brand to be loved like fans adore Walt Disney Co., returning year after year to drop thousands of discretionary dollars. Most of all, he's trying to change the feelings customers have about the experience of buying a new Chevrolet car or truck.
He is pushing dealers to make their showrooms more attractive and welcoming, seeing that as the best way to dramatically ramp up GM's profit margin and customer retention. His efforts have included a Steve Jobs-like presentation to dealers in Las Vegas last month that ended with wild applause for the redesigned Corvette.
Institutional Change
At the same time, and even more fundamentally, he is trying to alter the thinking of an institution to which change doesn't come easily. He has put more than 20,000 GM employees and dealers through training by Disney. That's why he wears a name tag like those at Disney World: "Mark. Detroit, MI."
Don't let the happy name tag fool you into thinking he's all smiles. After a presentation by one of his brand chiefs, Reuss dashed off an e-mail responding to a comment about the automaker's vehicles being the most "competitive."
"Vomit" was the subject line. "Competitive equals oatmeal. Don't ever use that again."
While Reuss recalls it as a friendly chiding, his will to win can lead him to gush about the company's possibilities -- or to lash out at those who aren't pushing hard enough.
'Car Nut'
Reuss's knowledge of the business before and after the bankruptcy is good for GM, said Wolkonowicz, the independent auto analyst and historian, who has worked at the automaker.
"Mark understands the importance of product," he said. "He's one of the few powerful people at General Motors that does. He's a car nut. He understands what gets people excited about a vehicle."
Reuss, which rhymes with voice, began his career at GM in 1986 after graduating from Vanderbilt University around the time his father became executive vice president of GM's North America passenger cars group, a job he got after running the Buick Motor Division and pushing for more sporty cars, including the two-seat Reatta.
One of the highlights of being the son of a high-ranking GM executive was being able to attend events around the country with his father, including car races that still ignite his passion. He has the hood of a race car hanging on his 39th floor office at GM's headquarters in Detroit.
He remembers the excitement that came with being associated with GM. The company, simply, was "the best" and recognized as such around the country, he said.
$30.3 Billion
By 1992, the year Lloyd Reuss left GM, that feeling was gone. From 1990 through 1992, the company lost $30.3 billion.
David Cole, chairman emeritus of the Center for Automotive Research, is friends with the Reuss family and remembers a conversation with Lloyd on the day he was pushed out.
"I talked to him that day and he said it was the right thing to do," said Cole, whose father had been a GM president. "We had to get the attention of people in the organization, because we just didn't want to believe that we had these challenges. The culture was so tight, so stupefied that it was almost impossible to get people to think outside of the box."
Mark Reuss's career arc has evolved from fast cars to broad management. After working on the doomed Pontiac Aztek program, he created GM's performance division in 2001 as executive director for architecture engineering and was responsible for racing vehicles such as the V-Series Cadillacs and SS Chevrolets.
'Entire Enchilada'
He took over GM's Holden brand in Australia in 2008, an assignment that helped elevate his career. While the parent company was lurching toward bankruptcy, he was gaining experience in every aspect of running a business, said Jim Hall, principal of auto consultancy 2953 Analytics.
"When you get Holden, unlike other General Motors operations, you've got the entire enchilada," Hall said.
Recently, he has overseen GM's introduction of small cars in the U.S. after years of floundering in that segment as well as the new Cadillac ATS compact luxury sedan. He has also overseen an improvement in pricing power. GM's incentive spending as a percentage of vehicle price has narrowed to around 13.1 percent from 18 percent a decade ago, according to Edmunds.com, a website that tracks car discounts.
That pricing discipline was learned after a stumble in early 2011. GM's heavy use of incentives that January was a misstep and the market's response was a "wake-up call" for Reuss, said Brian Johnson, an industry analyst with Barclays Plc. "Wall Street wasn't going to reward GM for just posting sales numbers if they were gamed" with discounts, he said.
War Room
Reuss rose to the attention of then-Chairman Ed Whitacre after GM emerged from bankruptcy in 2009 and quickly moved from head of engineering, a job he had held for just a few months, into his current role overseeing North America operations.
Reuss set up a war room of sorts in an old retail space in the basement of GM headquarters. Inside, he and his team mapped out the entire North American operation around the room. They could look at positions and pictures of employees as they tried to understand what was wrong and right with what they'd inherited. That room is still in use and every other month or so, Reuss said he holds meetings there to monitor progress.
Early on, Reuss questioned why GM's massive sales and marketing functions were under one executive and separated them. He pushed for tying white-collar compensation more closely to customer retention.
Field Staff
Reuss gathered the 2,500 members of his field staff for the first time in a decade last year at GM's Warren, Michigan, office complex to show them future products, tour a battery lab and talk about the financial footing of the company. He assigned every field staff member to a dealer he wanted to improve. Reuss even adopted one, whom he visits for about three hours each month to discuss performance metrics and a renovation project.
"Go to a meeting with Mark and if you really want to have some fun, just lay the word 'competitive' in your pitch and see what happens," said Alan Batey, GM's top U.S. sales executive. "I'll tell you what happens: He's going to get real excited real fast and he's going to look you in the eye and say you know what? We're not here to be competitive. We're here to be the best. We've got to figure out how to outsmart and out-engineer and out-design that competitor so we're the best."
Reuss's vision sometimes has a hard time breaking through outsiders' views of the company, especially in this political season. Reuss flew on a commercial jet to Las Vegas last month for private meetings with Chevrolet dealers and found himself seated next to a Toyota dealer, who wanted to talk about who would get the GM executive's vote in the presidential election.
U.S. Stake
The U.S. government still holds a 32 percent stake in GM after rescuing it in the bankruptcy reorganization. GM's shares, which yesterday closed at $23.87, would have to more than double to $53 for the government to break even. All of which places greater pressure on GM management to show results.
The shares slid 0.8 percent to $23.69 at the close in New York.
At the Venetian Hotel, the chatter among Chevrolet dealers was that the redesigned Silverado and Corvette would be shown for the first time. Security was paramount, especially after a recording of CEO Dan Akerson speaking to employees at an internal company meeting in August was leaked to the Detroit News. In it, Akerson called talking to the media "treason" and complained of GM's warring fiefdom culture.
GM security wasn't taking any chances. The crowd of 2,500 had to pass through metal detectors and undergo searches for cameras. GM had eight guards in the rafters of the auditorium, stationed to watch for the blue glow of mobile phone screens during the presentations.
Chevy Silverado
"You know they're going to save the best for last," one dealer told another as the crowd filed into the auditorium after a lunch break. Reuss, who had sat in the front row during the morning, still hadn't taken the stage.
While GM has greatly expanded its car lineup since bankruptcy, offering better small vehicles, such as the Sonic and Cruze, the moneymaker for GM remains trucks.
"There is far more pent-up demand in the pickup truck segment than people on the street, for sure, give credit to," Itay Michaeli, an industry analyst with Citigroup Global Markets Inc., said in a telephone interview.
GM may make twice as much on pickups as on small cars and 30 percent more on average than its total lineup, he estimated. More than 40 percent of pickups on the road today in the U.S. are GM vehicles and those buyers could be interested in a new truck, he said.
"It's huge for GM and they have to deliver on this product cycle," Michaeli said.
Ford Pricing
GM also wants to narrow its pricing with Ford Motor Co. GM's pickups have been selling at a $500 to $1,000 discount compared to Ford's F-150 during the past 2 1/2 years, said Chuck Stevens, chief financial officer of GM's North American operations.
"Clearly, we would expect that gap to close with the next-generation truck, because we won't have the oldest truck anymore -- we'll have the newest truck," Stevens said.
Dealers in Vegas weren't disappointed. The new Silverado pickup and its variants drew rounds of applause as executives promised a truck that would have more torque and better fuel efficiency than its chief rival, Ford's F-Series line. At a break they jostled to peek in the windows, touch the chrome and, literally, kick the tires.
"Was I impressed with it? Yes, absolutely," said Jason Brickl, CEO of Ballweg Automotive Group based in Middleton, Wisconsin. "For us in the middle of Wisconsin, Silverado and truck business is the key to our success."
Race Preparation
After the trucks were shown, Reuss took to the stage, talking about Chevy sports cars and weekends at the racetrack with his father. From that, he said, he learned that he could often pick the race winner by seeing which team had prepared the most, much like he was asking his dealers to prepare for the 13 new Chevys coming in 2013.
"Your chances of winning are much, much higher if you have flawless preparation, attention to detail and a world-class organization around you," Reuss told the crowd as he stood center stage. "That's what we're putting into place. That is what you are putting into place in your dealership. The class level of Chevrolet will be first-class once again."
Reuss said a large part of that effort is improving the customer's shopping experience. In total, he said, Chevy dealers are investing $3 billion, about twice as much as Daimler AG's Mercedes-Benz dealers spent during its renovation campaign.
Profit Margins
Akerson wants Reuss to boost North America's profit margins to 10 percent from an average of 7 percent over the past 10 quarters. Ford's margins in North America were 9 percent during that time, GM said. The best way to boost those profits, according to Reuss, is to improve the customer experience.
By GM's calculations, the company can generate an additional $700 million in revenue for every additional percentage point of customer retention it gets. Taking GM from around the industry's average of 52 percent to better than Toyota's 58 percent could mean more than $4 billion in new revenue alone.
"That's where I'm spending my time," Reuss said in an interview. "This can be our differentiator if we do this right and it will change the opinion faster of what people think of Government Motors than anything else we can do."
GM, the top-seller of cars and light trucks in the U.S., saw its share of its home market fall to 18.1 percent this year through September from 20 percent a year earlier. The company's 3.4 percent sales gain didn't keep pace with the industrywide 15 percent increase.
Service 'Opportunity'
To improve the customer's experience, GM turned to Disney for help in training dealers. At the Vegas meeting, Batey told dealers he wants loyal customers like those at Disney theme parks.
More than 20,000 GM staffers and dealers have attended 2 1/2-day training sessions in Orlando, Florida, and Anaheim, California. Among of the first signs of the Disney training are the nametags on the lapels of his executives in the towers of GM's headquarters and in the Chevrolet sales force. Even Akerson wore his nametag during a video message to the dealers.
"No volume brand has a stellar guest-service reputation today," Akerson said in the message. "Well, that's opportunity for us."
Akerson knows first-hand what a bad experience at a Chevy dealership can do. In the early years of his marriage, he and his wife had one that spurred them to buy a Toyota.
"We were going to buy a Chevrolet, and the guy called her 'the little woman,'" Akerson told Bloomberg News earlier this year. "She got so angry, she was almost in tears and said, 'I'm not buying a car at this place.' It was the first Toyota I bought."
Magic Kingdom
Batey, who had visited Disney theme parks around the world at least seven times with his family and by himself, turned to the Magic Kingdom shortly after arriving in the U.S. as the head of Chevy sales.
"I wanted to get into where are we losing people and how do we really connect with our customers in a way that's really meaningful," he said. Disney's customer-service culture has helped its theme parks thrive.
Batey, too, has a family history with GM. He's a third-generation GM employee. His father worked as an engineer for GM in England.
"I don't want my legacy with General Motors to be that I was there when we went through bankruptcy," he said. "No, no, no. I want my story to be: Yeah, I went through that, but let me tell you the company we built out of that."
Disney starts off sessions with GM's groups saying: "Just so you know, we are a for-profit organization," Batey said. "And, of course, their next word is, 'As you may have experienced if you've been here on vacation.'"
Union Shop
It turns out that similarities abound between the two businesses, Batey said, noting that Disney has workers organized under 18 different labor organizations. When he hears dealers tell him that they have trouble implementing initiatives because of their union shops, Batey said he tells them: "Mickey Mouse is in the union and they're open 365 days a year."
Not everyone is convinced this is a good use of time and money.
"Disney works for Disney; that doesn't mean it's going to work for General Motors," said Maryann Keller, principal of her self-named consulting firm in Stamford, Connecticut. Then, speaking of Ford's CEO, she added: "Tell me why Alan Mulally was able to change almost overnight the most politically vicious culture in the automotive industry and did it without changing people and without using Mickey Mouse."
Learning Lessons
Todd Ingersoll, owner of a Chevrolet dealership in Danbury, Connecticut, said he went into the Disney training with an open mind. After completing it, he said, he immediately started implementing some of the lessons he learned such as instructing his staff to say hello to customers within six feet of the entrance, holding open doors for them and having his employees wear shirts embroidered with their names and employment start-dates.
"A culture is defined by those little things," he said. "When you go from a customer to a guest, once you start saying it, you start hearing. Once you start hearing, you start thinking about it. Once you start thinking about it, you start believing it. Once you start believing, it becomes part of what you do."
Reuss's efforts come as the organization of the company is changing. Akerson wants to update GM's computer and accounting systems as he reorganizes the company around global functions and brands, instead of regionally, two people familiar with the thinking have said.
'Critical Role'
Akerson made Robert Ferguson, who had been vice president of global public policy, head of GM's Cadillac brand earlier this month. In that role, Ferguson is responsible for the luxury brand's marketing around the world and he will get sales responsibilities after Jan. 1.
While Akerson is planning a similar position to lead Chevrolet, he said this week he doesn't feel the same "immediacy" as he did for Cadillac.
Akerson said he didn't know how Reuss might fit into the leadership structure.
"Mark will play a critical role as far as I can see into the future," he said this week in an interview in Sao Paulo. "I just don't know where it will be, if we do, in fact, go to that organization."
As one of the top people at GM already, Reuss is considered a potential successor to Akerson, according to a person familiar with the thinking inside the company.
Staying Classy
It's not uncommon to see Reuss's father, now 76, in the audience of public events, such as he was during Mark's first Detroit auto show as North America president.
As vividly as Mark Reuss recalls that day in 1992 when his mom called to say his dad was done at GM, Reuss talked about the lessons he learned from that experience. His father upheld his speaking commitment that evening, Reuss said, and it taught him the importance of staying classy in the face of adversity.
"I can't leave these people," Mark Reuss said about why he stayed at the company back then. "Now, I'm in a place where I can have a little bit more impact just because of my job. These people deserve to have a taste of success based on what we do here. They deserve to be looked at as some of the most excellent."
Before it's here, it's on the Bloomberg Terminal.
LEARN MORE