Obama Says Republicans Risk Alienating Hispanic Voters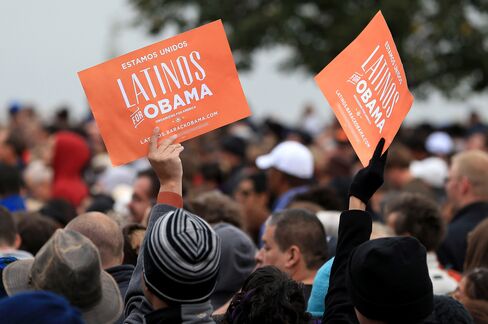 President Barack Obama said Hispanic voters may make the difference in his re-election chances because his rival Mitt Romney and other Republicans have alienated the nation's biggest minority group with anti-immigrant rhetoric.
With 13 days until the presidential election, the two candidates stopped in some of the battleground states that both campaigns say will decide the election. While Obama targeted voting groups he's counting on to win re-election, Romney focused on the slow recovery of the U.S. economy under Obama.
Obama, in an interview with the Des Moines Register released today as he campaigned in Iowa, said he's confident he can get an overhaul of U.S. immigration law through Congress next year if he wins a second term. He also expressed optimism he can cut a deal with Republican lawmakers to avoid the triggering of automatic spending cuts and tax increases at the end of the year.
Romney told voters in Reno, Nevada, that Obama will make it harder for Americans to get health care or a mortgage, limit educational choices for children, saddle students with more debt, and leave home values continuing to "bump along in the basement."
Romney's top economic adviser told attendees at an conference sponsored by the Economist magazine in New York that if Obama wins a second term the economy probably will be hit by $607 billion in mandated spending cuts and tax increases, the so-called fiscal cliff.
Fiscal Cliff
"There is a good chance, if the president wins, we go over the cliff," said Glenn Hubbard, the dean of Columbia Business School.
The candidates and their surrogates sought multiple avenues today make their case to voters in the final stretch before the Nov. 6 election. Obama, after speaking in Iowa, also appeared in Colorado and travels later to Nevada. He also scheduled a stop in Los Angeles to tape NBC's "The Tonight Show with Jay Leno." Romney held his first campaign event in Nevada and speaks tonight in Iowa. He then travels to Ohio, where he campaigns tomorrow and the next day.
There are nine main battleground states that together account for 110 of the Electoral College votes 270 needed to win the presidency.
The biggest is Florida, with 29 electoral votes. An Oct. 17-18 CNN survey of likely voters there found a virtual tie, with Romney at 49 percent and Obama at 48 percent.
Early Voting
A poll released by Time magazine today shows early voting has helped Obama to a five-percentage-point advantage over Romney in Ohio, which has 18 electoral votes. In the survey, Obama led 49 percent to 44 percent among Ohioans polled on Oct. 22 and yesterday who say they will vote on Nov. 6 or who have cast ballots already.
In Virginia, with 13 votes electoral votes, an Oct. 7-9 NBC/Wall Street Journal/Marist poll found Romney with 48 percent to Obama's 47 percent, while a CBS/New York Times/Quinnipiac survey Oct. 4-9 found the president leading by 5 points.
Obama won all three states in 2008.
Romney, seeking to sustain the recent wave of momentum for his campaign, accused Obama of failing to fully restore U.S. economic growth and promoting policies that will lead to a continued downturn.
"The president doesn't understand what it takes to get this economy going. He doesn't have a plan to get jobs for Americans. I do and that's why I'm going to win," Romney told voters in Reno, Nevada.
Hispanic Votes
Obama and Romney are competing for every slice of the electorate to put together a path to victory. Hispanics comprised 16 percent of the U.S. population in 2010.
"Should I win a second term, a big reason I will win a second term is because the Republican nominee and the Republican Party have so alienated the fastest-growing demographic group in the country, the Latino community," Obama said in the Des Moines Register interview.
At his rally in Iowa, Obama contrasted his economic proposals with those offered by Romney, the former governor of Massachusetts.
"I want everybody out there to compare my plans to Governor Romney's," Obama said at the Mississippi Valley Fairgrounds in Davenport, Iowa. "See which plan is better for you and for America's future."
Outside the Rallies
The campaign rallies risked being overshadowed by outside events, including the circumstances of the Obama interview with the Des Moines Register, remarks made about abortion by a Republican Senate candidate in Indiana and a court fight over documents in a divorce case in which Romney gave information.
The White House initially insisted that the interview yesterday with the newspaper's publisher and its editor be conducted off-the-record. After editor Rick Green wrote on the publication's blog about the conditions set by the administration, the White House released a transcript.
The newspaper is considering its endorsement in the presidential race, and Romney already has met with the Register's editorial board for an on-record interview.
The Republican National Committee seized on the Register editor's blog posting, saying Obama was trying to hide his positions from voters. That's the same charge that Obama has leveled against Romney.
Abortion Remarks
Democrats and abortion-rights groups, meanwhile, called today on Romney to rescind his endorsement of Richard Mourdock, the Senate candidate in Indiana whose campaign includes an ad with Romney praising him. Mourdock, answering a question last night during a debate with Democratic candidate Joe Donnelly, said that a pregnancy caused by rape is something "God intended" and isn't a justification for abortion.
Romney disagrees with that stance and Mourdock's comments "do not reflect his views," Andrea Saul, a spokeswoman for Romney's campaign, said in an e-mail. Asked if Romney would withdraw his endorsement, Saul said the campaign "still supports him."
Romney aides, who typically hold a daily briefing for reporters on his campaign plane, haven't talked to the press since Mourdock made his comments.
Obama campaign spokeswoman Jen Psaki told reporters today that Obama saw Mourdock's comments as "outrageous," and are "a reminder that a Republican Congress working with a Republican President Mitt Romney would feel that women should not be able to make choices about their own health care."
Sealed Documents
In Massachusetts, Gloria Allred, an Obama backer and Los Angeles-based civil rights lawyer who specializes in representing women, appeared in court today to support a Boston Globe request to unseal documents in the divorce case between Staples Inc. co-founder and Highland Capital Partners Chairman Tom Stemberg and his ex-wife, in which Romney gave information.
Stemberg, 63, spoke at the Republican National Convention on behalf of Romney. Bain Capital LLC, the private-equity firm Romney co-founded, played a key investment role in helping the Framingham, Massachusetts-based office-supply retailer to grow.
Jonathan Albano, an attorney for the Globe, described the information the newspaper sought as "expert testimony on a financial matter." The judge set a hearing for tomorrow on whether to unseal the documents.
Before it's here, it's on the Bloomberg Terminal.
LEARN MORE