Heineken Reports Sales That Miss Estimates as Europe Wanes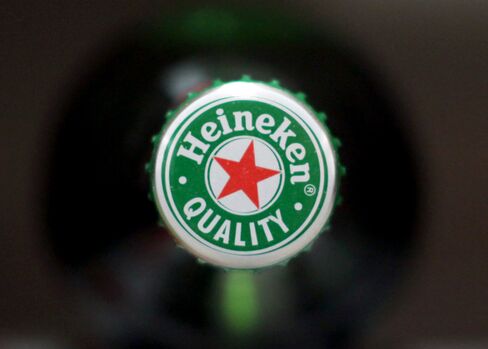 Heineken NV, the world's third-biggest brewer, reported sales growth that missed estimates as weak consumer demand in the Netherlands, the U.K. and Portugal led to a drop in western European beer volume.
Revenue increased 4 percent in the third quarter, the Amsterdam-based company said today, less than the first half's 4.5 percent growth and the 5 percent median estimate of nine analysts compiled by Bloomberg. The consolidated volume of beer sold rose 2.2 percent, compared with the median estimate of 3.2 percent. Both figures were reported on an organic basis, which excludes the effects of acquisitions and disposals.
Organic beer volume slid 2.1 percent in western Europe and advanced 5.2 percent in the Americas region. Heineken is seeking growth in emerging economies to offset tough conditions in its biggest market of western Europe, where intense competition and weak consumer sentiment are weighing on sales.
Today's figures "indicate increased pressure in most regions, with the notable exception of the Americas," said Eddy Hargreaves, an analyst at Cannacord Genuity, adding that he's "particularly concerned" about western Europe's outlook.
Heineken fell 1.7 percent to 46.85 euros at the close of trading in Amsterdam.
The decline in western Europe reflected the planned withdrawal of a budget beer in Finland and a "challenging economic environment" in Portugal, where selling volume fell at least 10 percent, the company said. "Cautious" consumer spending in the U.K., Netherlands and Spain led to a "low single-digit decline" in those countries, it said.
Asia-Pacific
Beer volume in the Asia-Pacific region fell 2.8 percent as the Heineken brand lost out to new competitors in Taiwan and in Vietnam to Asia Pacific Breweries Ltd.'s Tiger brand. Heineken agreed last month to buy control of APB from joint-venture partner Fraser & Neave Ltd. for S$5.6 billion ($4.6 billion).
Overall, selling volume of the Heineken beer brand rose 3.5 percent in the quarter as sales in Africa and the Middle East were offset by the Asia-Pacific losses, the company said.
Heineken has an advertising and marketing partnership with the new James Bond movie, Skyfall, which is released in the U.K. this month and in the U.S. in November.
The tie-up "may not be enough to recover the lost ground in the fourth quarter," Cannacord's Hargreaves said in a note.
Savings Program
Earnings before interest, taxation and amortization rose by a "mid-single digit percentage," the company said. Heineken is seeking to save money through more efficient procurement to offset an anticipated 8 percent increase in production expenditure this year. It announced a new savings program in February, and is seeking to save 500 million euros by 2014.
"The positive impact of higher revenue and realized cost savings were partly offset by higher business capability investments and increased input costs," Heineken said.
Heineken repeated its outlook for full-year organic net profit, excluding some items and amortization, to be "broadly in line" with the 1.58 billion euros reported in 2011. Reported net profit increased to 577 million euros in the quarter.
Before it's here, it's on the Bloomberg Terminal.
LEARN MORE