Goldman's Pill Says 'Guerrilla' ECB to Impose Losses on Skeptics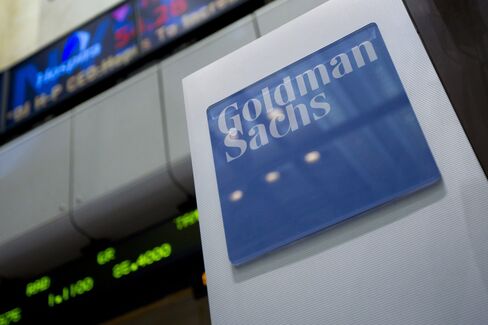 The European Central Bank will deploy "guerrilla" tactics to contain short-term Spanish bond yields around current levels and punish investors who question its resolve, said Huw Pill, chief European economist at Goldman Sachs Group Inc.
With a Spanish aid request "a question of when rather than if," Pill predicted the ECB will then intervene sporadically to anchor short-term Spanish bond yields near where they are now rather than try to propel them much lower with large-scale purchases. If investors doubt the ECB's credibility, the central bank may burn them with losses, he said.
"We don't think the ECB is going to be ambitious in terms of driving down short-dated yields in Spain much below where they are now," Pill, a former ECB official, told Bloomberg Television in an interview at the Retail Leadership Forum in London to be broadcast today. "They'd rather anchor the short-term yield curve through sort of guerrilla tactics."
What form the ECB's Outright Monetary Transactions program will take is being debated in financial markets as Spanish Premier Mariano Rajoy holds out against seeking the bailout that the ECB pledges to support with bond-buying in the secondary market. With Spain's bond yields rising again, Pill said an aid request is likely in the first half of November.
'Very Aggressive'
Rather than transform itself into an activist central bank, the ECB may try to act as a "circuit-breaker" and initially not have to act "in a very aggressive way" as its rhetoric signals a commitment to the task of beating the strife, said Pill. If scepticism does arise, it may allow short-term yields to gain anew before re-entering markets to purchase bonds and impose losses on those who bet against it, he said.
"In the end markets will be disciplined and the ECB will be successful if people who take on the ECB make losses and people who purchase in line with the ECB make profits," he said. "That's the way to create a type of self-reinforcing low rate anchoring at the short end that the ECB's trying to achieve."
Pill joined Goldman Sachs in August 2011 after a decade at the Frankfurt-based ECB, where he rose to deputy director general of research. He also led the ECB's monetary policy stance division and worked at the Bank of England.
Italian Benefit
Italy would benefit from a Spanish aid request as the ECB's response would help limit contagion and prompt investors to discriminate between economies, he said. Although Italy is "not out of the woods," it probably doesn't need to ask for help in the short term given its financial fundamentals are stronger than Spain's, he said.
Pill said while ECB President Mario Draghi's pledge to buy bonds had reduced market tensions, the crisis that has swept Europe for three years is now in a "muddling through" phase which is likely to last another 18 months.
"It will only be at that sort of horizon that we can really begin to even think about coming through the crisis," he said, adding that policy makers must now form a banking union, recapitalize banks and provide aid efficiently.
"Each of those elements is very important," he said. If failure "leads to some sort of dissonance or inability to act promptly or effectively, then that can create disturbances in financial markets."
While Goldman Sachs economists have a "pretty high degree of confidence" the 17-nation euro-area will stay intact for now, as the crisis moves to a resolution stage there is "reason for doubt" all the current members will pass the test of meeting the reform needs required in return for deeper integration of the bloc, Pill said.
"There are reasons for potentially seeing some countries drop off the side of the euro-area," he said. "I wouldn't necessarily say that was the most likely case, but I think it's not a case that can be easily dismissed."
Before it's here, it's on the Bloomberg Terminal.
LEARN MORE