Gender Gap Widens in Massachusetts, Brown's Wife Hits TV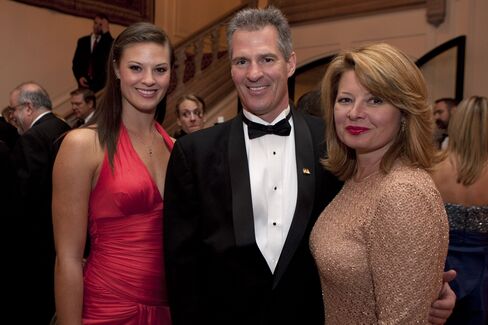 The day after Massachusetts Democrat Elizabeth Warren unveiled the latest television commercial attacking incumbent Republican U.S. Senator Scott Brown's record on women's issues, Brown responded with an ad featuring his wife.
"I want to talk to you about those untrue ads attacking my husband, Scott Brown," says Gail Huff, who married Brown 26 years ago, in the campaign's latest TV ad, which also stars the couple's two daughters. "Scott will fight for our families. Coming from a house full of women, he wouldn't have it any other way."
Huff, 50, a former local television reporter in Boston, has become central to Brown's re-election bid. Huff's importance on the campaign trail is underscored by polls showing that Warren's lead among women voters is growing. The senate race -- in which Warren leads in nine of the past 12 polls taken since September -- is among the most-watched contests.
Warren, 63, a Harvard Law School professor, had a 26-point lead among likely women voters in the latest survey from Western New England University Polling Institute, released Oct. 11, that showed her leading Brown, 50 percent to 45 percent. The senator held an 18-point lead among men in the poll.
A survey released today by MassINC Polling Group and WBUR shows her with a 14-point advantage among female voters. On its website, Public Policy Polling calls the 20-point lead among women for Warren it found last month "one of the most monumental gender gaps" this year.
Equal Pay
The widening gender gap, fueled also by Warren's growing disadvantage among male voters, comes after she has stepped up criticism of Brown's voting record on equal pay and access to contraception, and his opposition to Supreme Court Justice Elena Kagan, an appointee of President Barack Obama. Warren tells audiences that Kagan supports abortion rights; Kagan hasn't commented publicly about her stance on the issue.
Brown, 53, won the post held by the late Ted Kennedy for nearly 47 years in a 2010 special election.
"Scott Brown says he's for women, but he is not," says the announcer in an ad that began running Oct. 12, repeating a theme Warren uses on the campaign trail.
Warren's focus "seems to be resonating with women voters," said Tim Vercellotti, who directs the Western New England University Polling Institute in Springfield. "It allows her to hold her own and maintain her lead."
Warren's Husband
Warren's husband of 32 years, Bruce Mann, is taking a more public role, too. Mann, also a Harvard professor, has led meetings with small businesses, revved up crowds alongside former governor and Democratic presidential nominee Michael Dukakis, and greeted Warren on stage after debates and rallies with hugs.
During Brown's first bid for the Senate seat, Huff remained in her television job and didn't campaign for her husband. After Brown was elected, she was hired as a reporter at a television station in Washington. She took a leave of absence from that position in August to campaign. Voters recognize her from nearly three decades on television in Massachusetts.
Last weekend, she attended a "Women for Brown" meet-and-greet in Worcester after delivering keynote remarks at the National Association of Women in Construction Conference in Framingham. And she'll appear in a series of sit-down interviews alongside Brown and their two daughters filmed at their home in Wrentham, which will air on local television beginning next week and are intended to highlight the senator's family-man image.
'Strong Surrogate'
"Since joining the campaign trail, Gail Huff has been a strong surrogate and advocate for Scott Brown's message of being an independent fighter for jobs," Alleigh Marre, a spokeswoman for Brown's campaign, said in an e-mail.
Brown needs every vote he can find in a state where Democrats outnumber Republicans by more than three to one. The appeal to women from Brown, who describes himself as a bipartisan lawmaker, follows bids to win over other traditional backers of Democrats, such as union members and minorities.
"Women in Massachusetts are paying attention to his votes and they know that all too often, he hasn't been there for them," said Alethea Harney, a spokeswoman for Warren.
Recent elections in Massachusetts show just how much the female vote can swing. In 2010, Brown lost the women's vote to Democratic Attorney General Martha Coakley by just three percentage points, 51 to 48, according to a Washington Post poll taken after Brown's upset victory. Later that year, Democratic Governor Deval Patrick scored a 24-point edge among female voters over his Republican opponent, Charlie Baker, according to post-election survey by MassINC.
First Woman
A Warren victory would make her the first woman the state has sent to the U.S. Senate, and its fifth to Congress. Massachusetts is the only state in New England, except Rhode Island, to have never elected a woman to the Senate or the governorship.
At 25 percent, the share of women in the Massachusetts legislature puts it behind 22 states and last among its New England neighbors, according to the Center for American Women and Politics at Rutgers University in New Brunswick, New Jersey.
Before it's here, it's on the Bloomberg Terminal.
LEARN MORE