War Horses Fade Into History While Bayonets Still Linger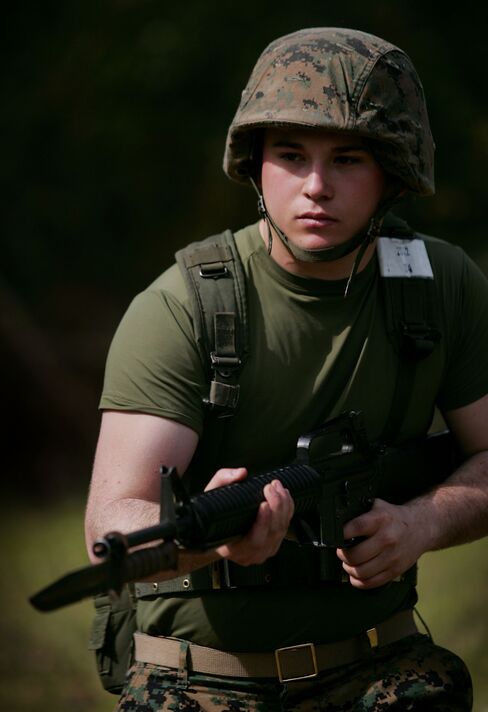 It may say something about the state of U.S. politics today that the high point of a presidential debate about the foreign policy challenges America faces in the 21st Century was a comment about horses and bayonets.
The subject lit up Twitter, inspiring a peak of 105,767 posts per minute during the 90-minute debate on Oct. 22.
Republican nominee Mitt Romney asserted that the military is weaker because the Navy has fewer ships now than it did in 1916 and the Air Force is smaller than at any time since it was founded in 1947. President Barack Obama responded, "We also have fewer horses and bayonets, because the nature of our military's changed."
The U.S. Marines, though, remain fixed on bayonets, as do some of America's allies.
U.K. troops used them during the 1982 Falklands War. In May 2004, according to the U.S. Urban Warfare Analysis Center, about 20 British troops who were ambushed by some 100 Shiite Muslim militia fighters outside Basra, Iraq, ran out of ammunition, fixed bayonets and charged across 600 feet of open ground. No British soldiers were killed, and about 20 militiamen were killed while others fled, says the report, posted on the website LiveLeak.com.
'Multi-Purpose Knife'
That same year, the U.S. Marines ordered some 90,000 OKS-3S new model bayonets from the Ontario Knife Co. in Franklinville, New York, a unit of Servotronics Inc. of Elma, New York. According to a report on the Marine Corps website, the new "multi-purpose knife" is more durable than the old M-7 bayonet and also doubles as a combat knife.
Some elements of combat are durable, too. The 2004 article quotes Marine Major Allen L. Schweizer of the Marine Corps Systems Command as saying: "The Multi-Purpose Bayonet is best used on the enemy, and it causes physiological as well as physical damage.
"It is psychologically damaging because of the fear it will bring to the mind of our adversaries," he said, according to the article. "It projects a manly looking, fear-invoking presence -- not only is it much larger than the M-7 Bayonet, it is much thicker, wider, heavier and meaner."
One of America's manlier presidents, Republican Theodore "Speak Softly and Carry a Big Stick" Roosevelt, might have liked the OKS-3S. One of its ancestors impressed him less.
Inferior Bayonet
As recounted by Small Arms Defense Journal, Roosevelt wrote a letter to the-then secretary of war saying he was unimpressed with a new 1905 design.
"I must say that I think that ramrod bayonet is about as poor an invention as I ever saw," Roosevelt is quoted as saying. "As you observed, it broke short off as soon as hit with even moderate violence. It would have no moral effect and mighty little physical effect."
David Sullivan, 70, a former U.S. Marine from Boston, recalls when, as a young man, the bayonet was an integral part of his training.
"As I recall, when we were in training we were asked, 'What is the bayonet for?', and everyone had to yell in unison 'TO KILL!' when going for the dummy," he said in a telephone interview. "It is one thing to shoot a guy at 50 yards but another to stab him at close quarters."
No Sabers
As for horses, although a few reappeared in the opening days of the U.S. invasion of Afghanistan after the Sept. 11, 2001, terrorist attacks, the special operations forces who rode them were carrying laser pointers to direct air strikes rather than sabers and lances to carve up the enemy.
While Obama was correct that the U.S. Army has fewer horses and bayonets than it did in 1916, as anyone who has seen the movie or play "War Horse" knows, the days of the cavalry charge and fixed bayonets were already waning in World War I. They were victims of machine guns and artillery.
While the U.S. Army still used horses for transport and supply duty, the last of them were traded in for trucks and Jeeps at the end of World War II.
The Army's last cavalry charge was against Japanese forces in the Philippines in early 1942, by a force of U.S. troops and local scouts, said Matthew Seelinger, chief historian at the Army Historical Foundation in Arlington, Virginia.
The Army did use horses and mules during World War II to carry supplies, "but that was the last combat use for the Army," Seelinger said. The class of 1950 at the U.S. Military Academy at West Point, New York, was the last in which young officers were commissioned as cavalrymen. "After that, they were commissioned in armor," Seelinger said.
No Horses in Vietnam
In 1965, units of the Army's 7th Cavalry, once headed by George Armstrong Custer, rode into battle in Vietnam's Ia Drang Valley on Huey helicopters, not horses.
The Army now has almost 4,200 Stryker combat vehicles, made by Falls Church, Virginia-based General Dynamics Corp., compared with the more than 15,000 horses it had in 1916, according to Kevin Brancato, a Bloomberg Government defense analyst. That is largely because, while a horse could carry one soldier, or two in a pinch, the eight-wheeled Strykers carry two crew members and nine passengers.
The Army's few horses are now used almost exclusively for parades, funerals and other ceremonial occasions, and Stars and Stripes reported on March 11, 2011, that Army soldiers sent to Afghanistan or Iraq weren't issued bayonets. The Army says it has an inventory of 418,155 bayonets.
Bygone Era
American actor Ronald Lee Ermey -- a retired Marine whose claim to fame is his role as Gunnery Sergeant Hartman in Stanley Kubrick's film "Full Metal Jacket" -- gives a tongue-in-cheek overview of what has come to be viewed as a symbol of a bygone era.
"In basic training new soldiers learn to fight with a bayonet to help instill an aggressive warrior spirit, but on the modern battlefield you are about as likely to see bayonets fixed to rifles as you are high heels on your commanding officer," he said in a clip on the History Channel.
Yet Ermey, who made a career out of playing tough authority figures, says doing away with the bayonet would be a mistake.
"You just don't know when those six inches of cold steel could make the difference between victory or death," he said.
Before it's here, it's on the Bloomberg Terminal.
LEARN MORE