Peabody Earnings Best Estimates After Coal Shipments Rise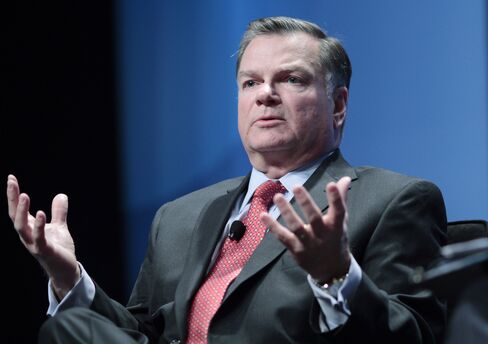 Peabody Energy Corp., the largest U.S. coal producer by volume, reported third-quarter earnings and forecast full-year profit that topped analysts' estimates after it sold more coal from mines in Australia and Wyoming.
Excluding discontinued operations and a charge related to foreign income tax accounts, per-share profit exceeded the 34-cent average of 25 estimates compiled by Bloomberg. Adjusted full-year earnings before interest, taxes, depreciation and amortization will be $2.10 to $2.30 a share, more than the $1.81 average of 28 estimates compiled by Bloomberg.
Peabody jumped 12 percent to $28.95 at the close in New York, the biggest gain on the Standard & Poor's 500 Index and the company's largest increase since November. Arch Coal Inc. and Alpha Natural Resources Inc. also rose as investors speculated Peabody's results show that industry production cuts may be working, Meredith Bandy, a Denver-based analyst at BMO Capital Markets, said in a phone interview today.
"It's still not great but it's much better than expectations were going into the quarter," said Bandy. She rates Peabody outperform, the equivalent of a buy, and Alpha and Arch underperform, or sell. "The supply-demand balance seems to be coming around. Maybe some better-than-expected demand as well."
Alpha said on Sept. 18 it would cut 16 million tons of output, shutting mines in the eastern U.S. and reducing output in Wyoming's Powder River Basin while eliminating 1,200 jobs.
'Reasonably Good'
Peabody's third-quarter sales rose to $2.06 billion from $2.04 billion and the company sees a rebound in U.S. coal demand next year, according to a statement today. Net income fell to $42.9 million, or 16 cents a share, from $274.1 million, or $1, a year earlier, the St. Louis-based company said.
"Despite much weaker global pricing, the company is still guiding for reasonably good fourth-quarter earnings," Brian Yu, a San Francisco-based analyst for Citigroup Inc., said in a phone interview. "Overall, earnings are going to be weaker in the fourth quarter, but still better than expectations and I think that's why you are seeing the stock trade up today."
Higher natural gas prices encouraged some electricity generators to resume burning coal from the Powder River Basin, Mitesh Thakkar, an analyst at FBR & Co. in Arlington, Virginia, wrote in an Oct. 18 note. Thakkar rates the shares outperform. Gas prices rose 23 percent from the prior three months to average $2.893 per million British thermal units in New York during the third quarter.
The company said coal from the Powder River Basin is competitive with gas prices at $2.50 to $2.75 per mmBtu.
Coal Sales
Coal sales rose 5.9 percent to 66.6 million tons in the quarter, compared with 62.9 a year earlier. Sales at Peabody's Australian mining division climbed 39 percent to 8.5 million tons as sales from its western U.S. operations rose 0.7 percent to 44 million tons.
Australian production volumes rose to a record, helping to make up for price declines. China's imports from Australia have more than doubled, Peabody said. The company reduced its cost to mine coal in Australia by 2 percent to $75.22 a ton.
"The source of the upside was a combination of the three primary metrics: volume, pricing and cost," Yu said. "A lot of it was driven by cost. It looks like they did a good job of controlling that particular line-item."
Before it's here, it's on the Bloomberg Terminal.
LEARN MORE