Franco-German Deals Fade as Past Trauma Kills Megamerger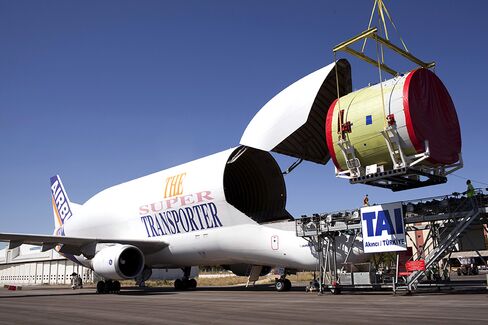 When it comes to doing big cross-border mergers with the French, the Germans would rather not.
Germany is weighed down by its suspicion that it ends up the loser in such deals, a suspicion with some basis in fact, according to analysts and academics. That distrust played a role in Chancellor Angela Merkel's decision this month to kill the planned merger of European Aeronautic, Defence & Space Co. with BAE Systems Plc, they said.
"The Germans, for historical reasons, always fear they'll be outsmarted by the French," said Jochen Peter Breuer, founder of JPB Consulting, which advises on German-French business relationships. "There have been many examples where the French gained the upper hand."
That concern could torpedo potential transactions that might prove beneficial. These include a combination of the ailing phone-equipment suppliers, Nokia Siemens Networks and Alcatel-Lucent, or a possible tie-up between carmaker Adam Opel GmbH and PSA Peugeot Citroen.
The French government also said last week that it is exploring more international synergies between Deutsche Telekom AG and France Telecom SA, the countries' biggest phone companies. A merger of the two has been floated by politicians and bankers for about a decade, yet it hasn't gone anywhere, given the political complexity of obtaining approval, among other reasons.
'Elephant Marriages'
"The French think big, they want big companies like a combination of France Telecom and Deutsche Telekom," said Henrik Uterwedde, deputy director of the German-French Institute in Ludwigsburg, Germany. "Such elephant marriages often lead to a bad mix of business and politics."
The angst, or angoisse as they say in Paris, is already showing in the numbers. German-French transactions slumped to
2.28 billion euros ($3 billion) so far this year, the lowest level in at least 12 years, according to data compiled by Bloomberg. Amid Europe's debt turmoil, the region's overall deal-making has dropped 4 percent to $673 billion so far this year from the same period in 2011, according to data compiled by Bloomberg.
"The EADS-BAE transaction showed that even if the chief executives support a deal, it can be blocked by national interests," said Michael Ulmer, an M&A lawyer at Allen & Overy in Frankfurt. "That trend could hurt future potential deals."
Germany has undermined other deals touching on national security, where armaments are still a sensitive issue.
Stigmatized Industry
"Defense is not an especially popular industry," said Wilhelm Nolting-Hauff, a lawyer at the law firm Orrick Hoelters & Elsing in Dusseldorf who has worked on a number of Franco-German transactions. "It's stigmatized like the nuclear sector."
France has unsuccessfully pushed the unprofitable tankmaker Nexter Systems to forge tie-ups with other European armaments markers, which include the German Krauss-Maffei Wegmann GmbH and Rheinmetall AG.
Last year, talks collapsed between ThyssenKrupp AG and French contractor DCNS over a possible naval venture that would have formed a so-called EADS of the seas. An attempt by the two nations to create a rival to Google Inc. called Quaero has also foundered, with the Germans leaving in 2006.
There's a "general industrial trauma after several deals where the French government took over the companies, got rid of the jobs in Germany and took the technology to France," said Christian Moelling, a scholar at the German Institute for International and Security Affairs.
Hoechst Disappears
One of the most dramatic examples is the fate of Hoechst AG. Once Germany's biggest drugmaker, it merged with Rhone-Poulenc SA to become Aventis. In 2004, it was pushed into the arms of drugmaker Sanofi Synthelabo SA by the French government, which dissuaded a competing offer from Switzerland's Novartis AG much to the dismay of Aventis management and German politicians.
France emerged with a national champion, and Aventis disappeared, as jobs and technology moved west of the Rhine.
"The French are very good at standing up for individual companies," said Philippe Delmas, head of PhD Associates and a former Airbus executive. "There's a long tradition of business-government ties. The Germans don't have a history of protecting their businesses, so they think that French companies always have the state on their side."
With time, the Germans have become more active in deals themselves.
'Aha Moment'
"Sanofi Avents was an 'a-ha' moment for the Germans," said Uterwedde. "This mistrust has led the German government to view such transactions from a political perspective, even if in theory they like to leave businesses alone."
That carried over to Deutsche Boerse AG's proposed takeover of NYSE Euronext, the operator of the New York stock exchange, to create the world's biggest stock exchange operator. It fell apart last year amid local politicians' reservations about possible jobs cuts, eventual U.S. domination, as well as European Union antitrust concerns. That followed Deutsche Boerse's failed attempt in 2006 to buy Euronext, operator of bourses in Paris, Amsterdam, Brussels and Lisbon.
"There is no Franco-German curse, but it's not always easy," said Delmas. "Mitterrand said the friendship between France and Germany can never be taken for granted. It's not an emotion, it's a work under construction."
Possible Tie-ups
Two deals where the friendship might be tested are in telecommunications and automobiles.
General Motors Co., owner of German carmaker Opel, and Peugeot may seek to merge Opel with the French company, French newspaper La Tribune said earlier this month. That may benefit Peugeot by bringing it cash from GM, as assets of the French business outweigh those of Opel, the report said.
A tie-up between Alcatel-Lucent, the French phone-equipment maker forced to cut about 15 percent of jobs, and NSN, a venture of Nokia Oyj and Siemens AG, has been mooted by bankers as a possibility, given expectations for further consolidation in the industry.
Germany's newfound sense of confidence in itself, driven by economic success and its role bailing out its EU neighbors, has only reinforced a belief in the need to protect its interests, even if it trumps the interest of the companies involved.
'Wrong Tree'
"The French government is constantly proposing megamergers, but I think it's barking up the wrong tree," said Uterwedde.
Still, pressure for consolidation in the shrinking defense industry will lead to some deals among European countries, though not on the scale of EADS-BAE, analysts said.
EADS, with 10 billion euros in cash on its books, may be looking for smaller opportunities, including Thales SA, and Cobham Plc, the world's largest maker of airborne-refueling equipment, according to analysts at Chevreux. British aerospace and defense company Meggitt Plc could also be a potential takeover target, a Citigroup analyst said.
"Unlike the U.S., the national interests in Europe are still too divergent to build European champions," said Allen & Overy's Ulmer. "Europe is not so far enough along to put shared interests ahead of national interests."
Before it's here, it's on the Bloomberg Terminal.
LEARN MORE