Benghazi-Attack Furor May Limit Diplomats in Risky Places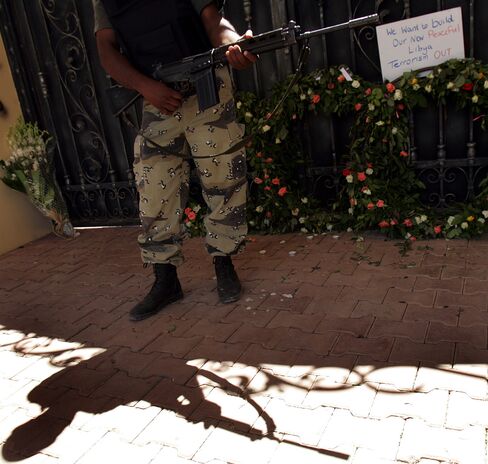 Oct. 22 (Bloomberg) -- Ronald Neumann remembers when, as U.S. ambassador to Algeria in 1995, he wanted to visit five polling stations during an election that armed Islamists had threatened to derail. His security officer wasn't happy.
He went anyway.
The deaths of U.S. Ambassador to Libya Christopher Stevens and three other Americans in the Sept. 11 assault on the U.S. diplomatic outpost in Benghazi has fueled a pre-election clash in Washington, with Republicans including presidential nominee Mitt Romney challenging the administration's accounts of the attack and its prior security decisions. The topic is likely to resurface tonight when Romney and President Barack Obama debate foreign policy.
Yet lost in the largely partisan back-and-forth has been an understanding of diplomatic security's limitations as well as the reality that diplomats can't do their jobs hunkered down behind fortress walls, say former U.S. envoys who have served in conflict zones.
"My fear is that there will now be a lot of political pressure to avoid risk," Neumann, who was the U.S. envoy in Afghanistan from 2005 to 2007, said in a telephone interview. "But this is not a zero-risk job and never has been."
One fact that's largely been ignored is that the 1961 Vienna Convention on Diplomatic Relations puts responsibility for protecting diplomats and their facilities in the hands of the host nation, which generally provides perimeter security and other protective measures. U.S. security personnel have restrictive rules of engagement, though they are permitted to respond in self-defense.
Libya Conditions
Unique problems arise in countries such as Libya, where a fragile government has limited control over former rebel fighters and has largely abdicated security to armed militias. Even in those circumstances, foreign embassies aren't free to deploy their armed forces, a reality muddied in recent years by the different situation in Afghanistan and Iraq, which have been occupied by U.S. troops, administration officials say.
Ryan Crocker, who served as ambassador in Pakistan from 2004 to 2007 and left his post as the top U.S. envoy to Afghanistan two months ago, said the issue of the Benghazi attack now has become "heavily politicized."
For diplomats serving in hot spots in the Middle East and Africa, where violence can flare suddenly, one of the biggest difficulties is balancing safety considerations against the need to leave their protected enclaves for the personal interactions necessary to be effective. Neumann, in his case almost two decades ago in Algiers, discussed with his security officer in detail how he could go to the polling stations without endangering his life.
Bombing Survivor
Crocker, as a young political officer, survived the 1983 terrorist truck bombing of the U.S. embassy in Beirut, in which 17 American diplomats and CIA officials were among the 63 killed. During his time in Kabul, there were two attacks on the embassy, he said in a telephone interview.
"We have to accept that diplomats in war zones are vulnerable," said Crocker, who is now the Kissinger senior fellow at the Johnson Center for the Study of American Diplomacy at Yale University in New Haven, Connecticut.
"We swear the same oath of the U.S. army, we go to war zones and we are prepared that some of us will get killed," he said.
Marine Guards
One recurring question posed by Republicans, who are accusing the Obama administration of refusing requests for more security in Libya and misleading the public on the nature of the attack, is why U.S. Marines weren't guarding Stevens.
"Shouldn't we have a Marine detachment guarding our ambassador in Benghazi?" Republican vice presidential nominee Paul Ryan said in the Oct. 11 debate with Vice President Joe Biden.
In most circumstances, though, protection of an ambassador and other embassy personnel is the job of diplomatic security personnel, not the Marine embassy guards whose primary responsibilities are to control access and to secure classified reports and equipment. Stevens had a diplomatic security detail with him, whether he was out jogging in Tripoli or in the Benghazi compound as it came under attack.
Embassy Marines are authorized to protect personnel if the embassy comes under attack, and special Marine groups -- known as Fleet Antiterrorism Security Teams -- can be quickly deployed in a crisis to secure U.S. facilities and to extract personnel. Marines were sent to Libya to augment embassy security after the Benghazi attack, and a unit was sent to Yemen Sept. 14 to strengthen protection at the embassy in Sana'a.
Risk Management
Assessing the threat to security is a complex process where State Department regional security officers play a dominant role, yet the ambassador has the last say in pushing a request up to the attention of Washington.
Stevens, a fluent Arabic speaker whose style of diplomacy was to get out and mingle with locals, would have played a key part in deciding the security protocols for Tripoli and Benghazi, where he had worked as U.S. liaison with the Libyan rebels during their fight to topped Muammar Qaddafi's regime. He had been in Libya as ambassador barely four months before he was killed during a visit to that eastern city.
Republican House investigators last week released embassy cables, sent under Stevens's name, which requested that the State Department provide additional security in Libya. A State Department investigation into the entire incident is being led by veteran U.S. diplomat Thomas Pickering, who heads the so-called accountability review board established by Secretary of State Hillary Clinton. The findings aren't expected until after the Nov. 6 election, said an official with knowledge of the board's anticipated schedule.
Sounding Alarm
Security at the Benghazi compound on Sept. 11 consisted of five diplomatic security agents and three Libyans who were members of the Feb. 17 Brigades, a militia assisting the Libya government, Charlene Lamb, a deputy assistant secretary of State in the Bureau of Diplomatic Security, told a House committee Oct. 10.
As the attack began, one agent in the tactical operations center sounded the alarm, alerted Washington and called for help from a rapid-reaction force while others "retrieved their M4 submachine guns" from a nearby building, Lamb said. The M4 carbine, a more compact version of the Vietnam-era M16 rifle, fires 5.56mm rounds in single shots and three-round bursts.
Request Rejected
One agent secured Stevens and Sean Smith, an information management officer, in a barred safe room, she said. Stevens and Smith died after attackers set the building on fire and an agent was unable to rescue the ambassador in the dense smoke, she said.
Eric Nordstrom, who was a regional security officer in Tripoli until July, told the congressional panel Oct. 10 that officials in Washington had previously turned down his request for an extension of a 16-member security support team that was scheduled to leave Libya in August.
Lamb, who evaluated Nordstrom's request, said she declined to support it. The special team was stationed in the capital Tripoli, not Benghazi, and other diplomatic security agents were available to do the job along with Libyans who had been trained to take over, she said.
Before judging that security was insufficient, it is necessary to know whether anyone anticipated the outpost was facing a threat of the size and intensity encountered Sept. 11, former U.S. diplomats said.
Intense Assault
"Having an extra foot of wall or extra half-dozen guards or agents would not have enabled us to respond to that kind of assault," Nordstrom acknowledged in his testimony.
Ned Walker, who served as U.S. ambassador to Egypt and Israel under the Clinton administration, said it was "problematic" that Stevens was in Benghazi, not in Tripoli where adequate security was in place.
It isn't solely the job of the State Department's diplomatic security bureau to make an assessment of security needs. Different agencies play a role, such as gathering and analyzing intelligence.
Susan Johnson, president of the American Foreign Service Association in Washington, said it's important to take into account the limitations of some host governments.
"That does not mean we have to quit and go home," she said in a telephone interview.
Risk Exposure
Doing the job of a diplomat "requires mobility, access to contacts and giving useful policy input. All those things entail exposure to risk," she said.
When Johnson served in Baghdad in 2003 as a senior adviser to the Iraq Ministry of Foreign Affairs, she said procedures required civilian advisers leaving the fortified "Green Zone" for meetings to wear a flak jacket, helmet, camouflage clothing and to travel by military convoy. Yet military transport was rarely available, she said.
So the choice was to not go or to find another way, which she said she did by taking a battered Foreign Ministry Toyota with Iraqi license plates. Most senior advisers did the same, she said.
"I was not in the cross hairs, I blended in," she said in a telephone interview. "In those circumstances, the best thing is not be noticed, and if you are moving around in a flak jacket and helmet with a high-profile military escort, chances are you will be."
'Waking Up'
In the aftermath of terrorist attacks, such as the Beirut embassy bombing, the U.S. has spent billions of dollars building and fortifying embassies and consulates around the world. The 1998 bombings of the U.S. embassies in Kenya and Tanzania demonstrated al-Qaeda's desire to strike at the symbols of American power.
"From turning on the television, one would think that Americans are just waking up" to this kind of danger, said Neumann.
Republicans have sought to tie the Benghazi attack to a resurgent al-Qaeda that Obama's administration failed to detect. While the investigation may have the final say, accounts from U.S. intelligence officials, Benghazi residents, and evidence in the burned-out diplomatic compound point to a hasty and poorly organized act by men with basic military training and access to weapons widely available in Libya.
Walker said there is a risk of overacting to the Benghazi tragedy. Before Stevens, five ambassadors had been killed by terrorists, most recently Adolph Dubs in a kidnapping attempt by Islamic militants in Afghanistan in 1979.
"I have been shot at, been in riots," Walker said. "It could have gone the wrong way. I was lucky."
To contact the reporter on this story: Flavia Krause-Jackson in Washington at fjackson@bloomberg.net
To contact the editor responsible for this story: John Walcott at jwalcott9@bloomberg.net