McLaren Lures Top-End Buyers With $1.1 Million P1 to Boost Sales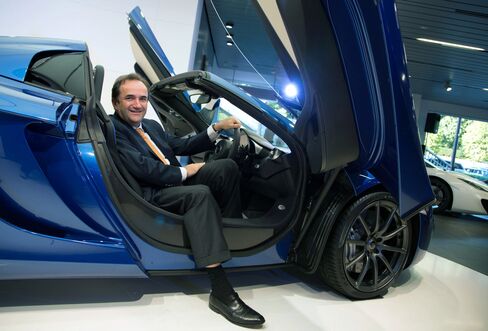 Oct. 22 (Bloomberg) -- McLaren Automotive Ltd., maker of vehicles for the most winning Formula One team after Ferrari SpA, will target the market for supercars above $1 million with its P1 set for delivery in the second half of 2013.
"Customers want to make sure that it is not going to be a car that is available by the thousands," Managing Director Antony Sheriff said in an interview in Tokyo. "We will be building it at a rate of no higher than one car per day."
The P1, a road-legal version of McLaren's F1 racer, will help double annual sales at the closely held automaker to 3,000 cars in four years, Sheriff said. The 700,000 pound ($1.1 million) model will join Aston Martin Lagonda Ltd.'s One-77 and Bugatti's Veyron as limited-production cars aimed at buyers at the top of the market, according to Yoshiaki Kawano, an analyst at IHS Automotive in Tokyo.
Using a supercar to lend the overall brand a sense of exclusivity is similar to what Ferrari has done with its Enzo and F50 models, said Kawano. "They are both top-of-the-line cars that can add exclusivity to the supercar brand."
The brand image promoted by the P1 will help McLaren as it adds one model annually in the coming four years, Sheriff said Oct. 19.
Performance specifications for the P1 will be announced at the Geneva Motor Show in March and deliveries of the car will begin in Europe, followed by Japan, the executive said.
Production of the P1, McLaren's third model for retail car buyers, will be limited to 500 units, Sheriff said. The Woking, U.K.-based maker of supercars started selling the MP4-12C spider in June, a year after it debuted the MP4-12C road car.
Profitable Model
"The 12C is very profitable for us and is in fact helping fund future development," Sheriff said. "Once we have a full product line on the market, then we will be in a position, we believe, to become a solidly profitable company." He declined to provide figures for profit and revenue.
McLaren's current financial structure is stable and is providing the company with the funding it needs, Sheriff said. The carmaker has no immediate plan to raise money by selling shares to the public, he said.
Worldwide sales of supercars selling for more than 400,000 Swiss francs ($431,000) each will jump 90 percent to 3,286 in 2014 from 1,731 in 2010, led by demand in North America and Asia, Kawano estimates.
McLaren's annual sales of about 1,500 cars compare with deliveries of a record 7,195 units last year at Ferrari, the oldest F1 team, whose sales were boosted by the U.S. and China.
McLaren intends to have eight dealerships in China by early 2014, with the first four to open in the first half of next year, Ian Gorsuch, the carmaker's Asia-Pacific director, said in a separate interview on Oct. 19 in Tokyo.
The company will also add dealerships in the coming months in Indonesia, Malaysia and Taiwan, Gorsuch said.
"Since this is the third car of McLaren, its success and that of the MP4-12C will decide whether the company can introduce more cars of different ranges," said Kawano of IHS.
To contact the reporter on this story: Ma Jie in Tokyo at jma124@bloomberg.net
To contact the editor responsible for this story: Young-Sam Cho at ycho2@bloomberg.net