AMC's Settlement Returns Mad Men to Dish Networks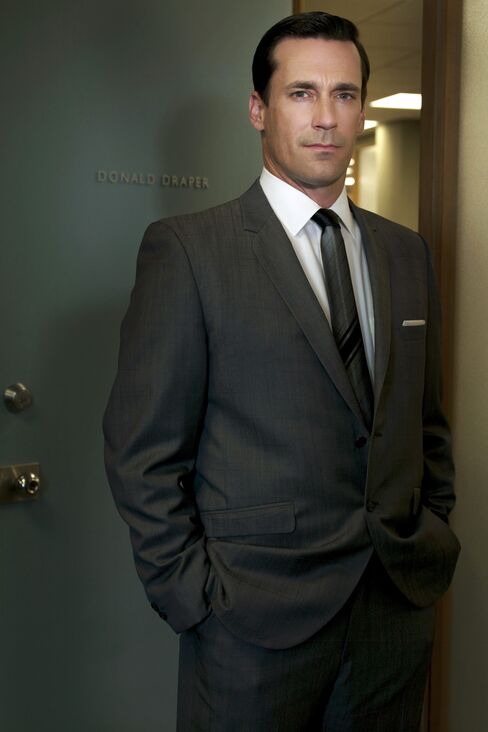 AMC Networks Inc. and pay-TV provider Dish Network Corp. reached a $700 million settlement of their lawsuit over AMC's claim that Dish wrongfully terminated their contract for high-definition television programming.
The settlement included a return of AMC's networks and award-winning shows like "Mad Men" and "Breaking Bad" to Dish's viewers starting yesterday, according to AMC's statement. Dish dropped AMC's channels in July, saying that they didn't deliver the ratings to justify their price.
"We are glad to have settled the case and reestablished our long-term relationships with AMC Networks and Cablevision," Dave Shull, Dish's senior vice president of programming, said yesterday in a separate statement. "This multiyear deal delivers a fair value for both parties and includes digital expansion opportunities for AMC Networks' programming."
Cablevision Systems Corp., AMC's former owner, sued Dish in 2008 over a now-defunct HD satellite TV service called Voom, claiming Dish breached a 15-year contract to offer the service to its 14 million TV subscribers. AMC sought $2.4 billion in damages. A trial had been proceeding in New York State Supreme Court in Manhattan. State Supreme Court Justice Richard Lowe told the jury today that the case was settled.
"They have reached a settlement that both sides feel is equitable and beneficial," Lowe said.
'Good News'
Lowe told the jurors the settlement was "good news" because any verdict would probably have been appealed and the case's importance meant it might go to two appeals courts. He said that if an appeals court declared that he had made some judicial error, "they could come back here and do this all over again."
Dish will pay $700 million to Cablevision and AMC and enter into a long-term distribution agreement with AMC to carry the channels AMC, IFC, Sundance Channel and WE TV, the companies said. Dish accounted for about 13 percent of AMC's subscriber base, AMC said. The number of subscribers can determine what advertisers and broadcasters pay the cable network company.
AMC's chief executive, Joshua Sapan, said last month that Dish dropped the channels because of the lawsuit not the ratings.
The settlement also includes Dish receiving satellite video airwaves from Cablevision. As part of the agreement, Dish will purchase multichannel video distribution and data service or MVDDS spectrum in 45 markets for $80 million. Stefan Anninger, an analyst with Credit Suisse AG, wrote in a note that while the spectrum transfer is interesting, "we are not sure it does much for Dish in the near term."
Shares Rise
Dish climbed 3.3 percent to $36.63 while AMC rose
3.9 percent to $47.30 at 4 p.m. New York time in Nasdaq Stock Market trading. Cablevision gained 0.3 percent to $18.45 in New York Stock Exchange composite trading.
Englewood, Colorado-based Dish is the third largest U.S. pay-TV service. Cable provider Comcast Corp. and satellite company DirecTV are the largest U.S. pay-TV providers.
The four-year-old case had been marked by disputes over evidence, which led to sanctions against Dish by Lowe.
Lowe had planned to tell jurors before deliberations that Dish destroyed e-mails before and after the suit was filed. Lowe said he granted AMC's motion for sanctions because Dish should have anticipated a lawsuit and begun saving e-mails when it notified Voom it might terminate the contract. Dish said the e-mails were automatically deleted.
Evidence Dispute
After the trial began, Dish was accused again by AMC of withholding evidence. Dish argued that the communications at issue were between an attorney and his client and should be protected from disclosure. Lowe ordered that the documents be presented to him. Dish appealed and lost.
The evidence sought by AMC for the trial might have influenced the amount of damages awarded if it won, Orin Snyder, a lawyer for AMC, said in court while the jury wasn't present. The lawyer claimed that Dish provided HD subscriber totals that were lower than what some analysts estimated, which could reduce a potential damage award by more than $1 billion. He sought additional files that would back up Dish's numbers.
Felipe Barrientos, a juror who works in digital marketing, said in an interview at the courthouse that AMC's expert witness made a good argument for the $2.4 billion damage award.
"I felt it was headed that way," Barrientos said of the settlement. "I'm surprised it didn't get settled before the trial started." Both parties had strong cases, he said.
Barrientos said that although jurors had been told that some evidence had been destroyed by Dish, he was waiting to hear the judge's instructions before deciding how important that was.
Cablevision Costs
Cablevision argued in court filings that it spent $103 million on Voom in 2006, more than required. Dish said that figure included corporate overhead expenses and that the contract stipulated the money must be spent on programming. The legal dispute was over the meaning of the contractual phrase "on the service" in relation to spending.
Georgia Juvelis, a spokeswoman for New York-based AMC, and Kelly McAndrew, a Cablevision spokeswoman, said their companies had no additional comment beyond their statement.
Dish Chairman Charles Ergen was scheduled to testify for Dish in the trial today. Ergen, a 59-year-old native of Tennessee, co-founded EchoStar Corp. in 1980 with his wife and a friend, selling satellite TV dishes to rural homes in Colorado. EchoStar and Dish became separate companies in January 2008, with Ergen remaining the chairman of both.
Laptop Computer
Dish programming executive Carolyn Crawford apologized to the judge today for an emotional outburst Oct. 16 in court after the jury had been recessed. She said she felt her integrity was under attack when she left the courtroom in tears that day.
AMC's lawyers earlier that day had said a laptop computer that belonged to Crawford contained evidence that was missing. Dish said the laptop had malfunctioned years ago and documents were lost. Lowe said he wouldn't have allowed "that woman" to remain in the courtroom to observe the case if he had known her importance to it. After a little while he apologized to her for making that reference.
Charles Dolan, the chairman of both Cablevision and AMC, was AMC's first witness. Cablevision, based in Bethpage, New York, spun off AMC Networks, formerly known as Rainbow Media, as a separate publicly owned company last year. Dolan family members remain the controlling shareholders in AMC.
In the settlement, Dish also agreed to carry the Madison Square Garden Co.'s Fuse channel on its service. James Dolan, the chief executive officer of Cablevision and the son of Charles Dolan, is Madison Square Garden Co.'s executive chairman.
The case is Voom v. EchoStar, 600292-2008, New York State Supreme Court, New York County (Manhattan).
Before it's here, it's on the Bloomberg Terminal.
LEARN MORE