Japan Ministers Visit Tokyo War Shrine Amid Spat With China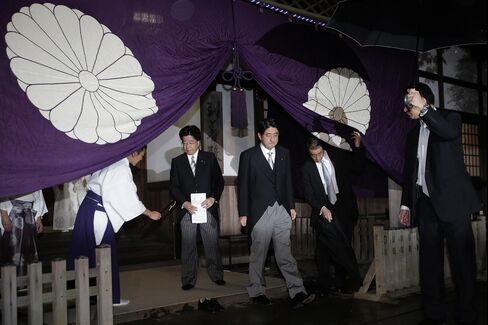 Two Japanese cabinet ministers visited a shrine in Tokyo seen throughout much of Asia as a symbol of wartime aggression, in a move that may further strain ties with China hurt by a maritime territorial dispute.
Transport Minister Yuichiro Hata and Postal Reform Minister Mikio Shimoji paid their respects at Yasukuni shrine during its autumn festival today, Chief Cabinet Secretary Osamu Fujimura said. The visit came a day after a similar visit by main opposition Liberal Democratic Party leader Shinzo Abe sparked protests from China.
"As the ministers made their visit in a private capacity, the government has no further comment," Fujimura told reporters today in Tokyo. "The government has long believed that visits made in a private capacity relate to the freedom of personal beliefs, and we shouldn't interfere with that."
Japan-China relations are being hurt by rival claims to uninhabited islands in an area of the East China Sea rich in gas, oil and fishing grounds. Japanese Prime Minister Yoshihiko Noda has called for negotiations before the dispute further hurts Asia's two biggest economies and both countries have agreed to talks at an undetermined date.
The visit by Abe, who will become prime minister if his party prevails in an election that must be called by August, is a "provocative" act that will "further poison bilateral ties," China's official Xinhua News Agency said yesterday in an unsigned commentary.
'Squarely Face'
Japan should "squarely face and reflect upon history and strictly abide by its solemn statements and pledges regarding historical issues," Chinese Foreign Ministry spokesman Hong Lei said at a briefing in Beijing today. He said Japan should "face the international community in a responsible manner."
Noda's government last month reached a deal to purchase the islands, called Senkaku in Japanese and Diaoyu in Chinese, prompting violent protests in China and putting at risk a $340 billion trade relationship.
The Yasukuni Shrine commemorates Japan's war dead, including World War II leaders convicted by an international tribunal of war crimes. The shrine is viewed in China and Korea as a symbol of military atrocities during Japan's occupation of Asia in the first half of the 20th century.
Hata made a similar visit to Yasukuni in August to commemorate the end of the war.
Japan is also embroiled in a dispute with South Korea over separate islands known as Takeshima in Japanese and Dokdo in Korean.
Before it's here, it's on the Bloomberg Terminal.
LEARN MORE