Am I Better Off? It Depends ...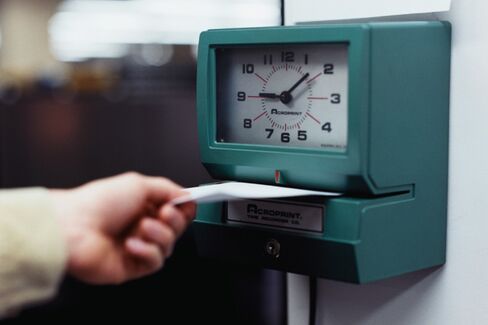 As part of our special Election Issue, we're asking Bloomberg Businessweek readers to tell us: Are we better off than we were four years ago?
Submit your story on Facebook or through our Tumblr, or leave your response in the comments section. We'll feature our favorites in future posts on this blog.
Earlier this week we posted positive and negative assessments of the state of the nation. Today, we're featuring some stories from readers who see an unclear path ahead for the nation.
Samantha Hicks, receptionist:
"It's hard for me to really decipher whether I am better or worse off than four years ago. Four years ago I was a high school student. All my earning went into savings, I got full scholarship to my university of choice, and things were looking exciting. Four years later, I am working on my MBA and working three jobs to make it happen. My husband and I completely support ourselves, which I take pride in, but life is very stressful. Combined we work over 100 hours a week to make sure our bills are paid. On top of that I am working on my MBA because I have found that a bachelor's degree just doesn't cut it anymore. But ask me again in four years and I can almost guarantee I will be better off for all of this! And that does not depend on which candidate is elected."
Dennis Gove:
"Eighteen years ago I was diagnosed with Type I Diabetes and just last week my 2½-year-old daughter was diagnosed with a chronic kidney problem, Minimal Change Disease. As a husband and father of two, my greatest fear is losing our family's health insurance coverage.
"President Obama's health-care law is already, and will continue to be, a godsend wrapped with a bow. It's become just a little easier to sleep at night knowing my family can't be denied coverage or be asked to pay exorbitant rates due to preexisting conditions. I am very excited to see all parts of this plan take effect.
"Yes, I believe we are better off today than we were four years ago."
Commenter James:
"It's a slow recovery, as predicted. Congress has made things worse to their benefit, not the American people. They all have money and government benefits. They're perfectly fine. As for the people, it depends: it's OK if you are a hard worker, but not so much for those who are not. It's OK if you diversified your skills, but not so much if you can do only one thing. There are still people with money and can hire you if you are willing to work. It may not pay as much, but at least you'll keep your self-worth."
Commenter Curtissumpter:
"In 2008 I finished paying my way through a local four-year college and obtained a degree in math. That combined with my limited IT experience led to a position with a large corporation that tripled my salary. A few years later I left that company and my salary increased substantially again. I moved to a better neighborhood and made some big-ticket purchases. I am much better off than I was four years ago. I attribute my good fortune to Craigslist. Every jobs section was pretty shaky except programming. That's where I put my emphasis."
Commenter Dachman:
"I can't imagine too many people saying things are better than they were four years ago. What I do imagine is people saying, 'If it wasn't for Obama, I know we would be in a lot worse shape.' So many of Obama's promises are reliant upon 'if' statements: If I hadn't inherited such a bad economy … if we weren't in the middle of two wars … if the euro zone hadn't gone through all of [its] trouble … if the oil spill hadn't happened … if gas prices hadn't gone up so much. … You would think he was the first president to deal with any hardship.
"I am guessing his promises were all best-case scenarios?"
Are we better off? Submit your story on Facebook or through our Tumblr, or leave your response in the comments section. We'll feature our favorites in future posts on this blog.
Before it's here, it's on the Bloomberg Terminal.
LEARN MORE