Pfizer Multivitamin Reduces Cancer 8% in Men, Study Finds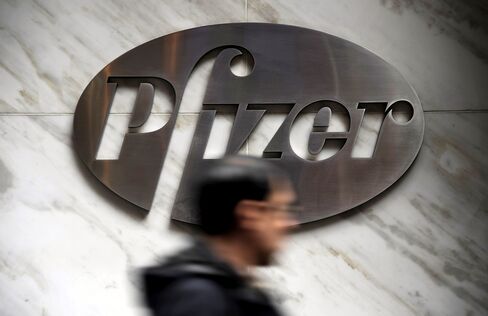 Pfizer Inc.'s Centrum Silver multivitamin can reduce a man's risk of cancer when taken daily, a study said, countering previous findings that show such supplements have no beneficial effect and may be harmful.
Researchers tracked about 14,641 men, who were at least 50 years old, from 1997 to 2011, with some taking a multivitamin and others taking a placebo. Participants on the nutritional supplement had an 8 percent reduction in cancer occurrences, according to the study, published today in the Journal of the American Medical Association.
The results contradict earlier research that suggests some vitamins and supplements may be harmful. Last year, a paper linked the use of multivitamins with a 2.4 percent increased risk of death among older women. A different study also connected daily use of vitamin E with increased risk of prostate cancer in healthy men.
"The data has been mixed at times around multivitamins," said Chris Kocun, vice president of global medical affairs for New York-based Pfizer's consumer health-care unit. "This study really shows you're going to get a long-term health benefit."
In July, Pfizer agreed to change the labels on its vitamin containers, and remove claims of promoting breast and colon health, after the Washington-based consumer advocacy group Center for Science in the Public Interest complained it would mislead consumers into thinking the pills prevented cancer.
Explanation Elusive
The study's authors couldn't pinpoint any single reason for the reduction in cancer among those who took the supplements, though they speculated it may be due to the combination of several low-dose vitamins and minerals, where previous studies looked at the effect of high levels of individual nutrients.
"This is the only trial that's ever looked at a common multivitamin over a very long period of time," said Michael Gaziano, a lead study author and cardiologist with Brigham and Women's Hospital and the VA Boston Healthcare System, in an interview. "Our findings are somewhat consistent with the dietary findings that say a varied diet, particularly high in fruits and vegetables, show a fairly consistent association with reduced cancer risk."
Centrum Silver contains more than 30 nutrients, including vitamins A, B6, B12, D and calcium, said Pfizer's Kocun.
Sales of multivitamins in the U.S. increased 4.4 percent last year to $5.2 billion, according to the Nutrition Business Journal. Multivitamins accounted for 17 percent of all dietary supplement sales.
Similar Demographics
Participants in both study groups had similar levels of smokers, self-reported histories of cancer, amounts of exercise and diet, said Howard Sesso, a study author, associate epidemiologist at Brigham and Women's Hospital and assistant professor of medicine at Harvard Medical School. He said it's still too early to recommend taking the supplement as a preventative measure.
"Whether or not we should be taking a multivitamin to prevent cancer is one that remains an open question," Sesso said in an interview.
The study was funded in part with grants from the National Institutes of Health and BASF Corp. Pfizer supplied the vitamins and placebo pills.
Before it's here, it's on the Bloomberg Terminal.
LEARN MORE