'Gangnam Style' Link Spurs DI Surge: Chart of the Day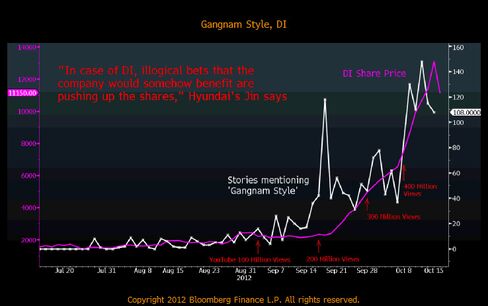 A father-son connection to the "Gangnam Style" music video has triggered an almost 500 percent rally in shares of DI Corp. since mid-July in Seoul.
"Gangnam Style," which contains satirical lyrics about the habits of wealthy South Koreans and features choreography mimicking horse riding, vaulted 34-year-old musician Park Jae Sang into fame under the pseudonym Psy. The musician's father, Park Won Ho, is chairman of DI, which makes semiconductor-testing equipment for clients including Samsung Electronics Co.
The CHART OF THE DAY tracks shares of DI, the number of news stories compiled by Bloomberg that contain the term "Gangnam Style" and views on Google Inc.'s YouTube unit, with the latter exceeding 470 million since it was posted on July 15.
"In the case of DI, illogical bets that the company would somehow benefit are pushing up the shares," Kevin Jin, an analyst at Hyundai Securities Co., said by phone on Oct. 16. "The ''Gangnam Style'' boom has created some thematic stocks."
Speculation that DI would do business with Psy, given the family ties, triggered the share-price rally, the company said in an e-mail response to Bloomberg News. No discussions have been made on a potential business with the chairman's son, the company said. Korea Exchange Inc. ordered trading in DI shares to be halted for two days this month.
DI isn't the only company to get a boost from the viral video. Hite Jinro Co., which makes a distilled Korean liquor called soju, climbed 7.6 percent over seven trading days after Psy drank a bottle of the company's drink during a concert in Seoul on Oct. 4, attended by about 80,000 people. YG Entertainment Inc., which manages Psy, has climbed more than 50 percent since the release of the song, which was ranked second on the Billboard music chart in the U.S. last week and earned the rapper appearances on American television programs including "The Ellen DeGeneres Show" and NBC's "Today Show."
Before it's here, it's on the Bloomberg Terminal.
LEARN MORE