Ex-Banker Girlfriends Doubled Money on Insider Trading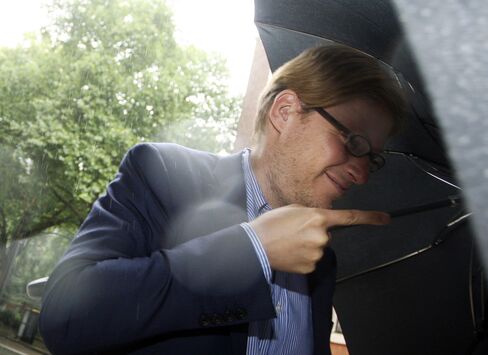 Two girlfriends of former Mizuho International Plc investment banker Thomas Ammann reaped returns of more than 2 million pounds ($3.2 million) trading on illegal tips about Canon Inc.'s acquisition of OCE NV, prosecutors said.
Christina Weckwerth took in nearly 2 million pounds after investing 1 million euros ($1.3 million) before the deal in 2009, Amanda Pinto, a lawyer for the U.K. Financial Services Authority, said in opening arguments at a London criminal court today. Jessica Mang, a British chiropractor, made 65,000 pounds on a 39,000-pound stake.
"These two women managed to almost double their money by trading on just one stock," Pinto told the jury. "Each of the girlfriends considered Thomas Ammann to be their boyfriend, and neither knew of the other."
Both paid half the profits they made to Ammann, Pinto said. Weckwerth was charged with one count of insider trading between April and November 2009, and Mang with one count of insider trading in November of that year. They have pleaded not guilty. Insider trading in the U.K. can be punished by as much as seven years in prison.
Canon, the Tokyo-based maker of cameras and photocopiers, agreed to buy OCE in a 730 million-euro deal in November 2009.
Ammann, who worked for the Mizuho mergers and acquisitions team that advised Canon on the deal, pleaded guilty earlier this year to insider trading and encouraging both women to commit insider trading, Pinto said.
Single Mother
The banker was in financial difficulties and was living beyond his means, Pinto said. Weckwerth, a single mother living off a "very generous divorce settlement" of 1.7 million euros, met him in 2008 on a dating website, the prosecutor said.
"He had the inside information, they had the money," she said. Weckwerth and Mang "provided the distance and made it harder to trace where or from whom the insider information came from."
Weckwerth, who has dual Cypriot and British citizenship and was training to be a psychotherapist during 2008 and 2009, had "invested conservatively" before meeting Ammann, Pinto said. Her trading in OCE shares "was quite exceptional" in comparison, she said.
Mang, who now owns a chiropractic clinic in Surrey, England, met Ammann at a nightclub in July 2009, Pinto said. When he first asked her to invest, she didn't have the money or a trading account. He told her she would get returns as high as 80 percent, so she borrowed money from her mother and on credit cards and opened a brokerage account.
Five Days
Mang bought OCE shares and then sold them five days later for almost twice what she invested, Pinto said. She wrote in her personal diary that Ammann advised her to invest, according to the prosecutor.
Mang had been living in central London with a friend who worked in hedge-fund sales for Goldman Sachs, Pinto said. When told about Mang's plans to invest in OCE, her friend "expressed her disapproval and kept calling it insider dealing."
In her diary, Mang wrote of her annoyance that her roommate insisted the trades were insider dealing.
"Really?" Mang wrote, according to court documents. "Is that necessary? Increasingly prissy."
The roommate, Jean Wang, is scheduled to testify later in the trial, the prosecutor said.
In her diary, Mang also wrote she and Ammann had initially agreed that he would get one-third of the profits, and later he insisted on half, according to prosecution information. She wrote she was unhappy with the concept and the "transaction feels a little demeaning too. I'd feel like I pay him for his companionship."
Before it's here, it's on the Bloomberg Terminal.
LEARN MORE