U.S. Army Spent More Than $10 Million on D.C. Conference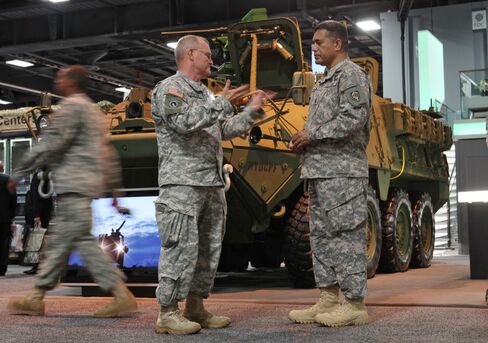 The U.S. Army in 2010 spent $10.7 million on a Washington conference, about 13 times the amount paid by the General Services Administration for an event near Las Vegas in the same year that's been criticized by Congress.
The Army also spent $10.6 million on the conference last year, part of $37.7 million paid by taxpayers in the past four years for 9,805 service members and civilians to participate in the annual gathering, according to records obtained through a Freedom of Information Act request. The event, arranged by an outside group, is the largest professional development forum in which the service participates.
The Army plans to cut costs 88 percent to $1.3 million for 400 attendees at this year's conference, scheduled for Oct. 22 through Oct. 24. That figure is still more than the $823,000 the GSA spent on the Las Vegas event that led to congressional investigations into spending on such things as a clown and mind reader, resignations of top officials and a cutback on government conferences.
Comparing the two events is misleading because the three-day Army conference in the nation's capital is an educational forum on topics such as cyber warfare for military members, civilians, lawmakers and journalists and not an occasion for feting employees, said Michael Brady, an Army spokesman at the Pentagon.
'Unfair' Comparison
"A comparison to GSA or even VA would not only be inaccurate, but unfair," Brady said in a telephone interview, referring to conference spending scandals at the General Services Administration and the Department of Veterans Affairs. "They got in trouble for spa treatments and iPods. That just doesn't happen here."
The conference is organized by the Association for the U.S. Army, an Arlington, Virginia-based advocacy group. While the Army encourages attendance, it understands the importance of reining in spending, Brady said.
"We're still trying to participate at the best level we can," he said. "We attend. We don't put this on."
The White House's Office of Management and Budget prohibited conference expenses of more than $500,000 in a memo May 11, a month after the inspector general released a report on the GSA conference that featured a clown, mind reader and bicycle-building exercise.
Secretary Approval
Representative Darrell Issa, a California Republican and chairman of the House Oversight and Government Reform Committee, also has scrutinized spending on two Department of Veterans Affairs conferences last year in Orlando, Florida, including about $50,000 for a video spoofing the Oscar-winning movie "Patton." The two events cost more than $6 million, according to an inspector general's report.
In response to guidance from the OMB and Defense Secretary Leon Panetta's office, the Army expanded its policy to include conferences it doesn't host directly, including the AUSA event, according to the Army's response.
That's in addition to steps taken last year to improve oversight, the service said. Army Secretary John McHugh in 2011 assumed a greater role in managing conferences, giving himself approval of Army-hosted events and ordering semiannual reviews and reports of conference expenditures.
The Army said it was seeking a waiver from the OMB's spending cap to participate in the AUSA conference, according to a July 23 memo signed by Lieutenant General William Troy. The Army said it was allowing just 10 organizations and commands to display exhibits at the event, according to the unpublished memo.
Army Attendance
"Everybody understands that this is a unique year," David Liddle, a spokesman for the association, said in a telephone interview. The annual meeting "is the gold standard of how these things should be run" for its transparency, structure and value, he said. "That's why it's held in Washington, D.C."
The Army historically accounts for as much as a quarter of the conference's attendance, according to the service. The event is billed as "one of the largest land warfare expositions and professional development forums in the world," with about 35,000 attendees and 600 industry and military exhibits, according to the organization's website.
The service's July memo didn't specify how many troops would attend or how much it would cost. The FOIA response shows it plans to spend $1.3 million for 400 people to attend this year, down from $10.6 million for 2,576 attendees last year. Army attendees last year totaled 7,501, including those from the area who attended at no cost to the service.
By comparison, the GSA had about 300 attendees at its conference at the M Resort Spa Casino near Las Vegas.
"While this reduction will unquestionably affect the Army, many social media, live-streaming and other technology-based platforms first used at last year's meeting will enable the Army to provide opportunities for participation in many forums at a substantially reduced cost," it said.
Before it's here, it's on the Bloomberg Terminal.
LEARN MORE