RBS Said to Suspend European Rates Trading Head on Libor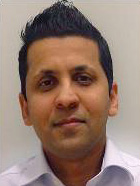 Royal Bank of Scotland Group Plc suspended its head of rates trading for Europe and the Asia-Pacific region, the first senior manager to be put on leave as part of the lender's probe into allegations of Libor-rigging, two people with knowledge of the move said.
Jezri Mohideen was suspended on Oct. 12 after Bloomberg News reported he instructed colleagues to lower the British lender's submission to the London interbank offered rate in 2007, said the people, who asked not to be identified because the matter is private. Mohideen, who didn't respond to e-mail and telephone messages today, has previously denied he pressured anyone to submit false rates.
The suspension is a sign the bank's two-year-old investigation into its role in the Libor-rigging scandal is widening. Edinburgh-based RBS fired four traders last year for attempted rate rigging. The bank also suspended three more, two of whom have since been reinstated.
RBS, the biggest publicly owned bank in the U.K., is one of at least a dozen firms being investigated over allegations they colluded to influence Libor and other rates so they could profit from derivatives bets or to appear healthier than they were.
RBS traders and their managers regularly sought to influence the firm's Libor submissions between 2007 and 2010 to profit from derivatives bets, according to employees, regulators and lawyers interviewed by Bloomberg. Staff also communicated with counterparts at other firms to discuss where rates should be set, one of the people said.
Instant Messages
In an instant-message conversation in late 2007, Mohideen, then the bank's head of yen products, instructed colleagues in the U.K. to lower RBS's submission to yen Libor that day, two people with knowledge of the discussions said last month. No reason was given in the message as to why he wanted a lower figure. The rate-setter agreed, submitting the number Mohideen sought, said the people, who declined to be identified because of the bank's internal probe.
Mohideen, who joined RBS in 2006, denied he pressured colleagues. "That didn't ever happen," he said by telephone last month. Calls to his office in London today were answered by colleagues who declined to be identified who said he was away from the office. He is still listed as active on the U.K.'s Financial Services Authority register. Linda Harper, a spokeswoman for RBS, declined to comment and referred to a previously released statement.
"Our investigations into submissions, communications and procedures relating to the setting of Libor and other interest rates are ongoing," the bank said in its statement. "RBS and its employees continue to cooperate fully with regulators."
Daily Poll
Libor is calculated by a poll carried out daily by Thomson Reuters Corp. on behalf of the British Bankers' Association, a London-based lobby group, that asks firms to estimate how much it would cost to borrow from each other for different periods and in different currencies. The top and bottom quartiles of quotes are excluded, and those left are averaged and published for individual currencies before noon in London.
Barclays Plc, Britain's second-biggest lender by assets, paid a record 290 million pound ($466 million) fine in June when it became the first bank to settle with regulators over the rigging of interest rates. Chief Executive Officer Robert Diamond and Chairman Marcus Agius resigned in the aftermath.
Before it's here, it's on the Bloomberg Terminal.
LEARN MORE