BMW Opens First Mini Dealership in Beijing as Demand Increases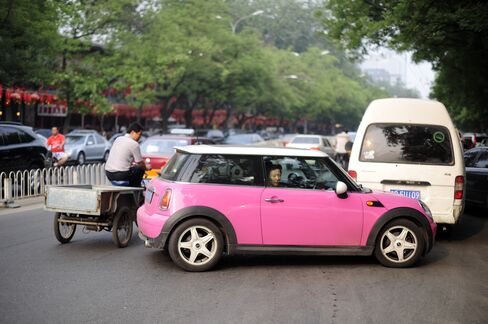 Bayerische Motoren Werke AG opened its first dealership in Beijing yesterday that is designated for its Mini-brand vehicles as demand for luxury cars in the world's biggest auto market increases.
The outlet, located in the western part of the city, will handle both sales and maintenance, according to the company.
The addition of the outlet comes as BMW, Volkswagen AG's Audi unit and Daimler AG's Mercedes-Benz posted higher sales in September in China, amid a decline in the country's total passenger vehicle delivery for the first time in eight months. BMW said sales of Mini cars in the country increased 46 percent to 17,256 units in the nine months ended September.
China's passenger vehicle sales fell 0.3 percent in September, according to China Association of Automobile Manufacturers. Total deliveries rose 6.9 percent in the first nine months, the association said.
BMW's deliveries in the country jumped 59 percent last month from a year earlier, it said Oct. 5. Audi's sales in China advanced 20 percent in September, while Mercedes posted a gain of 10 percent.
— With assistance by Tian Ying
Before it's here, it's on the Bloomberg Terminal.
LEARN MORE